Last week I have been invited to the "At Home for Christmas in July", the annual showcase of  Focus PRs clients. Because I was in London that day I gladly accepted the invitation, grabbed my friend Daniela and popped over at the event's location, in Soho Square. It was a beautiful sunny day and we were greeted by two friendly girls that made us feel very welcome into the beautiful house located at number 2.
Our first stop was at Lavazza's table, where we got to learn about the new Lavazza A Modo Mio coffee machines. I was very impressed by the Fantasia Plus coffee machine which can make up to 36 different types of coffees, cold or hot. The Lavazza representative told us that this range of coffee machines has been made for the active person who doesn't have a lot of time in the morning but likes to enjoy a barista-style coffee on his way to work.
We were offered to taste one of the coffees and I chose the Coconut Cappuccino, made with coconut milk (perfect for me, being lactose intolerant). Being a coffee lover, I was curious about the taste of the blend, knowing the coffee that comes from a capsule is not as great as the fresh one. However, I was pleasantly surprised to taste a rich flavorsome coffee, with hints of dark chocolate. You can take a look at the new Lavazza coffee machines here.
Next, we were introduced to Ilan Azouri, the founder of Conscious Water, a natural flower essence water enhancer. It was really nice to be presented the product by the founder himself and find out what inspired him to create it. The purpose of Conscious Water is to remind us to take a moment for ourselves every day and find our balance. It comes into six aspirations, as the packages are called: love, happiness, clarity, rejuvenation, serenity and sweet dreams.
I have tried the happiness aspiration. Mixed into a glass of water, this blend of Purple Magnolia, Nootka Rose and Snowdrops is meant to make you feel and express the joy of living the moment. It tastes very light, with discrete hints of sweetness. If you could transform the aroma of a rose into a drink, this would be it.
Being a traveler, Ilan recommended me to try the Conscious Water while I am on the plane, to feel better on a long flight. You can find and read more about Conscious Water here.
I have to say, I was very skeptic when I approached the Jagermeister bar. A few years back, due to some bad experiences while I was doing social media for a pub, I swore I will never drink a shot of Jagermeister in my life. And I did say this to the bartender, when he offered me a drink. He laughed and explained how actually Jagermeister is a blend of 56 herbs and because of that you have numerous options on how to enhance different flavors of the drink. I gave in and I tried the cocktail. May I say that it tasted like nothing I drank before? It was very refreshing, with strong hints of cinnamon and apple.
Then, I got courageous and tried the hot Hunter's Tea, made with the new Jagermeister Spice containing extra hints of vanilla and cinnamon. One sip and my imagination flew away to a cold snowy winter's night, with a Christmas Tree, waiting for Santa. It was delicious! You can find Jagermeister in Asda, Tesco or Sainsbury's.
Next, we moved to the Courvoisier stand, where a lovely French lady was just starting her presentation, offering us a glass of Courvoisier Champagne Cocktail. Contrary to some opinions, you can mix cognac and it will still taste delicious. In the past, in France, it was a common practice to mix cognac with champagne. There are also different opinions on what temperature should cognac be drank at. And I'll get to this in a moment.
We were asked if we wanted to try the of Courvoisier VSOP on its own and we said, why not? The French lady poured a little bit of cognac into some tulip glasses and handed it to us. The first thing we did was to swirl the cognac in the glass, observing the oily texture and let it breath for a few moments. Then, we smelled it and I felt the fruity aroma. It is important to use a tulip glass when you are drinking cognac because it captures the aroma while allowing the drink to breath and release the taste. Another reason to use tulip glasses is to warm up your cognac by using your hands.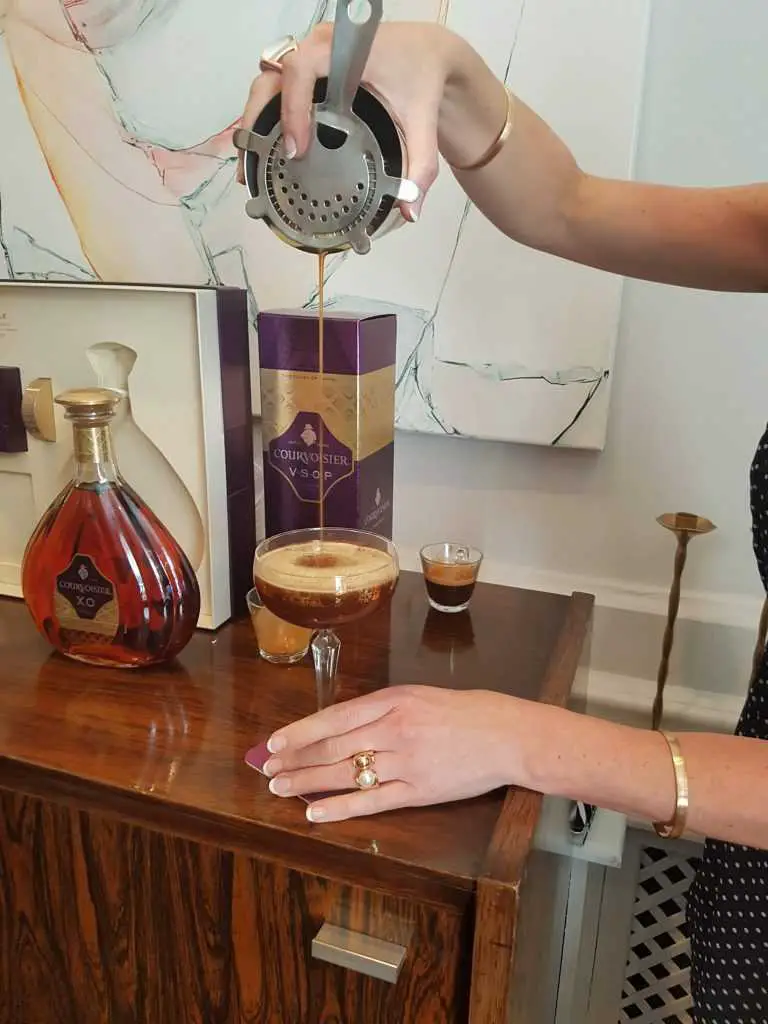 The final step of the process was the tasting. I have never tried Courvoisier before and I was pleasantly surprised. It was very smooth and tasted nutty. I did like it a lot. You can find Courvoisier in specialized stores, retailers and, if you are planning a special surprise for a loved one, you can buy the Célébration Sensorielle Initiale® Extra gift set at Harrods, Harvey Nichols, Hedonism and Fortnum Mason.
Our last stop at the event was Mr. Stanley's sweet shop. I could not miss this stand, being the huge sweet lover that I am. Everything in this corner was standing out and it was very well designed, with the products arranged nicely in a huge vintage suitcase. Mr. Stanley's products reminded me of childhood and their Christmas collection is simply awesome! I believe that every child and every adult should have at least one box of fudge, some chocolate matches, a postbox filled with butter Shortbread biscuits or even a bag of gummy gingerbread men under their Christmas Tree this winter.
I was so happy when I got to taste some of the sweets in front of me. The salted caramel fudge was soft and creamy, it melt in my mouth straight away, leaving a soft salty aftertaste. I have also tried the coconut ice, sweet and crunchy, with a soft middle. If you want to explore a world of sweets you can always visit Mr. Stanley's online shop here.
There were other great brands present at this event, like Karma Cola, ETT, Lekue, etc.
Disclaimer: Please note that I did not receive any compensation for writing this post, just an invite to the "At Home for Christmas in July" event where I had the chance to sample the products I have wrote about. All comments and opinions in this article are my own.