This is my first post collaboration and I am pretty happy about it! The other day I was thinking about trying out new recipes and my mind flew away to that amazing blini I had in Moscow, and to that delicious pho I had in Vietnam, and to that delightful posy from Mongolia, and to those heavenly dumplings from China… and I wondered, what was the best food I have ever tried during my travels? And I have also asked a few travel bloggers, and this is how this article was born!
One of the best dishes I have ever tried while traveling was almost 2 years ago, in India. After a day of traveling, we sat down at an open air restaurant, on top of a haveli, in Jaisalmer. I ordered the Bharwa Aloo, intrigued by its description: paneer stuffed potatoes, in a tomato gravy, with nuts and spices. It turned out to be a great choice, an amalgam of flavours and aromas that I have never tried before, spicy and sweet in the same time, with a drop of yogurt to cut off the spiciness.
Let's discover now other special dishes that you can't miss in your next travels!
A signature French feast in the capital of gastronomy
Jacqui Moore-Moroney
On your next trip to France make time to experience the incredible local food in the gastronomic capital of the world, Lyon. The best dish I've ever eaten was the Tartare de Boeuf at Cousin Cousine & Co. a few years ago. I've visited the 'city of flavours' twice more since then to get my fill of this delicious French signature dish featuring raw minced beef, onions, capers and seasonings topped with a raw egg yolk. It's not for the fainthearted, but it is delicious and the best culinary experience when served with a Beaujolais or Cotes du Rhone wine.
Lobster in Cabo de la Vela, Colombia
Ashlyn George
I think I've ruined lobster forever after tasting the succulent crustacean in Cabo de la Vela, the most northern town on the Caribbean coast in Colombia. It was freshly caught that day and scrumptiously prepared for a mere $10 U.S. with all the fixings, including Venezuelan beer and patacones, or sweet plantains deep-fried in vegetable oil. It was a little piece of luxury while sleeping the nights away on the beach in a hammock in a very simple town without plumbing hours away from civilization. I don't think I'll taste lobster this good for that cheap ever again.
Mofongo in San Juan, Puerto Rico 
Cathy Ries
It's honestly hard to decide on an absolute best dish I have ever had while traveling but one that definitely comes to mind was mofongo. My husband and I were exploring old San Juan in Puerto Rico for the day and found a lovely café/restaurant while strolling through the cobblestone streets and admiring the colorful buildings. I had no idea what anything on the menu even was since it was mostly local cuisine and frantically Googled half of the menu before deciding on something called a "seafood mofongo." When it arrived at the table, I was in awe. A mofongo is a Puerto Rican dish made of mashed deep fried plantains. It is then turned into a cylindrical shape and at the very restaurant we were at, the mofongo was topped with seafood (shrimp, scallops and fish fillet) and topped with a criollo style sauce. It was the first dish I tried while in Puerto Rico and will far be the last!
Thukpa, in Rishikesh, India
Sharmistha
The best dish which I ever had was in Rishikesh, India. The dish was Thukpa – and I was having it for the very first time in my life. Thukpa is basically a Tibetan clear noodle soup. Although it is a Tibetan dish, it is widely available in Northern region of India. I devoured this hot dish when the cool breeze from River Ganga were making me shiver in the cold weather of Rishikesh. What I loved about it is that, this hot-spicy noodle soup is filled with the goodness of vegetables and it's perfect for winter, for cold climes. This dish is definitely a must try!
Lava dessert, in Iceland
www.thedailyadventuresofme.com
Jamie Italiane
When I was visiting Iceland to celebrate my 40th birthday, I found the food to be fresh and delicious- much different than I had expected based on guide books. I especially loved the discovery of  langoustine, a small,lobster-like crustacean, which I dined on at ever possible meal there. But the item that I remember the most was a dessert that was just like Iceland- so unique, different and reactive. It was called a lava dessert and I had it in Vik, although I cannot recall where- we also tried some horse at that  meal. It had something cold (ice cream), something that looked like black ash (a hard meringue)  and something eruptive (pop rocks). Super fun and unique!
Tigania in Greece
http://www.pinayflyinghigh.com
Noemi Espinosa
After spending a day at the beach, The Greek Mister, his friends and I went back to the city with only one thing in mind – food! We were in Thessaloniki, the second largest city in Greece which offers a myriad of choices when it comes to dining. Someone recommended that we dine at a restaurant which offers traditional Greek dishes and that's when I had my first taste of tigania.
A very simple recipe of pork cooked in wine and tsipouro smothered with mustard and spices, this dish is guaranteed to delight your taste buds and satisfy your hungry stomach! I've eaten so many delicious food in Greece but this is my absolute favorite.
Rosti in Berggasthaus Aescher-Wildkirchli, Switzerland
Divya Shetty
I had visited Switzerland in Aug 2014. I always wanted to visit Berggasthaus Aescher-Wildkirchli to tick it off my bucket list. I had read that it serves the worlds best Rosti or chäsrösti as it is called. But like they say You need to strive hard to achieve something. Same was the case here, we had to take the cable car ride up, hike down for another 20 mins, pass a dimly lit cave , a 1000 year old church and voila we were there. All this while Rosti was on my mind. We ordered it the moment we reached there.
The Rosti is made by boiling potatoes and keeping it in the fridge for a day. The next day its shredded into a pan with butter and cooked. Once its crispy on both sides they put shredded cheese over it and let it melt. My mouth is watering while i write this. The melted cheese feels like heaven. Its one of the best dishes i have ever had in my life.
Kaiseki ryori in Japan
Matilda and Patti
We've had quite a few good meals while traveling but our experience at a traditional Japanese ryokan easily tops all of them.  Funny enough, we didn't even think about food while booking our stay.  We were in the area to visit Jigokudani Snow Monkey Park and were mostly preoccupied with easy access to the snow monkeys.  It was merely a bonus that meals were included in the room rate.  Served kaiseki, everything was prepared with fresh seasonal and local ingredients.  And the presentation was just as impressive as the taste – dishes were so beautifully arranged, it looked more like an art form than a meal. Our entire dinner was amazing especially the fresh sushi.
A stunning Paella with a lovely sunset at a restaurant, sitting right at the cliffs
Matt from Hostelgeeks
Whenever someone talks about the Balearic Islands, my brain drifts away, thinking about this one special Paella I had in Menorca. Paella is the typical rice dish served in Spain and it comes in many different variations. From rabbit to chicken, fish, and even a mixed fish and meat Paella. A vegetarian option is possible as well – not typical, but possible.
We went to a restaurant in the south of the island. A good friend recommended this place. The white, smallish building was sitting on the cliffs, overlooking a tiny white-painted village with the sunset in the background. It was off-season, only another couple was there and the Latina woman was speaking in the voice of half the restaurant. The waiter who already brought us the deli red wine came over with the big pan of hot Paella in his hand
Reindeer in Finland
Evan Kristine
I'm a chef by profession therefore trying out different cuisine/food is a must for me. However, since my style is so Scandinavian, my favourite has to be the one's I've eaten here in Finland and so far nothing has beaten its place. Finnish cuisine is usually very simple and straightforward – something I completely love about it and this dish I had is from the previous place I used to work and it had Reindeer (hunted locally from northern Finland), potato gratin, lightly seasoned sautéed vegetables and simple red wine sauce. Simple but absolutely to die for! I've never eaten so good game meat in my life until I tasted it in Finland. A specialty indeed!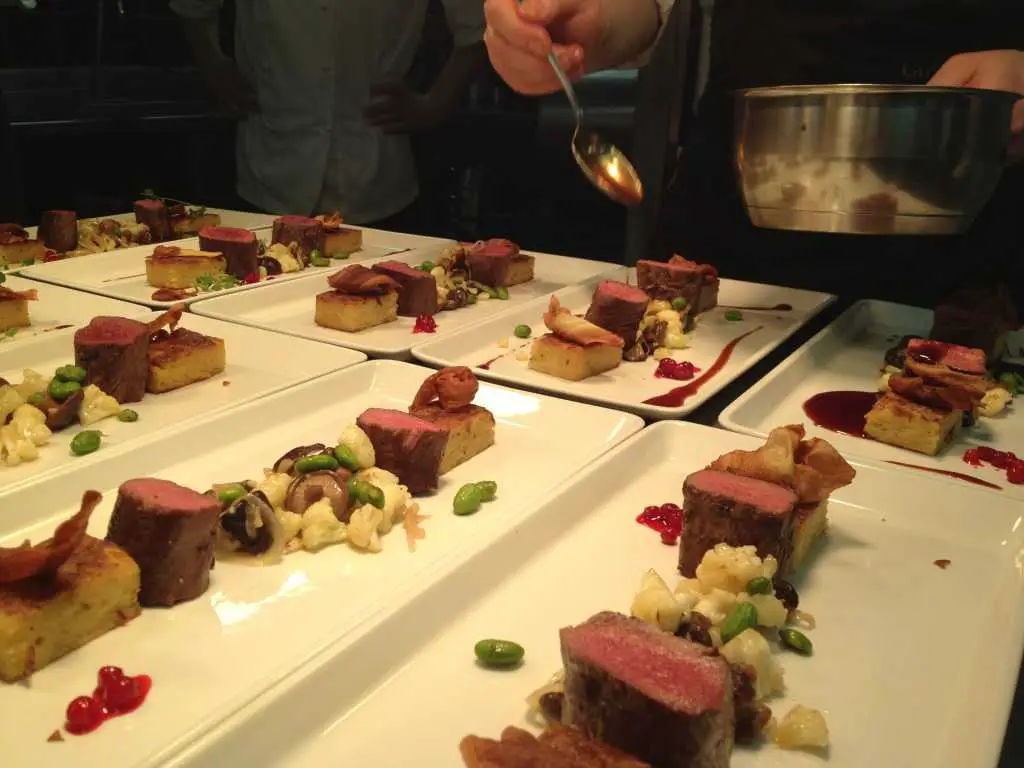 Cuy, in Peru
Cherri Megasko
I am an adventure eater, which means that when I travel, I specifically look for unusual foods that are eaten in the local area. So it's no surprise that when I went to Peru, I had to try cuy – or as it is known in North America – guinea pig!
Cuy is a traditional dish of both Peru and Ecuador. It's mostly eaten on special occasions like birthdays and weddings. I had it at a restaurant in Mira Flores (an area of Lima) called Panchitas. It was an upscale eatery frequented by local business people as well as tourists. I ordered the Cuy Crocante – a whole roasted guinea pig served with spicy potatoes and gravy.
It was totally awesome! The cuy was roasted to perfection with crisp, well-seasoned skin and moist, tender meat.  It was accompanied by Creole and chili huacatay (an Andean herb often used in Peruvian salsas).  If our stay in Mira Flores hadn't been so short, we would have gone back and ordered the cuy again … it was that good!
What is the best food you have ever tried while traveling?