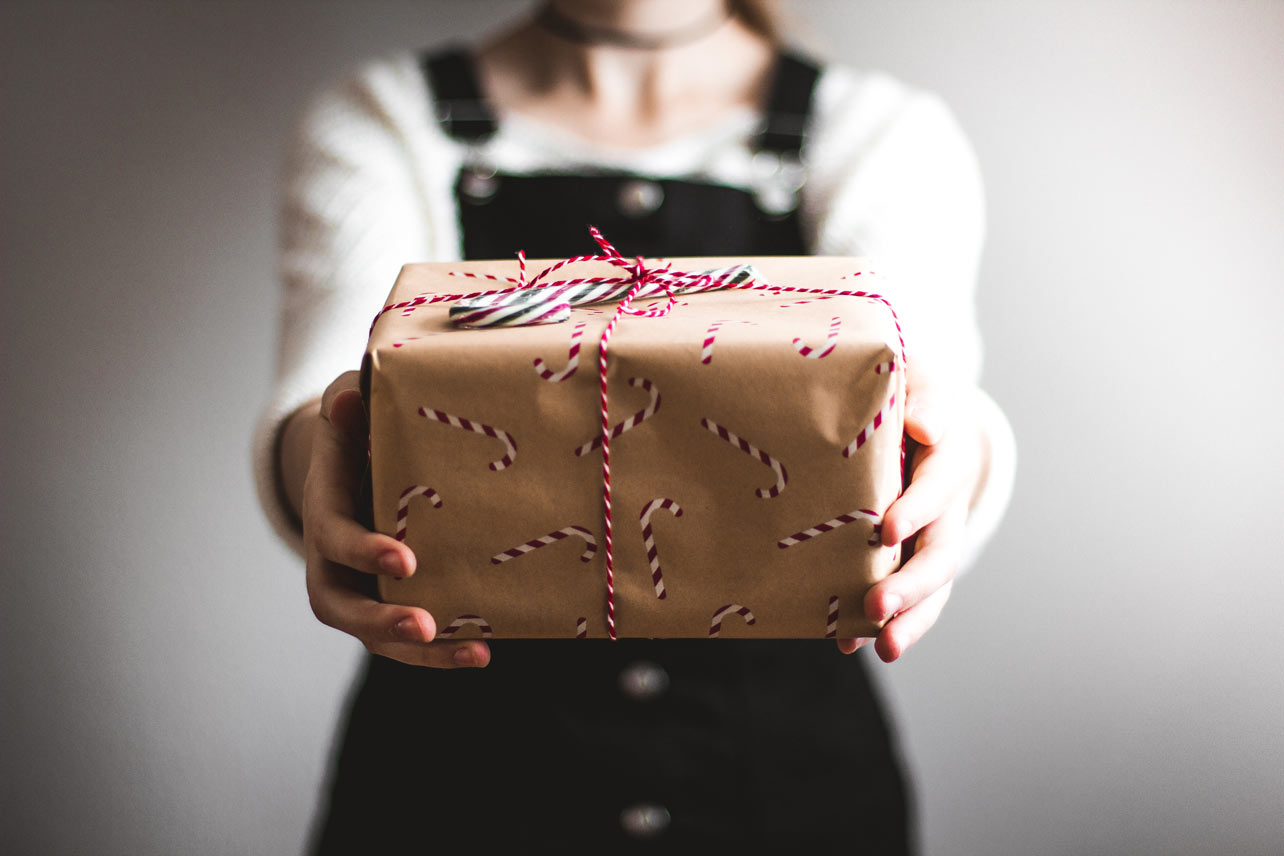 Do you have a close female friend in your life who loves to travel and you don't know what to gift her this Christmas? Have you already browsed websites after websites only to find the same old ideas as last years? Then you have arrived in the right place!
Shopping for a gift for women who travel is quite hard because they already know and have almost everything for their next trip. Also, choosing a classic gift, such as a piece of luggage or a travel pillow might not suit their travel style.
This is why I created an alternative Christmas shopping guide, with unique gifts that will be appreciated by the women in your life. Furthermore, a traveller myself, I have tried and tested all my recommendations from this guide.
A set of zero waste toiletries
It's been a few months now since I have started my journey of becoming an eco-friendlier person and stop using plastic, as much as I can. And I have to admit, it is not and hasn't been an easy journey. I am an advocate of reducing plastic, paper and stop wasting food. It is hard, but I believe that each of us can make a difference, no matter how small it is, if we stop using plastic.
This is why my first recommendation for this travel gift ideas for women is a set of eco friendly zero waste toiletries. Take a look in any toiletries bag, how much plastic do you see in there? Shocking, right?
A zero waste toiletries collection would make a great gift to your travel loving friend, and it will also make a difference towards a plastic free world! At Wearth London, who sources their eco-friendly products from small independent UK brands, you can find everything to build a zero waste toiletries hamper: bamboo toothbrushes, coconut oil mouthwash, natural deodorant cream, activated charcoal tooth powder, sugar scrub bars, reusable cotton face cloths, handmade soap bars and many more – all packaged in eco friendly glass jars or carboard boxes.
You can look through the entire collection and choose the best products to build the gift hamper on the Wearth London website, by clicking here.
A Secret Pillow
You may wonder what a "Secret pillow" is and how it can make your female traveller friend's life easier whilst on the road. A Secret Pillow is a cushion that unfolds into a blanket, helping your friend not only sleep better on a plane for example but also cover herself on a cold train or bus.
The Secret Pillows are made in India by women who face social and economical challenges, and by buying this as a gift you are contributing to helping them provide a better future to their children.
Each pillow comes with a certificate of authenticity and also with the signature of the woman who made it, which gives it a very personal touch.
You can learn more about the project and buy a Secret Pillow here.
A Swiss Army Knife for her next hiking trip
Every woman who travels and backpacks needs a Swiss army knife. At some point during her travels she will need to open a can of food, put a screw back in, fix her tent, even remove splinters when she is on a trek, in the woods.  Not to mention, in case of emergency, it can be a self-defence weapon.
So why not gift your female friend this Christmas a limited-edition Victorinox Explorer 'Snowflake' Pocket Knife, with a delicate snowflake design?  It has 16 different functions which make it not only elegant but very practical as well.
You can buy the Victorinox Explorer "Snowflake" Pocket Knife here (and get £5 off when you subscribe to the newsletter).
A North Star Necklace
Finding your North Star usually means that you know where you are going, and what a better gift to a female traveller, wonderer, than a beautiful silver necklace with an engraved North Star pendant? During centuries, travellers have kept Polaris as a guideline to where they are. Sailors have been using it for navigation on rough seas and that is because the North Star doesn't really move on the sky, maintaining its position the entire night.
This beautiful North Star Compass Pendant from Hersey & Son is a delicate piece made from Sterling Silver, which can be engraved with up to 25 characters. I chose to engrave my pendant with my grandmother's name, because from up there, in heaven, she is always looking over me making sure I don't get lost from my path.
Hersey & Son has been making jewellery in the United Kingdom since 1955, opening the business in 1971. The company is a member of the National Association of Jewellers, so you know that their products are genuine. Specialising in silver jewellery, they take care of every detail, from the design of the jewellery to the wonderful packaging it comes in, with a guide on how to take care of silver and a soft cleaning cloth especially for the jewellery piece.
If you want to order your friend a North Star Compass for Christmas, keep in mind that you can use the "HELLOHERSEY2019" to get a 10% discount, and delivery is always free.
A wooden foot massager
Your backpacker friend would be very grateful if you gift her a foot massager this Christmas. Made out of wood, this dual massager can relief the pain associated with hiking for a long time, tired or sore feet, but also improve circulation.
The massager is very easy to use and move around as well because it is so lightweight. The massager is arched, to follow the natural curve of the foot. To use just put your feet on it and move them forward and backwards.
You can buy this excellent feet and heel pain relief here.
A print of her favourite destination
We buy souvenirs for ourselves from our travels for one reason: to remember the places and the memories we have made by looking at that cheap small fridge magnet or postcard that we got on the last day of our trip.
Do you share a special moment with your female friend from one of the trips you have taken together? Then why not gift her a unique print that will remind her of all the little things which made that trip together special?
MontgomeryFest specialises in cute works of art meant to brighten every wall in every house they are hung on. Annie, the owner of the MontgomeryFest design studio, is inspired by her own travels in the creation of her prints. So, what a better gift to a woman who travels than one created by another woman who travels?
You can find the perfect print in her gallery, browsing her website here.
A Personalized Travel Journal
What traveller doesn't love to write down the memorable events of the day in her own travel journal? Even with how much technology has advanced, there is something about handwriting on paper rather than on electronic device.
A personalised travel journal will not only help your female friend keep her memories alive but also socialize with others, if she is traveling along. I remember how in my first trip to Asia, by train, my travel journal was a way to communicate with other people who didn't speak the same language; it was a way of storing all my friend's addresses to whom I was sending postcards from the road; it was a way of creating new contacts and writing down email addresses of the people I met during my two months trip. I never leave on a trip without a travel journal and, chances are, neither does your friend.
So why not gift her a personalised travel journal such as the one from Rebecca Yates London? This small business is creating beautiful high-quality personalised journals with covers based on original artwork. The covers have an anti-scuff lamination which makes they more scratch resistant, perfect to travel with in a backpack. The pages are printed with water-based inks on FSC certified paper which is fully recyclable. The journal has 140 pages with 120 gsm, so they are not only luxurious but also thick and a pleasure to write on.
You can buy the journal online, from the Rebecca Yates website.
A Rough Guides Coffee Table Book
If your female friend is always traveling, why not inspire her with a collection of coffee table travel books that will make her imagination go wild and start planning her next adventure. The 1st edition of the Rough Guide to the 100 Best Places on Earth 2020 is a collection of fantastic destinations that your friend will add on her bucket list. Including countries such as Bhutan, Ethiopia and Georgia, this coffee table book is an oasis of travel inspiration.
Make the Most Out of Your Time on Earth is a book filled with exciting experiences, from plunging in the polar waters of the Antarctica to camping under the stars in the sandy gorges of the Namibian rugged mountains.  Your friend will have plenty of adventures to choose from, that will make her book her next trip straight away.
If your friend loves history and is interested in the second World War, Travel the Liberation Route Europe is a book that will help her not only travel through Europe with more awareness, but also to understand better the events between 1944-1945.
You can buy the Rough Guide to the 100 Best Places on Earth 2020 from here, Make the Most Out of Your Time on Earth from here and Travel the Liberation Route Europe from here.
A Koinobori travel laundry bag
There are things that shouldn't be missing from anyone's luggage, among them being packing cubes and laundry bags. It's been a while since plastic bags were an acceptable way to store your dirty clothes inside the luggage. An organised luggage makes it easier for your travel friend to pack and unpack, especially if she prefers to stay in hostels. Between us, everyone hates that one person in the hostel room who pack plastic bags at 5AM in the morning and wakes everyone up!
Plastic bags are a thing of the past, we are all trying to be more eco friendly and with so much air traveling, every little thing that we make counts. By gifting your friend a laundry bag, you will help her reduce the amount of plastic bags she is using, as it can be washed over and over!
The Koinobori travel laundry bags are not only very useful but they will definitely make her smile as well. Their colourful design stands out and the size is perfect for when your friend goes on her next adventure with a carry-on only. Another great feature of the Koinobori travel laundry bag is that it can be hanged as well, so your friend can keep her dirty clothes outside of the suitcase until she returns home from her holiday.
You can buy the blue Koinobori travel laundry bag here, and the red Koinobori laundry bag here.
A Tesalate beach towel
Tesalate has been my travel beach towel for a couple of years now and I don't think I will ever switch to another brand. Gifting your friend a Tesalate sand free beach towel will make her beach holiday so much easier.
The Tesalate beach towel is the perfect companion for the beach because the sand does not stick to it. We all know how annoying it is to pack your beach towel in the backpack and when you arrive back at your hotel and take it out, get the floor and bed full of sand. Not to mention the interior of your beach bag.
Tesalate has created a perfect beach towel that leaves the sand where it should be – on the beach! There are so many designs to choose from, being guaranteed that you will find the perfect match for your friend's personality. I love bright designs so for my first Tesalate beach towel I chose the pink flamingos patterns, whilst for my second one I went for the toucans jungle inspired one.
Another advantage of the Tesalate towel is the size – it can fit in any small backpack. Tesalate can also be used as a drying towel, so it will help your friend save space in her luggage, especially if she is flying carry-on only.
You can check out the beautiful designs and buy a Tesalate beach towel as a Christmas gift for your traveling friend here.
A cocktail making set
I don't know about you, but I love recreating the cocktails I have during my trips, back at home. A Pina Colada always reminds me of that New Year's Eve I spent on a rooftop in Havana, joining a local party. A Mojito reminds me of the lazy days spent by the beach in Mexico. Aperol Spritz always brings up dear memories from Italy!
A cocktail making set is a great Christmas gift for the woman traveller in your life. Not only that she will be able to recreate her favourite cocktails, but you will benefit from tasting them as well.
This beautiful 7 pieces VonShef Black cocktail set with stand is a wonderful choice for an elegant Christmas gift. It also includes a great recipe book, so it can be used straight away. My recommendation for the festive holidays is this Rudolf Red Berries Fizz that I've made the other day, using the cocktail set.
Buy the VonShef Black cocktail set here.
A pair of gin earrings
A woman who travels is unique, so her Christmas gift should be exactly the same. Does your friend love gin (aren't we all, ladies?)? Then this cute and quirky pair of gin earrings can be the perfect gift to make her smile.
Designed by Katy Welsh for U Studio, a company that supplies big stores such as Waterstones, Tate Modern, Selfridges or Urban Outfitters, this pair of earrings are silver plated and handmade.  This is a thoughtful and fun gift guaranteed to make your friend happy.
You can buy this pair of gin earrings from U Studio's website.
A set of Jeffrey's Tonic Syrups
A refreshing glass of gin and tonic is pretty much synonym with summer holidays, sitting on the beach, under an umbrella. During the past few years gin has regained its fame, with more and more brands appearing on the market. Summers, especially in the Mediterranean countries, are defined by sipping gin and tonic by the sea, in the afternoon, when the sun is the hottest. And no wonder that the market has grown so much, with so many different flavoured gins being sold these days.
Whilst a good flavoured gin can be pricey, why not gift your sun lover female friend a set of tonic syrups that can make even the cheapest bottle of gin stand out? With four amazing different flavours and a lovely Christmas packaging, Jeffrey's Tonic Syrups are natural, made with only herbs and spices brought from far away corners of the world.
A bottle of tonic syrup goes a long way. Whilst it is recommended to use 25ml per serving, I found that the tonic syrup is so flavoursome that even 15ml are enough to give plenty of aroma to a glass of gin.
As Jeffrey's Tonic Syrups are produced in small batches in Chester by Mike and Maureen Robinson, by gifting a pack of four to your female traveling friend you are also supporting a local business. You can order the tonic syrups directly on their website, by clicking here.
A Sous Chef Sushi Making Set
Is your friend a foodie and has just returned from a dream trip to Japan? Or she is planning her next holiday in the land of the Samurai? Then this sushi making set can be the perfect gift for her.
Dinner parties are awesome, especially when they involve plenty of travel stories. Sushi making is a lot of fun as well, and, can be the main attraction to a party because it can involve all the guests getting creative with the fillings. This set includes everything you need to create perfect sushi: the special sushi rice, nori sheets, wasabi paste, pickled ginger, Mizkan sushi seasoning, a sushi rolling mat and, of course, a recipe card, all enclosed in a beautiful Sous Chef Drawstring bag.
Together with the sushi set, gift your friend a professional sashimi knife to help her create the perfect looking sushi pieces. The knife is traditional in the Japanese cuisine and it is used very often to slice raw fish for sushi. The sashimi knife is special because it is sharp only on one side, with the other side flat so that the fish doesn't stick to it. It is great to also cut sushi without making a mess.
You can buy the sushi making set here, and the sashimi knife here.
A Protein Ball Advent Calendar
Does your friend love to workout, even when she travels? Does she love to eat clean, even when on holiday? Then this high energy protein ball advent calendar is a perfect gift to help her resits those Christmas treats.
There are five delicious flavour combinations in this protein advent calendar, with an extra special festive flavoured one saved for door number 24: lemon and pistachio, apple and blueberry, goji and coconut, raspberry brownie and peanut butter.
Not only that these protein balls taste delicious, but they are vegan, vegetarian, gluten and wheat free. There is no sugar, no GMOs and no soy added either.
This high energy protein ball advent calendar costs only £19.99 and it's available to buy online from The Protein Ball Co. website.
A foodie hamper
If you are looking for a gift for a woman who loves to travel then you can be sure that she will enjoy a food hamper with delicacies from her favorite destinations around the world. There are so many options of what you can include in a hamper these days that you will always find one for any type of foodie lover.
If she is a fan of English holiday treats, then this foodie hamper from Prestige Hampers might be an excellent idea. For a surprise box, try Degustabox. For everything else, look on Amazon.
A pack of playing cards
A deck of cards is not only a great way to spend a raining evening in a hostel, but also a great way to make friends among other passengers on long train journeys. A deck of cards should not be missing from any backpack. It's lightweight, small and easy to carry.
This pack of fun skulls playing cards is a great conversation starter because of its unique design. At some point in her trip, your friend will encounter delays, be on long train or bus journeys. And what a better way of killing time than playing cards with another unfortunate tourist stuck in the same place as her?
You can buy this deck of cards from U Studio's website.
Disclaimer: Some of the links one this website are "affiliate links." This means that if you click on the link and do a purchase, I will receive an affiliate commission at no extra cost for you. This helps me keep my website running and continue to share my traveling knowledge with you. I thank you for booking your flights or hotels using the links on my website. Regardless, I only recommend products or services I use personally and believe will add value to my readers.