Beaches are probably nature's most surreal gem. When it comes to beaches, Sri Lanka is no short of gathering praises. The country stands right next, if not beside, to other nature-filled Asian nations like Maldives and Indonesia. If you are looking to spend some relaxing and rejuvenating time to seek solace, then Sri Lanka is the perfect place. It won't be wrong to say that Sri Lanka beaches are true paradises for a nature lover. Some of the best beaches in Sri Lanka are located in the southern region. The pulchritudinous views of beautiful sandy seashores together with the cool breeze and gentle ambiance are sure to make you fall in love with the southern Sri Lankan beaches.
Here I have curated a list of some of Sri Lanka's best beaches that are located in the southern part and are worth every effort and expense.
Bentota Beach
If you wish to enjoy a lavish life while staying close to the ocean, then Bentota Beach is the perfect hideout in Sri Lanka. Here at this beach site, you can find a number of relaxing spas and medicine centres. Needless to say, it will be the nature and surreal beauty of this place that will keep you engaged here at Bentota Beach. Located some 80 km south of Colombo, Bentota is counted amongst the most popular beaches in the country and is one of the pioneers of Sri Lanka tourism. Despite being a popular tourist attraction in Sri Lanka, it would surprise you that the beach is not at all heavily crowded. Along with nature, you can also relish some water sports experiences here like that of, canoeing and water skiing. Whale watching is also a popular activity here at Bentota Beach which you can try with a river safari.
Narigama Beach
Situated in the town of Hikkaduwa, Narigama Beach is often hailed as the surfer's paradise. The long stretch of sand at this beach is perfect for a leisure walk far away from the hustle and bustle of city life. Being a nature's paradise, gazing upon sunrise and sunset is a popular activity at Narigama Beach amongst tourists. In addition, the beach is also known as one of the most popular spots to try the delectable seafood along with relaxing massages at spa centres. Around the beach, there are plenty of things to do; exploring coral reefs and indulging in water sports are just some of them. In water sports at Narigama Beach, you can try your hands in swimming, surfing, scuba diving, snorkelling, boating, and body surfing. The beach area is also surrounded by a number of Buddhist temples that are worth a visit.
Mirissa Beach
Yet another popular beach which is a must-visit on your Sri Lanka holidays is Mirissa Beach. It has rich marine wildlife which attracts a huge crowd of tourists every year. Mirissa Beach not only lures tourists for ecological purposes but to proffer an ultimate leisure time amidst the serene nature. Here, you can also gaze upon the surreal views of the sunset for which the beach is known for. Not just this, this renowned beach is also known as the perfect spot to see turtle hatching. However, for that, you need to plan your visit in the months from December to March. Swimming is a popular activity in the calm waters of Mirissa Beach. Besides, surfing is also a popular activity to do here along with a small coral reef exploration. If you are visiting the beach in the month of December, then it also gives you a chance to spot dolphins and whales. If that's not enough to make you convinced to visit this beach, then river safari, fishing, and an ayurvedic massage in Ayurveda centres of Mirissa are some more experiences you can savour while at this beach. In addition, there is plenty of more things to do in Mirissa including Turtle Bay and Secret Beach.
Mihiripenna Beach
On the south coast of Unawatuna, Mihiripenna is one of those beaches that you cannot afford to miss on your Sri Lanka travel trip. If you are looking to spend some leisure and quiet time with your either solo or with friends or family, then this is the perfect place to be. Far away from the buzz of beach activities, Mihiripenna Beach is one such place where you can expect to spend hours just gazing upon the surreal beauty while sitting calmly on the soft golden sand. There is a natural pool at the beach location which is not just perfect for adults but children as well. The beach also gives you a chance to snorkel in the waters of Laccadive Sea. Through snorkelling, you can explore the stunning coral reefs for some adventure.
Hikkaduwa Beach
A lavish location which attracts a huge footfall of overseas tourists in Sri Lanka is Hikkaduwa Beach. Located in the town of Hikkaduwa, this gorgeous beach is often characterized by some of the high-end Sri Lanka hotels and nightclubs. Like any other beach in Sri Lanka, Hikkaduwa Beach too promises an abundance of natural beauty to its visitors. Not just this, you can soothe your mind, body, and soul through body massages available at various spa centres at this beach location. One of the best experiences to relish here at Hikkaduwa Beach is the glass boat ride to explore the exotic aquatic life in the coral sanctuary. Not just this, at this coral sanctuary, you can also learn about turtles. Besides, the other must things to do here are shopping in the local markets and savouring the authentic Sri Lankan cuisine at the beachside cafes. However, if you want to make the most of your Hikkaduwa Beach visit, then plan it during the time of Hikkaduwa Beach Festival – one of its own kind. The festival is usually celebrated in the months of late July and early August for 5 days.
Weligama Beach
Located in the southernmost tip of Sri Lanka in Weligama town, Weligama Beach is one of the best beaches in Sri Lanka. If you are looking to capture some amazing clicks for your Instagram at the beachside, then this is the right place for that. Surfing is one of the best things to do here in Welgama Beach and there is no danger of sharks. You can also indulge in a snorkelling experience to explore the shallow coral reef. Not just this, you can also go fishing at this beachside. A must-visit place around the beach is a jewelry factory where you can expect to see local women weaving lace.
Matara Beach
Such is the natural beauty and splendor of Matara Beach that a visit to this becomes a must on your travel to Sri Lanka. In terms of natural beauty, Matara Beach is one of the best places to explore. The water of the beach further goes and merges with the blue ocean. Around this beachside, there are a number of ancient forts that will take you back to the time when these forts were built. One of the most popular forts here is the Dutch Fort which is the key attraction here. Talking about the watersport activity, well, Matara Beach doesn't offer you much except for diving. However, it makes that up by offering a wide range of amazing Sri Lankan food to its tourists.
So, which one of these beaches are you going to explore and include on your Sri Lanka 3 weeks itinerary? Well, with all respect to your picks, I would still recommend you to explore them all. Each of these beaches has something unique and amazing to offer to its tourists which you set them apart from each other.
About the authors:
We are Jimmy & Tah, American and Thai Millennials who left their career in military and finance to become
travel inspirers & storytellers
. Starting the life of non-stop traveling since September 2017. Sharing our journey along the way of life we have always dreamt of – traveling and being able to work wherever we love (as long as there are Wi-Fi and coffee).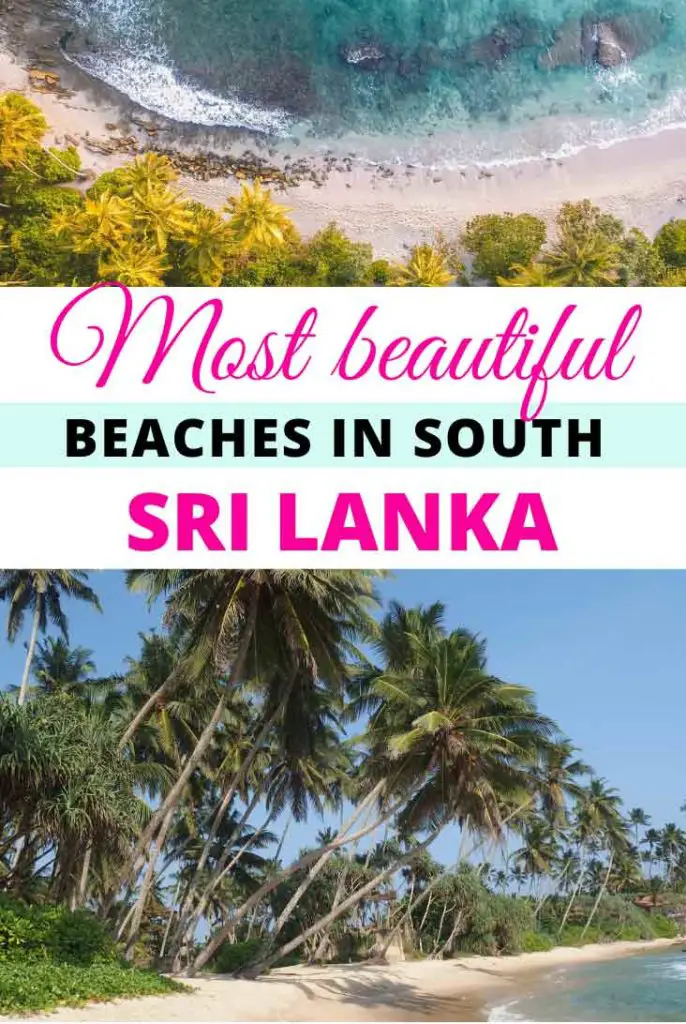 Disclaimer: Some of the links on this website are "affiliate links." This means that if you click on the link and do a purchase, I will receive an affiliate commission at no extra cost for you. This helps me keep my website running and continue to share my traveling knowledge with you. I thank you for booking your flights or hotels using the links on my website. Regardless, I only recommend products or services I use personally and believe will add value to my readers.