Sri Lanka is a country known for its high-quality touristic hospitality and experiences. The beaches in Sri Lanka are oasis of relaxation, little corners of paradise for nature lovers. No matter if you visit Sri Lanka in a quick 10 days or for a month, you must allocate some time at the end of your trip for a beach break. After traveling to different places around the island, you deserve to experience the renowned country's hospitality at one of the beautiful beach resorts in Sri Lanka.
Here are some of the most beautiful beach resorts in Sri Lanka, tested first hand:
Jetwing Sea, Negombo
Jetwing Sea is a luxurious beach resort hotel in Negombo which offers modern and spacious rooms with sea views. Located directly on the beach, the hotel has a large swimming pool and a beautiful restaurant from where you can have dinner with a view.
The rooms at Jetwing Sea are luxurious, with comfortable beds and state of the art bathrooms with both showers and tubs. The ground floor rooms at Jetwing Sea have cute terraces with direct access to the pool, whilst the ones at the floors above feature balconies overlooking the beach.
Pigeon Island Beach Resort, Trincomalee
Located 10 minutes outside of the busy centre of Trincomalee, on Nilaveni Beach Pigeon Island Beach Resort is a great place to stay if you are on a budget. Offering large rooms nicely decorated, this resort is perfect for relaxation.
The in-house restaurant serves both Sri Lankan and international food, with cooks grilling meat and fish in the evening and making eggs on order in the morning.
The resort has a private pool, garden swings and beach loungers that guests can use freely. Nilaveni Beach is gorgeous, with golden sand and warm water. In the morning, you can watch the fishermen bring their catch on the shore. From the beach you can also see Pigeon Island, famous for snorkelling. The resort can organise private trips there.
Seven Turtles Resort, Tangalle
By Aimee from Snap Happy Travel
A couple months back, my husband and I spent a luxurious four nights at the stunning Seven Turtles Resort on Tangalle beach. To be honest, this was a last-minute booking, having already spent two weeks in Sri Lanka. We were in need of some luxury and relaxation by the beach for a few days. And luckily, Seven Turtles delivered exactly that.
The suites at the resort are spacious and modern and feature a large balcony overlooking the pool and the sea beyond.  Every morning here began with a cup of coffee and the sunrise over the ocean. We spent our days at Seven Turtles lounging by the pool, and walking the length of the beach. Tangalle Beach features golden sand and good surf, in fact it is a very popular surfing destination in Sri Lanka.
The restaurant at Seven Turtles is a casual, feet-in-the sand affair serving fresh European & Sri Lankan dishes. Whilst we were dining one evening, the owner was present and he made an effort to visit every table and chat with his guests. Which was a lovely personal touch.
At the end of our four days, we trully were sad to leave. Seven Turtles was without a doubt our favourite hotel in Sri Lanka and we can't wait to return one day.
Weligama Bay Marriott Resort & Spa, Mirissa
By Claudia from My Adventures Across the World
The Weligama Bay Marriott Resort And Spa is a brand new beach resort located in Weligama, at a stone's throw from Mirissa. The resort is located right on Weligama beach, to which it has direct access. This is a fantastic place to learn how to surf and there are various places nearby where visitors can rent boards and sign up for a surfing lesson.
All rooms have ocean views – the ones at the top floor inevitably get better views. Furthermore, they all have a large balcony, which is the perfect place to enjoy the sunset views or to have a morning cup of coffee.
Rooms are fabulous. They are large and modern, equipped with a large TV with access to international channels. The bathroom is state of the art, with a shower and separate bathtub. The wall is actually made of glass, so guests can enjoy a bath with full ocean views.
The hotel counts with a buffet restaurant and a la carte one. The buffet is very extensive, with all sorts of cuisine and a strong focus on local and Indian flavors. The bar makes great cocktails – the watermelon mojito is refreshing and even better if accompanied by fresh cut plantain and yucca chips.
There is a spa, a wellness center and a gym; a travel desk and very large pool.
As with all good resorts in Sri Lanka, the staff is incredibly kind and helpful. Early checkins or late checkouts are usually accommodated at no extra cost.
All in all, it is a great place to stay.
Anantara Peace Haven, Tangalle
By Claire from Stoked to Travel
The Anantara Peace Haven Tangalle resort is located around 3 hours from Colombo along a palm-fringed slice of paradise that is well away from the bigger tourist areas in Sri Lanka.
Considered one of the best luxury hotels in Sri Lanka, the Anantara Peace Haven resort is perched on a cliffside amongst a large coconut plantation, with access to its own private beach.
Guests can either stay in the main hotel, or in one of the standalone villas complete with a private swimming pool and a dedicated butler.
The dining at the Anantara was one of the most memorable aspects of our stay. One evening we tried the signature Italian at Il Mare, which was one of the best meals of my life. The ingredients for our tiramisu sharing dessert were wheeled out on a trolley, before being fabulously prepared by the flamboyant Italian Head Chef in front of us. We also found the daily breakfast far exceeded other luxury hotels' offerings, with an extensive array of options and a dedicated Sri Lankan hoppers counter.
The resort is located within beautifully manicured grounds, with tennis and badminton courts and a huge gym. My favourite part of the Anantara however was the daily guided walks around the hotel's own vegetable gardens, paddy fields and farm. It was so interesting to learn about the native plants and how they are used in herbal remedies, as well as the unusual animals roaming around.
Finally, the service at Anantara resorts is always exceptional, and this hotel is no different. We had a dedicated host for the duration of our stay who was just a WhatsApp message away and ready to assist with anything – from reserving the tennis courts to arranging the best table for evening happy hour drinks.
Coral Sands, Hikkaduwa
By Jenn and Ed from Coleman Concierge
Hikkaduwa is a seaside resort town in southwestern Sri Lanka, and the Coral Sands is one of its premier beach resorts. It combines easy access with a beachfront location for a dramatic one-two punch. Coral Sands' beach access is right at the reef, which makes this an ideal location for snorkeling. You want to go at low tide when the surf breaks on the outer edges of the reef. Doing this will keep the surge down and make it easy to navigate through the inner reef. You can see it all with just a mask and snorkel, no need for fins. We also loved the food at Coral Sands. Every morning they put out an extensive buffet spread with local and western dishes. One evening, they hosted an evening cookout with delicious food and an incredible view of the sunset.
Coral Sands also has a dive shop on the premises, but we opted to go with the shop at the Hikka Tranz instead. They had newer equipment and a very knowledgeable staff. You also might want to walk up to Turtle Beach by Hikka Tranz at sunrise to see the sea turtles. One more hint about staying at Coral Sands is to pick a "cover" hotel to say you're staying at. The first question everybody asks is where you're staying, and then they raise their prices when you answer Coral Sands.
Hikkaduwa has some good and not so good things to do. I would avoid the moonstone mines, Ayurveda gardens, and turtle hatcheries as they're a bit of a tourist trap. However, the Ambalangoda Mask Workshop and river tours were a lot of fun. Depending on your sensitivity, you could check out the Hikkaduwa Tsunami Museum. Hikkaduwa was ground zero for the Christmas Tsunami. The museum was shocking but respectful and a fitting reminder of a terrible tragedy.
Cantaloupe Levels, Unawatuna
By Cass from Cassie the Hag
Cantaloupe Levels is a boutique hotel situated in Unawatuna; the coastal area home to some of the best beaches on the south coast of Sri Lanka. The hotel looks over both the turquoise Indian ocean and also the lush greenery of the Rumassala headland. Rumassala appropriately translates into 'pleasant view' and the levels of the hotel make the most of this gorgeous panorama. In the bedroom, loungers overlooking floor-to-ceiling windows ensuring the stunning location is never out of sight. I visited as a solo traveller and felt relaxed for the first time in months.
Unlike the other beaches on the South Coast, the short walk to 'Jungle Beach' leads you to a very secluded sandy beach, far from potential crowds elsewhere. Depending on the time of year, surfing, snorkelling and scuba diving are all potential activities too. It is also possible to walk to the Japanese Pagoda from the hotel or take a tuk-tuk to Unawatuna or Galle.
Aside from general amenities, they offer a spa, alfresco dining and pool. The tri-coloured pool is distinctive and it's hard to resist a mid-afternoon dip. When laying on one of the loungers I appreciated the view over the sea and the relaxing music playing from a hidden speaker.
My highlights were threefold: the attentive staff were the epitome of fantastic Sri Lankan hospitality, the poolside breakfast was a truly tranquil experience and the gorgeous panoramic view of the coast from my room was a dream. Their sister hotel, Cantaloupe Aqua, looks equally stunning.
Siddhalepa Health Resort, Wadduwa
By Amandine from Beaux Voyages
If you are looking for a once in a lifetime experience in Sri Lanka, I recommend you to try the Siddhalepa health resort in Wadduwa. This is around 1 hour away from Colombo and the perfect end of a Sri Lanka round trip. Situated right by the beach, it is a place for relaxation and healing of the body and mind.
While traveling through Sri Lanka, you will find many products branded Siddhalepa. It is indeed a family owned company with more than 2000 years of experience in Ayurveda. And every family in Sri Lanka uses their products. A stay at this beach resort will come with a consultation with an Ayurvedic doctor at first. Based on this consultation, the doctor who is diplomed of a Bachelor of Ayurveda Medicine degree from university will prescribe specific body treatments, a special diet and eventually medication made out of herbs.
Yoga classes are also offered every day, 2 times a day. Once at sunrise and once at sundown. It is truly an amazing experience that you will not forget!! If you are not into Ayurveda, Siddhalepa health resort is also a nice destination to relax for a few days. It has an amazing pool and is situated right by the beach.
Elements Beach & Nature Resort, Kalpitiya
By Zinara from NatnZin
I can fondly talk about Elements Beach & Nature Resort as the most beautiful beach resort in Sri Lanka. This eco-friendly resort sits by the little-known Kappalady beach in Kalpitiya. There are large lagoon villas, thatched-roofed cabanas nestled in a palm garden and sea villas facing the Indian Ocean. Elements follow an eco-conscious approach throughout the resort. There's an infinity pool, volleyball court, playground for kids, spacious lounge with relaxing music and sea views, open-air restaurant, and a beach bar.
As Kalpitiya is a region popular for kitesurfing, Elements also have their own kitesurfing school, Kitecenter Sri Lanka. What I love the most is their sustainable approach. They employ locals, who mostly hail from the region and source regional material for construction purposes. An example is using coconut leaves for roofing, which suits the hot, tropical climate of Sri Lanka.
Elements have breakfast and dinner buffets featuring Sri Lankan and continental fare cooked by their local chefs. Try their kottu roti (chopped flatbread mixed with sliced, finely-cut vegetables) served with lagoon shrimp. It tastes phenomenal. My favorite part is you get to dip your toes in the powdery-sand as you treat yourself to a delicious feast. Their beautiful dining hall opens up to the turquoise waters where you can continuously listen to the gently lapping waves.
Jetwing Blue, Negombo  
By Emma from Wanderlust and Wet Wipes
We stayed in a great resort in Sri Lanka – the Jetwing Blue in Negombo. Located right on the beach it was the perfect way to end our week travelling around the highlands of Sri Lanka. We needed somewhere close to the airport for an early flight and to connect with a family friend but somewhere that would let us relax after a busy week of travelling around Kandy, Nuwara Elyia, Sigiriya and the surrounding areas. The Jetwing Blue provided the perfect sanctuary for us with its spacious rooms, easy access to the sea, amazing facilities (the pool and spa are perfect for weary travellers) and close proximity to great restaurants.
The staff at the Jetwing Blue were always really professional and extremely helpful and friendly. We loved the food and the spa and the rooms were clean and tastefully done. Negombo might not be the most attractive of beaches in Sri Lanka (there are so many to choose from!) but it is still stunningly beautiful and the proximity to the airport is hard to believe, let alone argue with when you have an early flight to catch.
But Negombo is so much more than just a beach with quick access to the airport. We really loved the slowed-down pace at the Jetwing Blue – the staff are really attentive but you never feel rushed through anything. The pool is beautiful with tables next to the beach and swings literally in the pool (for the perfect Instagram photo!) The breakfasts were beautifully done with something for everyone while the stunning beach provides the perfect backdrop for sundowners while watching the locals flying kites on the soft sands against a pastel sunset.
Centara Ceysands Resort & Spa, Bentota
By Jacquie from Flashpacking Family
One of the best beach resorts we have stayed at in Sri Lanka is the Centara Ceysands Resort & Spa in Bentota. It's part of the Centara Hotels and Resorts which started in Thailand and has been named best hotel chain in Asia.
The hotel is located in Bentota, just over 100 km from Bandaranaike airport so if you want to head straight to a great beach without having to drive too far after a long flight, it's a good choice. Bentota beach is an enormous stretch of golden sand and is arguably one of the best family-friendly beaches in Sri Lanka.
The hotel is very sympathetic to the surrounding area and it's quite hard to see the hotel from the beach, even though you get great views of the beach from the hotel. Reception is accessed by boat across a lagoon which is quite a cool way to arrive and where you'll receive a very warm welcome. The resort is not huge which means you will experience very personal touches. The staff are all so welcoming and friendly, particularly with children and the kids loved the different 'towel sculptures' left for them by housekeeping every day.
We loved the pool complex which had the kids' pool at one end away from the bar area. If you're travelling without kids, you can relax far out of earshot of the kids enjoying their pool. If you have kids, you won't feel bad about disturbing anyone!
Jetwing Yala, Yala
By Ingrid from Ingrid Zen Moments
The Jetwing Yala in Sri Lanka can easily make the top 3 list of the places I have ever visited, and it is somewhere I would go back to anytime.
Located remotely in the middle of Yala reservation, with access to an amazing sand dunes private beach, the hotel offers 5* amenities. From the first time we set foot in the hotel lobby and we got a peek at the fantastic ocean view, we knew we were going to spend a few stunning days there.
We spent our days moving back and forth from the beach to the 75m swimming pool, indulging in relaxing massages with local aromatic oils, or admiring the wild animals that visited us by the pool (mainly wild boars).
I was stunned by the large variety of food dishes on display both for breakfast and for dinner, and I always find it hard to stop myself from trying everything (especially those mouthwatering desserts).
Because of its location, Jetwing Yala offers also luxury safari guides inside the Yala National Park.
They organize candlelit dinners on the beach, but they also advise against going for a walk on the beach once the sun has set. You don't want to encounter any dangerous wild animal and don't know what to do about it.
I would definitely recommend the hotel to anyone looking for a few days away from the hustle and bustle.
Have you been to Sri Lanka yet? Have you experienced the superior hospitality services in one of the beach resorts in Sri Lanka? I would love to read your opinions in the comment form below.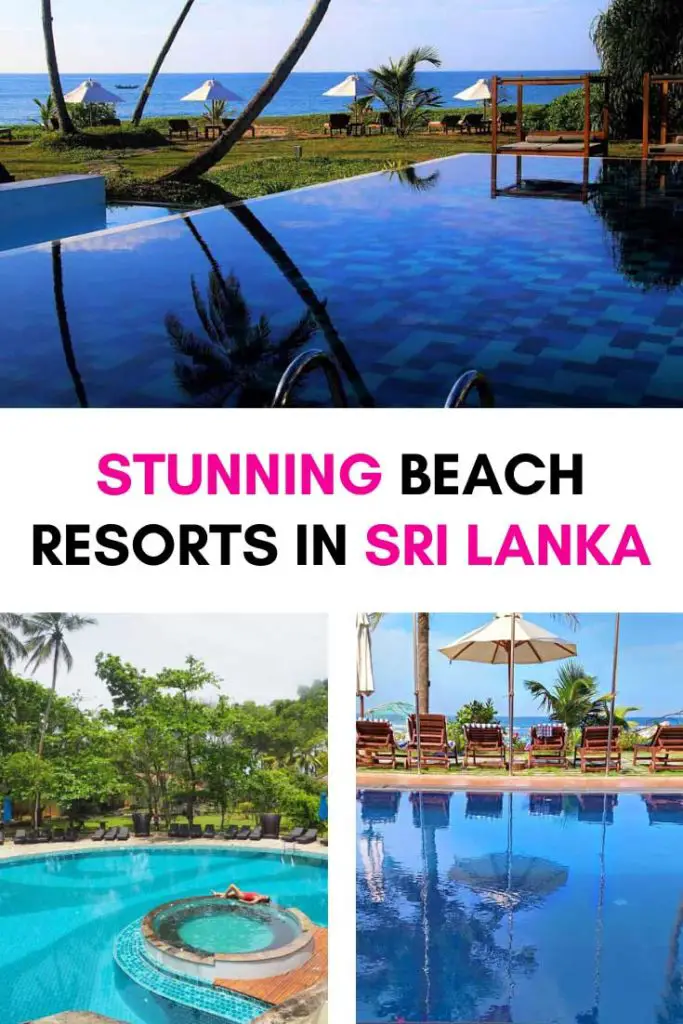 Disclaimer: Some of the links on this website are "affiliate links." This means that if you click on the link and do a purchase, I will receive an affiliate commission at no extra cost for you. This helps me keep my website running and continue to share my traveling knowledge with you. I thank you for booking your flights or hotels using the links on my website. Regardless, I only recommend products or services I use personally and believe will add value to my readers.