"We had just returned from the supermarket, four of us squeezed into the back of a tuk tuk. We're all outside, under the canopy, hiding from the powerful torrential rain with its big drops splashing our feet. I poured myself a glass of the Tanzanian red wine which I had just bought. Not bad, not bad at all, I'm telling myself. Shrek is stretching under the table on my feet, and Fernando by Abba resounds from the tiny portable speaker on the table.
Hostel Hoff is not just about volunteering, but also about the community too. This morning, I noticed that my name appeared on the blackboard, even if I am here just to observe and not to volunteer myself. I stared at it for a few seconds, whilst my heart filled with warmth and my eyes with tears. I feel I am part of this international family now.
Whilst everyone is doing their own thing around this table, without speaking, from time to time their voices join in humming whatever tune is playing. A. is writing in his journal, M. and F. are on their phones, A is doing her nails. Jessica calls: "Dinner is ready"! There's chicken curry tonight!"
Extract from my Tanzanian journal
Why Volunteer in Tanzania?
Tanzania is one of Africa's most politically stable countries that has a poor economy, with more than 50% of its population living below the poverty line. Tanzania is generally a safe country to live in, especially around the North, in Moshi and Arusha. There is petty theft around, but as long as you don't have any valuables on show, you should be ok.
The locals in Moshi are very friendly towards Mzungu – white person – because they know most of them are in the city to help. Volunteering in Tanzania is an amazing way of giving whilst enjoying everything that the country has to offer. By doing volunteer work in Tanzania you can benefit from reduced rates on safaris and excursions, and who doesn't dream about going on a safari once in their lives? Tanzania is such a diverse country, with amazing wildlife, national parks, mountains, islands and beaches.
How Do You Know the Project You are Volunteering With in Tanzania is Ethical?
After writing about the projects available for volunteering in Tanzania, I received a few messages from people saying that volunteering in an orphanage is not ethical because they read this in the news. They were arguing that the children are taken away from their parents because volunteers pay good money to come to Africa, and that there is an entire business going on. How do they know this? Because they read it in the news, so it must be true.
I am not saying that this is not happening in some places, but seeing first-hand what the reality actually is, these comments raise negative feelings within me. How can someone who has never been to Tanzania before say that volunteering in an orphanage is not ethical, just because they've heard it somewhere. Moreover, how can someone who has never looked into the eyes of a child from an orphanage in Tanzania advise others not to go and volunteer?
I remember that as I got off the tuk tuk at the gate of Msmaria Centre for Street Children, a little girl came running to me, grabbed my hand and said in perfect English, and with the biggest smile on her face: "Hello, I am Samira. What is your name?"
During my stay at Hostel Hoff I've visited different projects and spent time observing how the volunteers were helping. I have also learned some of the children's stories, which were heart breaking. Tanzania is a country where 4.6% of the adult population lives with HIV and unfortunately because of it, many children are still very young when they lose their parents. A few of the orphanages that I've been to are small, run by "mammas" who have taken in a few children, giving them a chance for education and a better future. Volunteers are helping children not only by teaching them English or playing with them, but also by opening their minds to the entire world, broadening their horizons and encouraging them to dream big.
Most of the orphanages that I have visited in Moshi are family run and have limited resources. Volunteers provide an enormous help to the households not only by looking after the children, playing with them or helping them with their homework, but also by contributing to the daily chores during school time. Some of these include cleaning, preparing food, or gardening.
So, is volunteering in an orphanage ethical? Yes, as long as you do a lot of research before you join a volunteering program in Tanzania. For example, Hostel Hoff does not charge you to come to Tanzania to volunteer. You only pay for your accommodation, 20$ a day, which also includes breakfast, dinner and laundry.
If you pay any money to do volunteer work in Tanzania, make sure that your contribution is helping the local projects, not someone's pockets in a big office in London or New York!
Hostel Hoff Review:
Accommodation:
Hostel Hoff is located around 15 minutes' walk from the centre of Moshi, in a quiet area, away from the main road. There is a large garden where you can relax in one of the hammocks, sunbathe, and get beautiful views of Kilimanjaro on clear days.
The accommodation at Hostel Hoff is in dorms, with a couple of private rooms available as well for couples who are volunteering together. The rooms have curtains and mosquito nets above the beds. The bathrooms and showers are shared between the rooms. You should know that there is always hot water available, as the showers have electric water heaters. The rooms are cleaned daily.
There are plenty of communal areas where volunteers can interact and spend time together. I loved the outdoor tables where everyone was gathering in the evenings. It features a blackboard where all the important information is written, including the names of all the volunteers currently at the hostel.
The indoor living room features a TV and a large collection of DVDs, very handy when it is raining outside. There is even a guitar for volunteers who know how to play.
Food:
Hostel Hoff offers breakfast and dinner included in the daily rate. Every day, Jessica cooked something different. For breakfast, there were eggs or pancakes, fresh fruit, toast, and sometimes even the traditional mandazi. One of the things I liked most about the breakfast was the avocado, which I never missed. Whilst back home avocado toast is usually a treat, at Hostel Hoff I enjoyed it every single day!
For dinner, again there were different dishes every day, from the traditional pilau with roast chicken and vegetables, to chicken stew with roasted chapatis and cabbage salad. One evening we even had a barbecue with grilled chicken, beef skewers and French fries.
Activities:
By volunteering at Hostel Hoff, you benefit from reduced rates for any trips in Tanzania that you might wish to take, through African Scenic Safaris. We all know how expensive safaris or climbing Mount Kilimanjaro can be!
There are so many day or weekend trips that you can do as well, some which you won't find in any other touristic brochure, such as overnight stays in a Maasai or Hadzabe Bushmen village, Lake Chala, Kikuletwa Hot Springs, or visits to the Kilimajaro Animal Hospital.
The Team:
Hostel Hoff is run by a friendly team overseen by Mary, who can solve any problem that you might have and give the best advice when it comes to volunteering. The staff act like a big family who are there to make your stay in Moshi as pleasant as possible.
The hostel has its own security team who goes above and beyond to make sure that everyone is safe. For example, the few times we went to the nearby terrace in Moshi to have a beer in the evening, Elia – one of the Maasai security agents – accompanied us up there, then came to pick us up when we finished, even if it was just a 2 minutes' walk back.
The staff speak English and they can teach you a bit of Swahili as well. Mary visits the hostel almost every evening to check and make sure that everyone is ok.
There are also two furry friends at the hostel, Peanut and Shrek, who love cuddles and scratches behind their ears.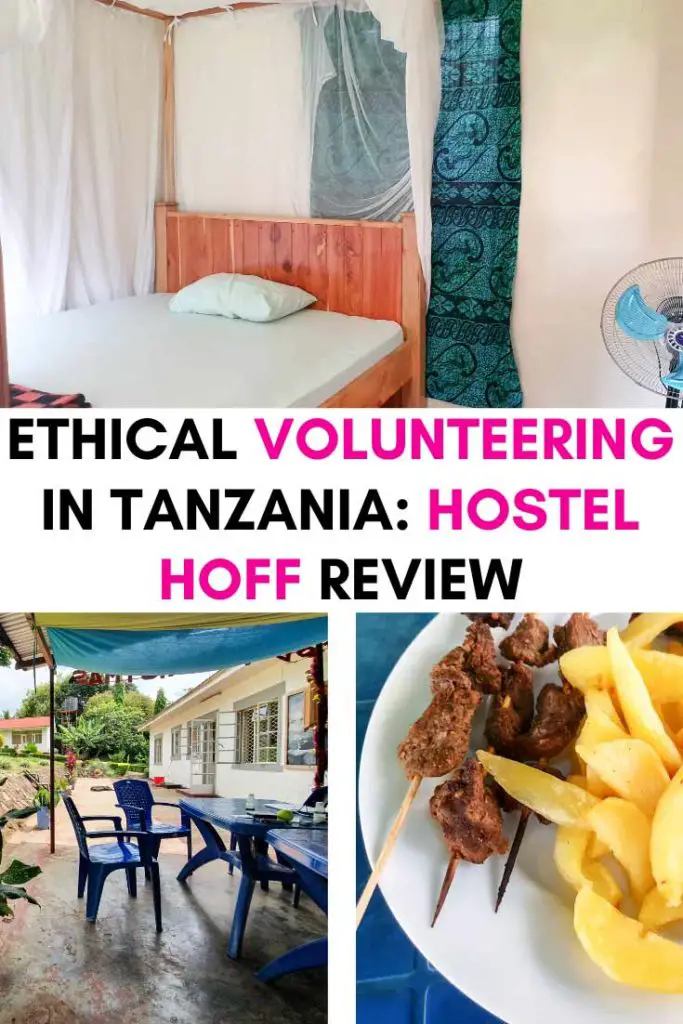 Disclaimer: Please note that this article was written after ground research in Moshi, with the help of Hostel Hoff who kindly hosted me for a week and provided me with access to their volunteering programs. This is not a sponsored post. All the opinions in this article are my own and I would not recommend anything that I wouldn't have enjoyed myself doing or think it was a great place to visit.
Some of the links one this website are "affiliate links." This means that if you click on the link and do a purchase, I will receive an affiliate commission at no extra cost for you. This helps me keep my website running and continue to share my traveling knowledge with you. I thank you for booking your flights or hotels using the links on my website. Regardless, I only recommend products or services I use personally and believe will add value to my readers.