St Gilgen is another gorgeous small village I stumbled upon whilst driving along the Romantic Road of Austria. I remember slowly driving through the outskirts of the town, where the main road crosses through, with the beautiful lake on one side and the high mountains on the other. All of a sudden, a cable car passed overhead, just above my car. That's when I decided that I would return to this gorgeous Austrian alpine village.
Even if it's quite small, there are plenty of things to do in St Gilgen, especially nature related ones such as hiking, cycling or swimming.
Where is St Gilgen and how to reach it
St Gilgen is located 29 kilometres from Salzburg, on the famous Austrian Romantic Road. You can reach it easily by car in 30 minutes. The village is also very well connected to Salzburg by public transport. Bus 150 connects Salzburg to Sankt Gilgen in 50 minutes. The bus leaves from in front of the main train station in Salzburg, and you can check the schedule by clicking here.
Where to Park in St Gilgen
I drove to St Gilgen, so for me finding a good place to park was very important, especially as I was there in August during the high season. I was happy to a find very large off-road car park, just after the cable car station, on the right. The price was 4.5 euros for the entire day,  more than reasonable. Click here for the exact location.
Where to Stay in St Gilgen
Walking through the village I saw so many charming hotels with beautiful lake views. I personally didn't stay in Sankt Gilgen because I wanted to visit Hallstatt as well, so I chose a hotel which was located in between the two. I was very happy with my choice and really enjoyed my stay at the historic Landhotel Agathawirt, for which you can check out the reviews on Tripadvisor or the latest rates directly on Booking.com. 
However, if you would like to stay in St Gilgen, check out the suggestions below from my trusted partner, Booking.com :
Things to Do in St Gilgen
Stroll Along the Village
Just like Hallstatt, Sankt Gilgen is a gorgeous village to just walk through and enjoy the architecture. The pretty typical Austrian houses have wooden balconies and window shutters, are brightly coloured, and are adorned with the most gorgeous paintings. 
In front of the village hall there is a small fountain decorated with flowers, with a statue of a young Mozart playing a violin on the top. On the day I visited a small concert was due to take place later that evening, and a band of musicians were preparing their instruments, just in front of the statue. 
Take the Zwölferhorn Cable Car
The cable car in Sankt Gilgen is brand new, having been finished and opened at the end of 2020. A round trip ticket for the Zwölferhorn Cable Car is a steep 29 euros. However, it is worth it! The views going up are breath-taking. The journey takes 11 minutes, and each individual cabin has enough space for 8 people. They don't seem to be full though. On my journey up I travelled with a grandfather and his nephew, whilst on the way down I shared the cabin with an older couple I had met earlier when I was having lunch at an alpine hut restaurant on top of the mountain.
Hike in the Alps
There are many hiking options around St Gilgen. You can either take the cable car up Zwölferhorn mountain, or hike up there in just less than three hours. Once you reach the top, you can embark on the Panorama Circuit, an easy circular trail that offers amazing views over the Wolfgangsee Lake and the Salzkammergut lakes region.
The Panorama Trail is suitable for everyone, I have seen people of all ages on it, including parents with buggies. The path is wide and can be completed in about an hour. However, I took my time to enjoy it, take photos and explore it properly, so I spent around 2 and a half hours on it. Whilst this trail is marked as easy, there are a few steep areas, especially if you choose to approach the cross from the peak behind the cable car station. Even so, the views are spectacular! It's like you are in a commercial ad for Milka… green pastures everywhere, lakes at the foothill of the mountains and cows grazing peacefully on the almost vertical versants.
There are three Alpine huts along the way, selling traditional Austrian food and refreshing drinks, but they are all close to the cable car station.  So, make sure you bring water with you.
Go Paragliding
The top of Zwölferhorn is a popular paragliding spot, both for experts and tourists who want to try a tandem flight. The booking office for tandem experiences is just next to the cable car ticket booth, you can't miss it. The flight last 20 minutes and runs all year-round, weather permitting of course.
The price per person for one flight is 159 euros, it includes the cable car ticket, and the experience can be booked either online or at their office in St Gilgen.
Have a Traditional Austrian Lunch with a View
After hiking for a few hours, you would probably like to sit down in a nice restaurant with a view and have a plate of traditional Austrian food, which is not only delicious but hearty as well. There are two things that I noticed people kept ordering: the Käsespäetzle and the Schmalz (a typical Austrian mountain appetiser of bread, lard, pickles, and raw onions). 
Initially I only sat down in the restaurant for a cold beer, to cool down after the hike. However, after I saw how good the Käsespäetzle looked, I ended up ordering a bowl for myself. And what a treat that was! Käsespäetzle is a typical Austrian dish made from tiny noodles mixed with a lot, and I mean a lot, of cheese, caramelised onions, and topped with crispy onions. It's a proper comfort food! Even though the bowl didn't look very big, I struggled to finish it.
I chose to eat at Voit'l Hütte am Zwölferhorn Alpine hut because of its location and the view. The prices were normal for the area, around 13 euros for a main and 3 euros for the non-alcoholic beer. The restaurant has long tables on their terrace, so you get to share it with other people, which I thought was a great idea. I met a very nice couple who gave me some great pieces of advice about what to look for at my next destination.
Rent a Boat
For a different view of the lake and surrounding mountains, consider renting an electric boat, which you can do straight from the main harbour, just off the main square in St Gilgen. The boat can hold up to four people and it costs 18 euros for half an hour.  The electric boat is very easy to drive.
If you don't fancy driving the boat yourself, you can always book one of the guided organised boat tours that go through St Gilgen, Strobl and St Wolfgang.
Go Swimming in the Lake
Sankt Gilgen has a small beach called the Lido, where everyone can enjoy a swim in the lake, free of charge. The swimming area is safe for children, and it also has a restaurant, toilets and changing rooms.
Whilst the water of the lake will probably be quite cold, it's still an experience to take a dip and cool down on a hot day after you've been hiking for a few hours.
Take the Ferry to St. Wolfgang
Sankt Wolfgang is another charming little village on the shore of the Wongangsee lake. You can easily reach it from Sankt Gilgen by ferry, which runs every hour or so from the main harbour. A one-way trip takes 35 minutes and costs 8.5 euros per person. You can check the schedule and book a ticket directly on the WolfgangseeSchifffahrt ferries website, here. The ferries are dog friendly, and you can take your pooch on board for an extra 6 euros.
The ferry journey offers a different perspective on the mountainous scenery, and it's a much more relaxing way to get to Sankt Wolfgang than on the bus.
Visiting Sankt Gilgen in Winter?
St Gilgen is a village that is worth visiting all year-round. Whilst in summer you can enjoy the sunny weather cruising the lake or hiking in the Alps, in winter you will have different experiences.
The Austrian Christmas Markets are without a doubt some of the best in Europe. The one in Sankt Gilgen is no exception. The entire village is transformed into Santa's village, with wooden chalets selling hand painted baubles, handicraft gifts, and of course, traditional food and mulled wine. Plus, the chances of the village being covered in snow, are very high.
For winter sports lovers, there are two areas for skiing just outside St Gilgen, one at the same level and one on top of Zwölferhorn – reachable by cable car.  Every year, The Seepark in St Gilgen is transformed into a free icing rink as well.
Like it? Pin it!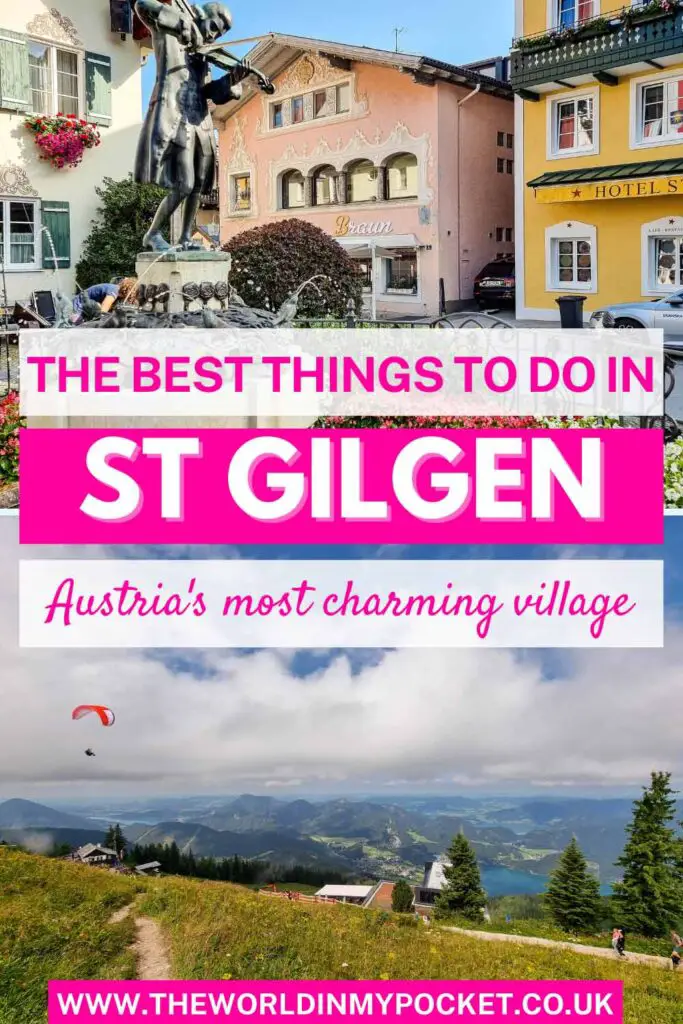 Disclaimer: Some of the links on this website are "affiliate links." This means that if you click on the link and do a purchase, I will receive an affiliate commission at no extra cost for you. This helps me keep my website running and continue to share my travelling knowledge with you. I thank you for booking your flights or hotels using the links on my website. Regardless, I only recommend products or services I use personally and believe will add value to my readers.