The traditional South Africa cuisine is so unique because it has been influenced by so many different cultures over the years. The recipes and the traditional style of cooking of the indigenous people of South Africa has been heavily influenced by Dutch, German, French and British cuisines, but also by the Indo-Asia communities known as "Cape Malay" who contributed with the use of different spices.
When it comes to protein, the traditional South African dishes are heavily based on meat. However, you can find vegetarian options as well without too much trouble. South African food is a celebration of flavours, which often happens when people gather and share time enjoying each other's company. There is nothing better than a South African braai between friends, which starts at midday and doesn't finish until late at night.
In this article I tried to find out which are those popular traditional foods from South Africa that you must try on your next trip there. So, if you are wondering what to eat in South Africa, read on:
Braai
By Oksana and Max from Drink Tea and Travel
Braai in South Africa, and most African countries in fact, is more of a social custom and type of food then a dish itself. In Afrikaans it translates to barbeque or grill which was derived from the Dutch word "roast". It is enjoyed all year round.
You can get braai in a restaurant or a braai cookout at home with family or friends. It is one tradition that all the diverse cultures of South Africa partake in. For special events like birthdays, graduations and celebrations a braai is usually in order. On South African heritage day, the 24th of September, there is rarely a household that isn't sharing in a braai.
Traditionally, these barbeques used local wood which gives the braai a unique flavour. You can still get these types of braai in some restaurants or at home with traditionalists. However, as times have changed most people have switched to coal or gas BBQ's.
Just about anything can be grilled at a braai. From fish to meat and vegetables, usually accompanied by fresh salads, a starch or anything else that would go nicely alongside a BBQ. As for what to drink at a braai? You can't go wrong with an ice cold beer or a local South African wine from the Cape Winelands.
Braai Broodjies
By James from The Travel Scribes
No stint in South Africa is complete without indulging in the national pastime, the 'braai' or 'shisa nyama' known as a barbeque elsewhere in the world. The act of gathering around an open fire, swapping stories as you slowly turn the boerewors and the tjops, is such a part of the country's identity and the dishes that accompany it are staples in local cookbooks.
However, it's the modest braai broodjie, translated as 'barbeque bread' that you might not find in the pages of these books, but you'll definitely find eaten at any barbeque worth its braai salt. Essentially a very fancy version of a 'toastie' or toasted sandwich, the braai broodjie is two thick slices of white bread, covered in butter, loaded with cheese, white (or red) onion rings and tomatoes. Placed into a stainless steel grid and toasted on the usually wood-burning fire (although coals are entirely acceptable), these simple delights are usually made at the end of a grill session, when the fire is a bit cooler to ensure they don't burn.
Sometimes served with chutney (in which case it has to be South African brand, Mrs. Ball's), the broodjie is a key accompaniment to a platter full of grilled meats and an array of salads, eaten across all areas and cultures of the country.
While the history of the humble sandwich is unknown, there's no doubt that this delicious dish will satisfy even the trickiest of tasters; a South African stalwart.
Boerewors
By Tracy from Tracy's Travels in Time
If you attend a BBQ (or braai as it is called in South Africa) one food you will almost certainly be served is boerewors.
Boerewors – pronounced BOO-ruh-vorse – is a type of sausage. Traditionally made from a combination of 90% meat and spices these sausages are widely consumed in South Africa, Zimbabwe and Namibia.
Boerewors is an Afrikaans/Dutch word which when translated means farmer (boere) sausage (wors) The origins of the sausage date back to the early European settlers to the Cape who were predominantly Dutch or French.
Borewors consist of 90% coarsely ground beef (sometimes lamb and pork are also added but beef is the predominant meat used) The meat is combined  with a spice mix made up of coriander, nutmeg, cloves, black pepper and all spice. Malt vinegar is also added. The spice mix added to the coarsely ground meat gives borewors a unique aroma and taste.
The sausages are formed into a coil which is around a foot in diameter. Ideally cooked on a BBQ or pan fried portions of the sausage are cut and served. Add to a roll with relish for a tasty 'hot dog' or alternatively serve with mielie pap (a type of porridge) made from maize meal. Top with a sauce made from tomatoes and onions and enjoy!
If you are invited to a braai don't miss the opportunity to try borewors. It is certainly one experience not to miss in South Africa.
Sosaties
By Michele from Greedy Gourmet
If you are looking for a local South African dish, you absolutely have to try making your own lamb and apricot sosaties. Lamb sosaties are one of the most classic dishes served at a South African 'braai' (grill or barbecue as translated from Afrikaans).
The term sosaties comes from the Afrikaans word 'sate', which translates to meat. 'Saus' on the other hand, translates from Afrikaans to spicy sauce.
In essence, lamb sosaties are lamb skewers with a flavourful marinade made with apricot jam. Sosaties can be made with a variety of meats such as mutton, chicken, beef, goat, etc. Therefore, this recipe is completely versatile when it comes to the meat. So, take your pick!
Ordinarily, the meat is marinated in a spicy and aromatic sauce and then placed on the grill for that perfect char. However, the addition of apricot jam is a dead giveaway that the recipe is South African. More specifically, that it is a Cape Malay recipe.
Cape Malay recipes stem from a cuisine that's specific to Cape Town, as it is a blend of the local Southern African cuisine (from the West coast), combined with Malaysian and Eastern influences. Food from this specific region is oftentimes referred to as soul food. You can expect a Cape Malay recipe, such as this one, to being powerful with very distinct flavours due to a large amount of added spices.
In short, you get a kick of flavours in a single bite. What's best is that you can play around with different curry powders to find your favourite spice mix.  Pair the lamb sosaties with a delicious green salad or some roasted vegetables. Bon appetite!
Lamb Chops and Steak
By Campbell from Stingy Nomads
A South African braai is a culinary and social experience not to miss. Braai is the Afrikaans verb for barbeque, but is now a slang word used in many languages. Braai evolved from the word braden meaning 'roast' in Dutch. Lighting the fire and braaing some meat is more than a barbeque; it is a social occurrence and something many South Africans do every weekend. You can braai anything, even vegetables; but South Africa has a carnivore dominating culture and steak or lamb chops are probably the most popular dishes.
The atmosphere and side dishes are very important. Cooking of the meat is done on an open fire. In sunny South Africa the fire is usually started outside, it takes a while for the wood to burn to the correct temperature. Everybody gathers around the fire with a glass of wine, choose a nice red wine from the Cape Winelands to go with the meat. If you braai steak you will start cooking over the flames of an open fire to char the meat without overcooking it, with lamb chops you will only start cooking over coals when there are no more flames. Side dishes are an important part of the meal, with steak, salad and potato dish is popular. Braai lamb chops, boerewors, braaibroodjies and a salad are the standard side dishes.
The Gatsby Sandwich
By David from Your Ireland Vacation
The Gatsby is one of South Africa's most popular fast foods and it's a Cape Town tradition to feast on one of these unique sandwiches. The Gatsby is a foot-long sandwich that originated in Cape Town in the Western Cape of South Africa.
Originally created to provide a quick, cheap and filling meal for restaurant staff, the Gatsby sandwich quickly gained huge popularity and today the sandwich is available as a staple in many South African takeaways.
A traditional Gatsby consists of a foot-long sandwich, which is opened up and filled with slap-chips (fries with vinegar), meat (usually chargrilled steak) and salad and topped with a liberal dressing of spicy sauce. Other fillings include Vienna sausage, chicken, fish or calamari. Due to its monstrous size, a Gatsby is usually cut in 4 for sharing and even a single slice is very filling.
Enjoying a slice of Gatsby sandwich is a messy affair as the sauce seeps into the bread but the flavors are incredible. The combination of the meat, fries and sauce over the fresh doughy bread roll is delicious and truly unique. Our favourite is the Masala Steak Gatsby from one of the best spots in Cape Town, Aneesa's take away in Wynberg. Their signature sauce is what sets their Gatsby's above the rest!
Bunnychow
By Tanayesh from Shoestring Travel        
Bunny chow is an authentic South African street food wherein spicy curry is served in half a loaf of hollowed-out bread. It is a favourite street food available at most corner cafes. This curry is made with lamb, beef, or chicken, or even goat.
It actually originated among Indian South Africans of Durban, home to a large community of people of Indian origin. This dish, which has its name from the caste of Indian businessmen who sold the curry, 'bania', and slang for food, 'chow', which yields energy for a full day's work. Again, it was cheap to make and designed to be eaten with the hands – with the idea being that you start from the 'virgin' scooped-out bread at the top and end at the gravy-soaked bottom – so it needs to be wrapped up in paper. The creation of this food has been marked in 1940s. It was sold in Gwelo, Rhodesia during World War II and is still sold in the nearby town of Kadoma, formerly known as Gatooma.
This bunny chow tastes heaven and is a full meal as it contains bread with lots of curry which can be just chickpeas and vegetables, chicken, goat or anything really.
Bobotie
By Sabine and Sean from The Travelling Chilli
Bobotie is probably the most widely known South African meal and is often considered as South Africa's national dish. Even though Bobotie is native to the Cape province, you can find it in restaurants and homes throughout the country.
Now there are two stories about the beginnings of the dish; one says that Bobotie originated in the 17th century in the Cape province, where Dutch settlers brought their cooking style mixed with spices from their colonies in the East. The other story is that it was brought to the Cape even earlier by the slaves from Indonesia and Malaysia.
Bobotie is often named as a Cape Malay curry after the Cape Malay people who settled in the Bo-Kaap suburb in Cape Town. This is also where taking a stroll through the colourful houses of the area is one of the many free things you can do when visiting Cape Town.
Bobotie is a minced meat casserole made with lots of spices. The traditional way is to use lamb mince, but more often it is made with beef. When the mince is being cooked, raisins are added with lots of curry powder and apricot jam. Other spices like cumin, turmeric, coriander and ginger can be added according to taste. Even though Bobotie has a lot of spices, it is not a very hot dish. It's supposed to have just a little bite with a sweet aftertaste.
Traditionally, bobotie is cooked in the oven and finished off with a top layer of egg custard and bay leaves. It is served with 'geelrys', which is yellow rice, cooked with turmeric.
Biltong
By Ben from The Sabbatical Guide
Biltong is an air-dried South African steak, which is cut into strips and eaten. Its closest equivalent from elsewhere in the world is beef jerky from North America, with the key difference being that biltong is air-dried where jerky is quickly dehydrated on a rack.
Biltong has evolved from the dried meat carried by the original Voortrekkers who migrated from the Cape, northwards into South Africa away from British rule. They made it as far as Pretoria where the Voortrekker Monument was built. There was an abundance of game around them in the African bush but the hot weather made it difficult to keep fresh. They adapted by using a technique passed down through generations, curing meat in the dry winters, then wrapping it in cloth to keep it fresh for their long journey, meaning they didn't need to take livestock with them.
Biltong can be made from all types of meat. Traditional it would have been antelope such as game, but now it is more commonly made from cheaper meat such as beef. Ostrich, kudu, springbok and even shark biltong can be still found though.
Mostly eaten as a snack or treat, biltong usually is left just with the flavour of the salt preservatives but can also be found with marinades or spices such as chillis.
Crayfish
By Annika from The Midnight Blue Elephant
Want to treat yourself when eating in South Africa? Crayfish also called kreef is the way to go. These local rock lobsters are a delicacy, and you can find them in many fine dining restaurants in Cape Town and the rest of the country, and when the season is good also in more humble seafood eateries.
Season usually runs from November to April and if you want to follow into the locals' footsteps, you can simply get your crayfish permit from the local post office. These permits will allow you for a small fee to fish out your own crayfish (there are limits on how many you can take depending on the dates and how many crayfish there are in a given season). Put on your wetsuit and go diving! Just make sure you don't forget your gloves -while Crayfish don't have the big claws other kinds of lobster are known for, they are still quite spiky.
Alternatively, you can buy them from good fishmongers around the country, frozen or fresh.
While there are no limits to fancy crayfish dishes local restaurants will come up with, many prefer their kreef as simple as possible to let its own sweet flavor shine: on the braai  with some butter and a good glass of Sauvignon Blanc.
Oysters
By Chrisoula from Travel Passionate
While much of South Africa is famed for its meat-centric cuisine, the town of Mossel Bay on the Garden Route is renowned for its exquisite oysters. These are medium-sized wild oysters, often collected from the nearby Klein Bark River, and are well worth a try.
Mossel Bay was originally named after mussels (when it was discovered by Dutch shipping merchants back in the late 16th century) but it is the oysters than have foodie fanatics making a stop off here these days!
As the name suggests, the Mossel Bay Oyster Bar is one of the top spots to grab a platter of oysters in town, but pretty much all of the restaurants serve the shellfish in some way, shape or form. While there are loads of different serving styles, it's worth giving them a go au natural, or simply with a dash of lemon so that you are really able to taste the fresh, hearty, salty flavor. These oysters are pretty meaty and if you want to savor the flavor you could give them a chew to explore the depth of taste before swallowing them down.
If you're feeling adventurous then why not opt for some of the more outrageous oyster combos such as oysters with champagne, chives, and pepper, oyster shot with a Bloody Mary on the side, or Oysters Martini, served with lemon juice, pimento-stuffed green olive and tabasco.
If nothing else, the oysters served on ice make for a perfect summer Instagram photo and when you're eating them with a view of the sea, you're bound to enjoy yourself!
Pap and Relish
By Wendy from The Nomadic Vegan
Pap is a staple food throughout South Africa, and also in many other African countries. On its own, pap doesn't have a very strong flavor, which is why it's usually paired with a sauce or "relish". Eating plain pap would be like eating plain white rice; you could fill up on it, but it wouldn't be much fun. Although, in addition to being eaten as a savory side dish with relish, pap can also be sweetened and eaten as a porridge for breakfast.
So what is pap? It's a maize meal porridge. The full name is "mielie pap", although it's often called just "pap" or "papa", and you may come across other names for it in various local languages, like "phuthu" or "bogobe". The word "pap" is actually an Afrikaans word derived from Dutch and just means "porridge", whereas "mealie meal" is the local name for the coarse ground maize flour used to make mielie pap.
As ubiquitous as pap is in South Africa today, the maize used to make it is not native to Africa. It was introduced from the Americas via European explorers and colonizers. Since maize produced higher yields than the locally grown sorghum, African farmers quickly transitioned to growing maize instead.
The relish served with pap can be any kind of sauce or stew, but the most common one is a thick, chunky tomato relish. Pap and tomato relish is a very common side dish served at a braai (barbecue) in South Africa. As long as butter hasn't been added to the pap, it's a fully vegan African dish. So if you're vegan or vegetarian and get invited to a braai, see out the pap and relish and you won't go hungry.
Chakalaka
By Stephanie from The Africa Cookbook
Chakalaka is a delicious spicy bean salad that originated in Johannesburg. Mozambique workers created the dish using baked beans, slow-cooked veggies, and spices. The dish is now a common side at South African barbeques, and it is also an important dish in Mozambique and Zimbabwe as well. Just like Jollof rice in West Africa, this once national dish has become a staple across the southern portion of the continent. The dish is complex in flavor, and the longer you let it sit after cooking, the better the flavors meld together. This means that it's great to make ahead of time or take home as leftovers since it is often even better the next day. The vegetables are typically peppers, cabbage, and carrots. You can buy a premade chakalaka spice if you are making it at home, or you can make your own spice blend combining ginger, paprika, and curry. In South Africa, its commonly served with Pap, a maize porridge. However, you can also serve it with rice. It is also typical to serve a main meat course with chakalaka, like grilled chicken. Chakalaka goes great with beer or red wine. Make sure you have a drink picked out ahead of time if you are planning on indulging in a particularly spicy version.
Sazda and Vegetables
By Jyoti from Story at Every Corner
Growing up in Kenya, mom would sometimes make ugali and sukuma for us. Years later, when visiting Southern Africa, I wanted to see if there was similar dish in Southern part of the continent. To my surprise, we first found it in Zimbabwe and then again in Cape Town. In those parts its called sadza.
Sadza or Ugali is essentially a ball of corn flour, water and salt. It is deliciously soft and served with vegetable curry. The traditional curry is made from dark green leafy vegetables which is itself is flavorful. In nicer restaurants sadza is served more fancy mixed vegetables with curry spices.
Ugali or sadza is the traditional meal in Kenya and in many countries of Africa. It's local, inexpensive, nutritious and delicious. Traditionally the meal is vegan but with prosperity, game meat curries are more popular among tourists. Historically, in Southern Africa, sadza is made from white corn but many a times is also made from the yellow corn imported from Kenya.
If you're traveling to these parts, be sure to try sadza and vegetable curry. I also recommend trying the amazing flavors of Malay Cuisine in Bo Kaap neighborhood of Cape Town. You'll love it!
Malva Pudding
By Christine from Guide To Day Trips 
Malva pudding is a popular sweet pudding in South Africa. It is a Cape Malay origin although the origin of the name of this famous dessert is still being debated
Some say that "Malva" is named after a woman, while others are saying that Malva is an Afrikaans word for geranium which is one of the original ingredients for the batter. There's also another story that the pudding was named after Malvacea wine from Madeira, Portugal as the dessert was normally served with wine after the main course during early times. In Oxford Dictionary, it says the word Malva came from the Afrikaans word "malvalekker" which means "marshmallow". Whatever the real story is, Malva pudding is a must for anyone visiting South Africa.
This gooey and spongy dessert is made of flour, apricot jam, butter, sugar and milk, and is normally served with custard or milk on top and ice cream. I have tried this dessert in one of the best steakhouses in Cape Town but you can find it in several restaurants anywhere in South Africa.
Malva is a bit sweeter for my taste, but this pudding doesn't disappoint! Just make sure to mix it with the creamy vanilla ice cream to balance the sweetness if you're like me who doesn't like sweet food that much.
Hertzoggies
By Aleney from Boy Eats World
Originating in the Western Cape Province of South Africa in the 1920's, Hertzoggies are one of the country's most delicious sweet treats. With their cup-shaped, soft pastry bases, generous burst of apricot jam filling and a chewy coconut meringue top, the delicious cookies – which are in reality more like a tartlet – are as much about texture as taste. And it is impossible to stop at one.
The irresistible cookies were named for Boer War General J. B. M. Hertzog, who was South Africa's Prime Minister between 1924 and 1939. General Hertzog's Cape-Malay supporters baked, served and sold Hertzoggies (Hertzogkoekie in Afrikaans) to show their support for General Hertzog, after he made a pledge not only to give women the right to vote but to give equal rights to the coloured community. While he fulfilled the former, he sadly reneged on the latter and his former supporters started topping the cookies with a brown and pink icing called "twee gevreetjie" (Afrikaans for "hypocrite").
Regardless of the people's dissatisfaction with their historic namesake, Hertzoggies are still one of the most popular cookies in the Western Cape today, and usually served with a hot cup of tea or baked as a dessert by the Cape-Malay community during Eid.
Rooibos Tea
By Jeff from Our Passion for Travel
Spend any length of time in South Africa more broadly, and it won't be long before you stumble across rooibos tea. The rooibos, or red bush is grown exclusively in the Cederberg mountains in the Western Cape of South Africa. You won't find this tea grown anywhere else in South Africa, or the world for that matter.
Served in a similar manner to black tea, it is most often accompanied with a dash of milk. It has a natural sweetness and a slightly nutty taste. Left to infuse for longer, the rooibos is a full bodied tea. For those who avoid hot drinks normally for fear of the impact of caffeine can rest easy. Rooibos is naturally non-caffeinated, another reason for its popularity.
For those who like something closer to a coffee, seek out a café in Cape Town who makes a Red Cappuccino. A Red Cappuccino is brewed like a cappuccino, but with rooibos instead of coffee. A fluffy, milky head accompanied with the gentle rooibos nuttiness. For added sweetness, a dash of honey can be a nice accompaniment.
It's an easy addiction to add when visiting South Africa. Its popularity has grown however that you can now often find rooibos in the supermarket aisles. So even if you can't make it to South Africa any time soon, scan the tea selection in your local store to try a sample at home.
Savanna Dry
By Mariza from Hoponworld
When visiting South Africa, one drink that you simply must try is Savanna Dry. Unlike most other ciders you'll find around the globe, Savanna Dry is actually a premium cider and a fantastic one at that!
This boozy drink is made of crushed apples carefully cultivated in the gorgeous Westen Cape region, triple distilled, and finally double chilled. Besides the intricate processes involved in creating the perfect bottle of Savanna Dry, the thing that really sets Savanna Dry apart from other ciders is its taste. Unlike the usual run of the mill ciders that tend to be on the sweet side, Savanna Dry is not sweet at all and has quite a unique flavor. The result – a clear, mid-golden drink with a semi-dry and crisp taste.
While Savanna Dry is a cider, it does have quite a high alcohol level (6%). Nonetheless, it's a great refreshing drink to have, especially on a hot summer's day! The best way to enjoy a Savanna Dry is right out of the bottle with a lemon wedge squeezed into the bottleneck. Alternatively, enjoy it over lots of ice, and don't forget the lemon!
Savanna Dry comes in a light version (3% alcohol) as well as three other newer flavours, namely Savanna Dark, Savanna Loco, and Savanna Jean.
How about you? Have you been to South Africa yet? What was your favorite food? If not, what would you most want to try from the traditional South African dishes above? I would love to read your opinions in the comment section below.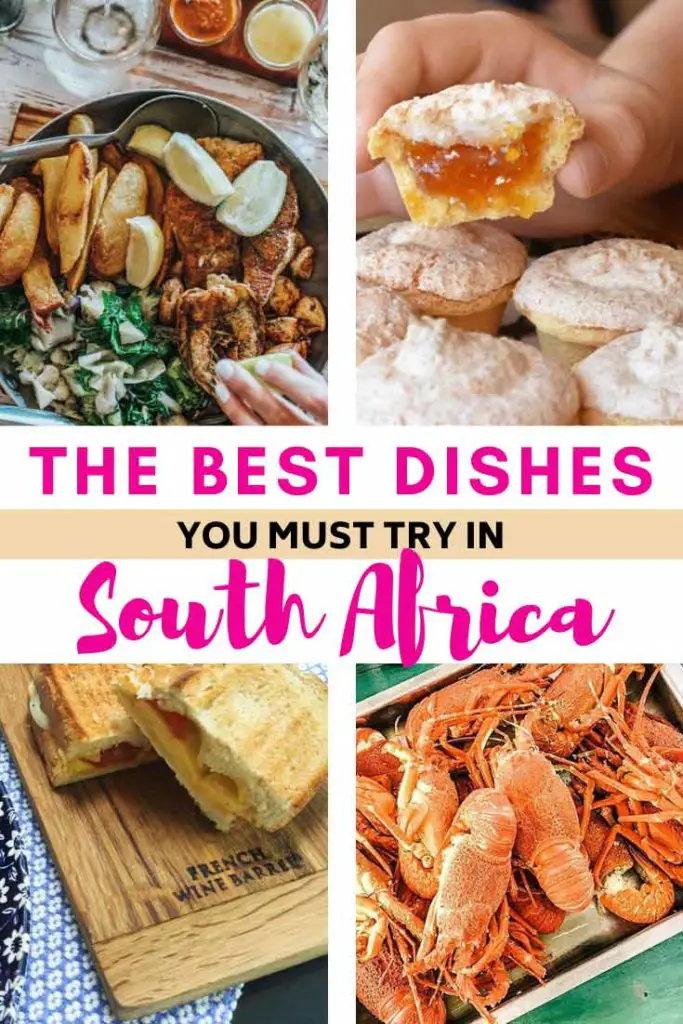 Disclaimer:  Some of the links on this website are "affiliate links." This means that if you click on the link and do a purchase, I will receive an affiliate commission at no extra cost for you. This helps me keep my website running and continue to share my traveling knowledge with you. I thank you for booking your flights or hotels using the links on my website. Regardless, I only recommend products or services I use personally and believe will add value to my readers.