There are so many places in Europe where winter is magical, with landscapes covered in snow, cups of mulled wine and snowflakes dropping from the sky. There are so many places for a perfect winter city break in Europe but also if you are just searching for a winter weekend break. The places mentioned below are the perfect winter breaks in Europe for guaranteed snow, between December and January. My fellow travel bloggers have suggested many perfect cities to visit in winter in Europe but also great destinations to experience the European winter mountain life in.
So, what are you waiting for? Head over to Skyscanner and book that perfect snowy winter holiday in Europe!
Cortina d'Ampezzo, Italy
By Coni from Experiencing the Globe
Cortina d'Ampezzo is a small mountain town in the middle of the Dolomites, about 160 km north of Venice. The road to there is just as scenic as the city, so have your camera ready from the get-go!
If you're into winter sports, for sure you've heard of Cortina. It became very famous when it hosted the Winter Olympics back in 1956. Today is still a world class ski resort. There are 120 km of very well groomed pistes and 37 cable cars and lifts. If you snowboard or ski, this is an amazing destination.
If winter sports are not your thing, you should still give Cortina a chance – I'm sure you won't regret it! The town is a winter wonderland, and it's guaranteed to be snowed under in winter. For a luxurious vacation, you can stroll around the little streets of this picturesque place, stay in a five stars resort, treat yourself by spending a day in a spa, or shop in the many designer stores.
Either way, don't miss the vistas! Take the cable car up to Faloria and Tofana. In both places you can spend hours absorbing the views over a hot cup of tea or mulled wine in the rifugios (mountain huts), or walk around to get the best photos of the mountains and the town from above.
Mount Pilatus' Summit, Lucerne, Switzerland
By Alyse from The Invisible Tourist
Do you love visiting the same place in different seasons? I sure do! Having visited during summer, I knew I had to experience the stunning beauty of Mt Pilatus again during the snowy winter months. Thinking I knew what to expect from this iconic mountain rising above Lucerne & Kriens, I just didn't realise how much my breath would be taken away when the entire region was blanked in a thick layer of snow.
Only a 15 minute bus ride from neighbouring Lucerne, the Kriens gondola to Mt Pilatus' summit easy to reach and is a real treat if you're wanting to experience snow without hitting the ski fields. The journey to the summit has such a magical feel! I loved watching the emerald hillside gradually transition into what appeared to be a greyscale oil painting right before my eyes. By the way, I'm Australian so seeing snow is kind of a big deal!
When the moody grey clouds decided to allow the sun to peek out from behind them, I was absolutely spoilt with a magnificent view from the summit. All the way to the horizon I had uninterrupted views of snow-capped mountaintops glittering beautifully in the sunlight. I felt as though I was literally on top of the world.
At the summit during the winter months, there's quite a few things to see and do. Rug up with a cosy blanket and a warm drink from Pilatus Kulm Hotel (you can stay the night there, too!), enjoy a meal with an amazing sunset view at the Bellevue Restaurant, visit the Christmas Markets and see many ice sculptures on display. Mt Pilatus is a must to add to your winter Switzerland itinerary!
Zermatt, Switzerland
By Allan from It's Sometimes Sunny in Bangor
Zermatt is a hugely popular winter destination in the Swiss Alps, where it is found directly beneath the iconic Swiss backdrop of the Matterhorn, the renowned peak which influenced the packaging of the Toblerone. It is also the 3rd highest peak in the Swiss Alps. So Zermatt is one of the big-name ski resorts in Europe with more than 200km of pistes, but is also a popular resort destination with both winter sports enthusiasts, as well as general tourists and sightseers who come for the mountain scenes and local attractions. And there will always be a mix of skiers clumping around in ski boots, while resort buggies continuously nip tourists between the chalets and cablecars which link between the various peaks above.
It does feel Christmassy as well through from November – February, with Christmas trees, and general festiveness through the winter months. And there is a certain rustic charm brought by the horse and carts which shuttle between the more high-end resorts of this quaint mountain town. The main street, Bahnhofstrasse, would be central to pretty much everything, with lines of boutique shops and chalets, a rather massive ice-hockey pitch nearby, and it's easy to find traditional alpine eats, like cheese fondue and rostis, at the various restaurants around. Many tourists will also be there to join the scenic Glacier Express train journey which travels between Zermatt and Saint Moritz, past some of the most magnificent winter scenery in all of Europe.
Sommarøy, Norway
By Suzanne from Meandering Wild
Sommarøy is an old fishing village located about 36 kilometres west of Tromsø in the far north of Norway.  In the winter months it couldn't be further from the bustle of the nearby city and is far from the usual tourist spots.
Sommarøy is in fact an island and provides amazing views across all of the neighbouring islands.  Winter storms pass through this small collection of islands and when that happens there is nothing better than hunkering down by the fire in the cosy Sommarøy Arctic Hotel.  This hotel is located on the shoreline and once the storms clear the landscape is stunning.
One of the draws of this area are the landscapes which are transformed by a blanket of snow.  It is well into the Arctic Circle and during the winter months there is no daylight just a few hours of constant sunrise and sunset from below the horizon.  This means that the sky lights up with deep orange and red glows which are magical against the snow covered peaks.
With the long nights come the northern lights and Sommarøy is the perfect location for watching the lights dance across the sky.  There is no light pollution and just a short walk from the hotel will give you an amazing viewpoint.  Some nights you don't even need to leave the hotel to see the lights.
While this small island and fishing village may not have lots of activities its stunning landscapes more than make up for this.
Val di Sole, Italy  
By Teresa from Brogan Abroad
One of the best places in Europe where you can enjoy the snow is Val di Sole in Trentino. Whether you ski or not, Trentino in winter, and particularly Val di Sole, has plenty of options for things to do for everyone.
If you enjoy a bit of skiing, you are in luck. Val di Sole has more than 270km of slopes, all of which are interconnected. The descents in the Folgarida Marilleva and Madonna di Campiglio Pinzolo skiing areas have incredible views over the Brenta Dolomites and will take your breath away.
If, however, skiing is not your thing but you still love the snow, then Val di Sole has you covered. Many hotels in the area have a wellness centre, and if you are looking for a bit of rest and relaxation with the wow factor, Rifugio Orso Bruno has a hot tub with panoramic views of the snow-covered mountains.
The food in Trentino is of course, incredibly good. If you have lunch at one of the rifugios on top of the mountain, you can combine mouthwatering dishes with impressive views, and they may even come and pick you up on a snowmobile.
You can also go for a hike in Val di Rabbi and enjoy the views of the frozen Ragaiolo Waterfall from the suspension bridge. Truly breathtaking!
Porvoo, Finland
By Ayngelina from Bacon is Magic
Porvoo is less than 45 minutes from the capital city of Helsinki and is crowded during the summer as tourists flock to visit this quaint village and sit on their open patios in Old Town to bask in the sun. But like the rest of the country, Finland really flourishes in winter as the crowds are gone and it becomes a local's winter wonderland.
You can dine in the best restaurants in Porvoo, without waiting in line or needing a reservation. Expect typical Finnish food in the winter to be full of braised meat, fish and root vegetables. It is delicious.
Locals also embrace winter sports, there are great cross country trails, ice skating, snowboarding and simply wandering the streets in Old Town to shop and lounge in the cafes.
The red buildings along the river shoreline are part of the National Urban Park in Porvoo. It's a beautiful stretch of 10km with a forest, hiking trails and a series of parks that birdwatchers love to visit.
During winter the locals actually want the cold weather because the river freezes and it's possible to go ice fishing or cross country ski along the river. It's a popular spot on Sundays for families and there's always lots going on.
Sierra Nevada, Spain
By Linn from Brainy Backpackers
Sierra Nevada means snowy mountain in Spanish. Situated only a couple of hours from the Spanish sunshine coast where you can go swimming most of the year, the mountain townhouses the most southern ski resort in Europe. Sierra Nevada is a popular day trip from Malaga and Granada to go skiing. There are slopes for all levels from beginner to expert including ski and snowboard courses and gear rental.
The town itself is like a snowy fairytale town. Extremely small and cute with amazing views on a clear day. You find bars and restaurants as well as shops for winter clothes and ski gear. The little town has a vibrant yet relaxed feel over it and is a perfect winter getaway.
Less than an hour from Sierra Nevada you can visit Granada which is a larger cultural city with more restaurants and nightlife for those who want that. It is also home of Alhambra which is one of the most popular tourist attractions in Andalucia.
There are numerous hotels and apartments to stay in Sierra Nevada, but as it is a popular winter town and people from all over southern Spain travel there for their winter getaways you should book early. For cheaper prices, you can look for accommodation in Granada.
Verbier, Switzerland
By Arzo from Arzo Travels
Verbier is a wonderful destination to visit in between December and February for many different reasons – for one, it is definitely winter wonderland.
If you love snowy destinations then this is one of the best places to visit in Central Europe. Switzerland is amazing throughout the year but Verbier in the winter is seven more amazing. After visiting myself I am not surprised why it is one of the best ski resorts in the world. Zermatt, the world-famous town near Verbier might be more famous but Verbier is still one of the best ski resorts in the world.
It is part of the 4 Vallees ski area (the other resorts are Nendez, Veysonnaz, Thyon, and La Tzoumaz and Bruson) – making it the biggest ski resorts in Switzerland with 92 ski lifts and 412km of pistes to ski and snowboard. I had never skied before my trip to Verbier – but luckily, here you can book your very first ski lessons ever. So, even though they are very challenging pistes beginners are also welcome. But be warned: if you start learning to ski in Verbier you will be spoiled for the rest of your life because the scenery is gorgeous.
But there is more to do: do snowboarding, sledding (night-sledding is so much fun), snowshoeing, or stroll the pretty, little town of Verbier.
Surely, it is a lot about winter sports but even if you are not into winter sports yet, after visiting Verbier in winter, you surely will be. A good place, and quite affordable (Swiss standard) is the Mirabeau hotel – a 3-star hotel close to the ski lifts.
Andorra
By Mar from Once in a Lifetime Journey
European adventurers who love powdery ski slopes, a quaint village atmosphere and gorgeous nature should look at visiting Andorra, the tiny country between Spain and France. If you've never heard of this small landlocked principality in the Pyrenees mountains, you're not alone. Even though it receives around 10 million visitors a year, it is not very well known outside France and Spain. So, what is there to do in Andorra and when should you visit?
Andorra's busiest times are between Christmas and the New Year, as this is right at the peak of ski season and the holidays. It is an amazing ski destination as the average elevation is around 2,000 meters above sea level and rises up to around 3,000 at its peak. You can start to see why it rivals Switzerland as a top ski destination. In fact, Gran Valira is one of the largest ski resorts in the world with a whopping 188 slopes that measure roughly 210 kms in distance.
Beyond the slopes, there are also some rustic churches to explore, a UNESCO site which is a glacial valley called Madriu-Perafita-Claror, and some department stores to get your festive shopping done. The Caldea Spa Complex, with natural springs and Turkish baths, will keep you warm in the cold. Or you can venture into an ice hotel called Iglu for something a little different.
You can either stay in the city center at hotels like Andorra Park Hotel or Hotel Plaza for convenience. But if you are going especially to ski, you should rather look at staying somewhere closer to the snow like Hotel Ski Plaza & Wellness or Sport Hotel Hermitage and Spa for that luxury Swiss Alpine feel.
Lichtenstein
By Paulina from Paulina on the Road
The country of Liechtenstein may not be on the radar of many travellers. However, it is one of the most picturesque countries to visit in Europe. Nestled in the Rhine Valley next to the towering Alps, Liechtenstein is considered being one of the smallest countries in the world. However, there are plenty of things to do in Liechtenstein, particularly during winter.
It's during winter that Liechtenstein shows its fairytale side. When the snow lays on the wooden mountain huts and the Alps are snow-copped, Liechtenstein is the most enchanting. It's also the perfect occasion to spend cozy evenings in mountain huts and enjoy some traditional, usually quite hearty food.
If you are more of an adventurous and active traveler, you don't want to miss the ski slopes of Liechtenstein. Despite its small size, Liechtenstein boasts premium ski facilities and offer challenging slopes to its visitors.
Bansko, Bulgaria
By Larch from The Silver Nomad
Sitting at the foot of the snow-capped Pirin Mountains, Bansko is the perfect place for a winter holiday. With great air links to Europe, it is only a 2 hour drive from Sofia airport in the north or 2.5 hours from Plovdiv to the east.
Once in Bankso there is so much to do. For the skiers and snowboarders, grab your gear and get up the slopes! There are over 70kms of ski runs varying from nursery slopes to black runs all linked by 13 different lifts. Coffee stops and restaurants are dotted along the route so you can take a break if you need to. There are also areas for walking and cross-country skiing and ski-mobiles. Some of the runs are lit up from 18:30 to 21:30 for some night skiing.
If you are not a skier, or you need a break from it, there is plenty to keep you occupied. Take a walk down into Old Bansko and visit one of the many museums, the fresco painted Holy Trinity Church and as well as souvenirs shops and coffee shops to hang out in. Digital nomads, freelancers or anyone who needs a quiet place to work can head to Coworking Bansko for fast Wi-Fi and free tea and coffee.
Outside of town, try to get to one of the hot springs in the area for a relaxing evening in the heated water and maybe an invigorating massage.
There are many chalets and apartments to stay in, my trip this year was with Snomads who have 4 chalets in Bansko and offer a great service, fantastic food and comfortable rooms.
Bettmeralp, Switzerland
By Shelley from Life Journey 4 Two
Bettmeralp in winter is a fairytale land above the clouds. This car-free alpine village in Switzerland can only be reached by cable car, so when you step out onto this majestic mountain it feels like you are on top of the world.
Bettmeralp is in the Aletsch Arena which is a Unesco World Heritage Site. This picturesque village in the Swiss Alps looks across the Rhone Valley to the 4000-metre-high peaks of the Alps, including the famous Matterhorn.
Bettmeralp, at an altitude of 2000m, almost guarantees snow in winter. If there isn't snow here, then there is unlikely to be snow anywhere else in Switzerland.
The snow season generally starts in December and there are plenty of winter activities to enjoy at Bettmeralp.
There are 35 lifts in the Aletsch Arena area so you can access pistes for all levels of skiing and snowboarding. You'll also find dedicated winter walking trails, including one lit at night to the neighbouring town of Riederalp, and plenty of opportunity for cross country skiing.
We spent a family Christmas in Bettmeralp and it was just the perfect winter wonderland to create magical memories.  The rustic and authentic Swiss chalets line the snow paths of this Swiss village and at Christmas, decorations adorned the streets with fairy lights hung from the chalets and restaurants, creating a perfect picture postcard Christmas scene.
There are several hotels in the village and there are also plenty of typical Swiss Alpine Cabins that you can rent. All accommodation is ski in and ski out making access to the slopes convenient.
You may not have heard of this spectacular small village in the clouds, but once you have experienced the beauty of Bettmeralp, you are certain to never forget it.
Meteora, Greece
by Allison from Sofia Adventures
When you think of snowy places in Europe, Greece likely doesn't come to mind. And I get it – this country is far more known for its beautiful Mediterranean beaches and frequent sunshine. But Greece is a vast and diverse country with a variety of landscapes. You can even ski in Greece, whether it's on Mount Parnassus on the mainland or even on its southernmost island, Crete!
While much of Greece is still rather warm in winter, the northern regions of Macedonia and Thessaly can get quite cold and even snowy. One of the prettiest places to visit in Greece where it actually snows is Meteora, a UNESCO-recognized series of monasteries perched on protruding rock pillars straight out of the earth in a beautiful formation. These monasteries are very crowded in summer with day trippers coming from either Thessaloniki or Athens to Meteora, but in the winter, it's extremely peaceful with only a few tour buses and private cars a day. You can stay overnight in nearby Kalambaka if you want to stay in the beautiful Thessaly region, or you can visit as a day trip.
In winter, you can peacefully explore these ancient monasteries and churches which have survived Ottoman invasions, erosion, and extreme isolation, the beautiful landscape enhanced by the snow — all at your leisure without the crowds of other times of year. There are a total of six monasteries which you can visit, though some are only open on certain days of the week, so it may be better to visit over the course of two days. Just be sure to wear shoes with plenty of grip that can handle some ice, as the many stairs to enter the monasteries can be a little treacherous after snowfall!
Schliersee, Bavaria, Germany
By Emma from Solar Powered Blonde
Schliersee is a small town in Bavaria in Germany. It surrounds a lake and there are mountains all around. In winter it is a snowy paradise. The traditional Bavarian houses are all covered in snow and the mountains are perfect for winter sports. It is a great place to ski and snowboard, for beginners and experienced skiiiers. There are a few ski resorts, with one of the highest being Wendelstein, at 1,723 metres. The lake is transformed into an ice rink in winter, with plenty of restaurants nearby to warm up with a mulled wine.
If you want a day to relax on top of a mountain in the sun and snow, head to Schliersbergalm. Take the cable car and in four minutes you are at 1061 metres altitude. There is a children's playground and a heated open-air swimming pool for the brave! There is even a mini golf course and of course there is a restaurant with filling Bavarian food. You must try a Schnitzel while you are here!
While staying in Schliersee, I would recommend staying at Karma Bavaria, a lovely hotel in the heart of Schliersee. It has great views of the sunset and is a great place to explore nearby areas too. From here, it takes about an hour and a half to get to Eibsee, another beautiful lake. In summer the water at Eibsee is the most incredible colour and in winter it is no less amazing, with snow covered trees. Then Zugspitze is right on the lake, the tallest mountain in Germany. It is 2,962 metres above sea level and provides the most incredible views. It is also a similar amount of time if you want to venture out of Schliersee to see the snow covered fairy tale castle of Neuschwanstein. Bavaria is just beautiful in winter, and Schliersee is the perfect town to stay in.
Rovaniemni, Finland
By Diana from The Elusive Family
If you aren't already aware, Rovaniemi Finland is the official hometown of Santa Claus.  There is no town in the world that will have more Santa's, holiday cheer, snow or the combination of huskies, reindeer, hot chocolate and hot fires that the small city of Rovaniemi.  Located at the Arctic Circle, this village is the perfect combination of cold, snow and holiday cheer for a perfect winter getaway.  We experienced Lapland with our children, and it was a magical experience.
Rovaniemi offers one of the most popular accommodations in Finland, Santa Claus Village, a popular choice for families looking to experience Santa. The village has its own husky park, reindeer rides, Santa Claus post office as well as several restaurants and shops on site.  Just down the street from the Village is Santa Park, an underground cavern that is the perfect way to spend the day indoors, seeing shows, doing activities and getting a Santa experience. Rovaniemi is also the central location for booking excursions such as husky and reindeer rides, ice fishing, snowmobiling and the ever-popular northern lights chasing excursions.
Rovaniemi can get quite cold in the winter so it is very important to be properly dressed for the weather.  Snow typically begins to fall in early December and stays white throughout the winter and into late spring.  Though the days are quite shorter, the landscape is among the most beautiful in the world during the winter.
Sarajevo, Bosnia and Herzegovina
By Ellis from Backpack Adventures
Sarajevo in Bosnia, is not the first destination you think of when you want to go on a snowy wintersports holiday. It might surprise you to hear that Sarajevo actually has everything you need for such a vacation. It is not for nothing that in 1984, when Bosnia was still part of Yugoslavia, it was Sarajevo that hosted the winter Olympics.
The mountains surrounding Sarajevo are usually covered in snow from December till March. The 1984 winter olympics couldn't have had a more beautiful setting. The mountains offer sweeping views and are densely forested. With the snow it is a true winter wonderland.
The old olympic mountain towns of Bjelasnica and Jahorina are only a few hours from Sarajevo. They are still popular ski resorts and a favourite weekend get away for those living in the city. You can sleep in one of the mountain chalets, go hiking or rent ski's to slide down the slopes.
But it is not just the mountains that turn into a winter wonderland. Sarajevo also looks magic under a white blanket of snow. The old town with its ancient Ottoman streets, is more cozy than ever. There is nothing like having a hot chocolate in one of the teahouses while looking outside where snow flakes are falling down.
Morzine, Switzerland
By Inma from A World to Travel
Whether you are looking for a cozy winter holiday in a ski chalet – check my review of Alikats chalets to see what I mean, going crazy on the slopes, tasting the best Frech dishes there are, or simply enjoying a few days of pure mountain air; Morzine is a great bet to take into account, and one of my favorite snowy places in Europe for that matter.
At the doorstep of the huge ski domain of Portes du Soleil (with slopes in both France and Switzerland), the fun never ends there during winter, as long as there is enough snow – which so far, has never been a big issue. On top of skiing and snowboarding, the area enjoys a few great spas and wellness centers, a myriad of French and international cuisine restaurants, supermarkets, pool complexes, bars and nightclubs for all tastes, and even ice-rinks and other interesting infrastructures to keep the whole family busy and having fun.
On top of that, the awesome Morzine tourism office puts a complete program of entertainment with a wide range of events during the winter months. From concerts to torchlight descents at night on the slopes, hikes and walks to experience the area on foot with a guide, and other special happenings during the Christmas holidays, the French white week and Carnival; there's never a dull day there.
Innsbruck, Austria
By Linda from Travel Tyrol
A winter holiday in Innsbruck, the capital of the Austrian Tyrol, and the surrounding mountain villages is guaranteed to be action-packed with lots of snow going around.
The great thing about Innsbruck is that you can get from the city to the top of a snow-capped mountain in under an hour. And snow on top of the Nordkette mountains overlooking the city is guaranteed from the beginning of December.
From Christmas to the end of March, you can ski on the Nordkette if you like steep slopes. Even if you're not a skier, there are lots of fun snow toys to play with behind the Seegrube station of the Nordkette cable car. You can even have a drink in an igloo bar if you want to.
For more snow action, the traditional mountain villages around Innsbruck never disappoint. From small, family-friendly ski resorts and toboggan tracks to an Olympic bobsled run – there's something for every snow-loving member of the family. The great thing about the Innsbruck ski resorts is that they're all within a radius of 10 km from the city.
Deciding where to stay for a snow holiday in and around Innsbruck can be tricky. The city's old town is charming, especially before Christmas when all the markets are open. But the chances of snow are always higher in the mountain villages. Good options that aren't more than a 15-minute drive from Innsbruck are Igls, Rinn, Tulfes, Mutters and Axams.
There are regular flights to Innsbruck from London, Amsterdam, Berlin and Vienna during the winter months. The city is also easily reached by train from Germany, Italy, and Switzerland.
The Jökulsárlón Glacier Lagoon, Iceland
By Amanda from Fly Stay Luxe
One of the most unique places to visit in winter, is Iceland's Crown Jewel, Jökulsárlón Glacier Lagoon. In fact, the Glacier Lagoon offers amazing adventures year around, but one of the best time times to visit is between October and March, when you can also catch the spectacular Northern Lights dancing in the sky above the lagoon and surrounding snow-capped mountains.
The Jökulsárlón Glacier Lagoon is an enormous body of water that was formed due to run off from the nearby Vatnajökull Glacier, the second largest in Europe. As the temperature heats up during the day, the glacier melts and gigantic icebergs break off, floating down the lagoon out to sea. The rough swell of the Atlantic Ocean then deposits millions of ice chunks onto the neighbouring black beach. A stunning phenomenon that has earned the beach its name, Diamond Beach, due to the resemblance of the ice chunks glistening in the sun.
Jökulsárlón is located around 5 hours drive from Iceland's main city, Reykjavík, making it the perfect destination for a winter road trip. Be sure to allow at least a day or two to get there, as there are many picturesque waterfalls and stunning scenic spots to stop along the way.
There are many snow-related activities around Jökulsárlón. There are regular boat tours operating on the lagoon, allowing you to get up close and personal with the seals and massive icebergs. If you're up for a something adventurous, you can don a pair of crampons and try glacier hiking, or snowmobiling. Or, perhaps you'd be interested in joining a tour that will take you on a descent into a glacier ice cave. A winter-only experience, as the caves fill up with water during the warmer months, rendering them impassable.
Being quite remote, there is only a few hotels available around Jökulsárlón Glacier Lagoon, and it books up quickly during the summer months. Another good reason to visit during the winter. Fosshotel Glacier Lagoon is one of the larger and better hotels in the area. Situated on a hill around 10 minutes drive from the Glacier Lagoon, Fosshotel offers views to the Atlantic Ocean. The front desk staff will also arrange a wake up call for late-night Northern Lights sightings!
Val di Fiemme, Italy
By Lynne from Around the World in 18 Years
You will find the little known region of Val di Fiemme nestled in the spectacular and dominating Italian Dolomites; a Unesco World Heritage Site. The popularity will soar after the region hosts the 2026 Winter Olympics, so make the most of this amazing region now.
The small villages of Cavalese and Predazzo, with their wooden Alpine buildings; are the perfect base camps for exploring Val di Fiemme and the surrounding areas.
With some of the best snow making facilities in Europe, as well as natural falling snow, at Alpe Cermis you will be guaranteed snow from early December, perfect for quality skiing and snowboarding.  As well as skiing there's the opportunity to try tobogganing, tubing, cross country skiing, and lots more.  And if that all sounds a little too energetic, why not sit back and watch the ski jumpers practice at the Giuseppe Dal Ben Ski Jump Arena in Predazzo.
Dine on fine cuisine 2096m above sea level in the stunning Oberholz mountain restaurant which has panoramic views of the dolomite mountain range, and make your way back down the mountain on a traditional toboggan. If you want a bit more of an adrenaline rush, you can zoom down the mountainside on the Alpine Coaster Gardone at Ski Center Latemar, only your fear will hold you back.
Best Place to Stay – Aparthotel Des Alpes. Modern, spacious rooms, great value for money and will be part of the Olympic Village in 2026.
A Must Do – visit Franco at Gelateria Tre Valli and receive the warmest of welcomes, taste the best ice cream and thaw out with a flaming parampampoli.  We love the Val di Fiemme region of Italy, and we're sure you will too.
Peisey Vallandry, France
By Carol from Wandering Carol
For snow, fresh air and family-friendly fun, it's hard to beat an all-inclusive ski vacation in the French Alps. At the Club Med Peisey Vallandry, it's also a more affordable option than glam European destinations such as St. Moritz or Courchevel. Alternatively, you can rent a private chalet and use it as a base to explore the area.
Located in the southern French Alps, Peisey Vallandry is a group of five villages – Landry, Nancroix, Vallandry, Peisey and Plan-Peisey – that lie within the resort area of Les Arcs and PARADISKI. Part of the Savoy region of France, it's a destination famed for its fine cheeses such as Beaufort, a firm raw cheese made from the milk of Beaufort cows that graze on the grasses and wildflowers of high alpine pastures. For traditional cuisine, a restaurant to try is the Coeur de Val in the village of Vallandry.
While sights in the area such as the baroque mountainside chapel of Notre Dame des Vernettes will intrigue culture buffs, the main reason to visit in winter is to ski or snowboard. The sprawling PARADISKI area bills itself as a 'playground with no boundaries,' offering 425 kilometres of pistes and three connected resorts, including Peisey Vallandry, a scenic mountain spot surrounded by forest and within view of the towering peaks of Mont Blanc and Beaufortain.
Murren, Switzerland
By Maureen from So Many Places! So Little Time!
So you're planning on heading to Europe for a well deserved winter break. Let me tell you about a little car-free village, off the beaten track, that's picture postcard pretty, and high up in the Jungfrau region of the Swiss Alps. It's right at the top of our must-visit-list for winter vacations.
The village is called Murren and is only accessible by a series of trains, cable cars, and mountain trains. It is 5,374 feet above sea level and is at the foot of the Schilthorn peak. It faces the Eiger, Monch, and Jungfrau mountains, so there are great panoramic vistas wherever you turn, and out of every window.
The village has a population of about 450, but over 2000 hotel beds. The accommodation ranges from 4 star to budget and  every place is within ten minutes walk of either the railway station or the cable car station.
The local restaurants are great with some of the best fondues and apple strudels that you'll find anywhere!
In the winter there are all the usual winter sports available like skiing, snowboarding, cross country skiing, base jumping and mountain climbing, but there are also a couple of very special attractions that you won't find anywhere else.
A relatively new adrenalin pumping activity is called 'The Thrill Walk.' This is a 200 metre steel and plexiglass walkway that starts 3000 metres high and has been built to curl and wind around a near vertical rockface on the Schilthorn mountain. There are some specially thrilling sections included,  which involve a see through glass bottom section, a tight rope section and a crawl through wire cylinder section, but the views are totally stunning and it is very safe.
The other activity is found at the top of the cable car at the Schilthorn peak. Apart from a big viewing deck you will find a revolving restaurant that was actually built for the James Bond film – 'On Her Majesty's Secret Service.'
There is an interactive museum about James Bond and plenty of interesting memorabilia to entertain you.
We hope you enjoy your visit but please don't tell too many people about how great it is. Thanks!
Borovets, Bulgaria
By Stephanie from Sofia Adventures
If you're looking for a perfect winter escape, head to Borovets, Bulgaria! This ski resort town is less famous outside of the country than Bankso, so you'll find fewer tourists to contend with on the slopes. Up in the Rila Mountains, you're sure to find snow throughout ski season. There are great ski resort hotels to stay in, tons of options for winter sports beyond skiing such as horseback riding the snow, and great, cozy restaurants to get warm in.
There are fun nightlife activities to enjoy for your Après ski, including karaoke bars, Caribbean-themed bars, and the more…exotic…variety of clubs. So you have everything from family-friendly nightlife to less-than-wholesome, which means you have a little bit of something for everyone!
While you're here, take advantage of the fun shopping opportunities downtown. Beyond the usual ski shops, you'll find some great, kitschy souvenir shops full of all kinds of Bulgarian gifts and treats! And of course, if you forget to pack enough warm clothes, you can find a variety of winter gear to keep you toasty.
The mountains here are truly spectacular. If you want a good view of the slopes from your hotel, stay at the Rila Hotel Borovets. However, if you're more budget-minded, eat a meal or two there but stay at Euphoria Club Hotel instead!
Umbria, Italy
By Andrew from Dish Our Town
Scenes of Umbria are often equated to pastoral green landscapes and hot sunny days. However, what is often overlooked, is its beauty in the cold weather months. It's absolutely gorgeous when the land is frosted and covered in snow.
When visiting medieval towns such as Gubbio, replete with a palace of a former Duke hovering over its residents, one can't help but have that sense of being up North (that's a Game of Thrones reference). The drive to Norcia, a town made famous by food artisans making the most delicious sausages, is nothing short of scenes from Narnia.
Speaking of Narnia, there is actually a town named Narni, which has claimed for itself as being an inspiration to the C.S. Lewis chronicles. It's easy to believe when walking around this small walled city when it's snowing. With every passageway seeming as if it was a portal to another world. In short, all of Umbria is a different world during the snowy months.
Courmayeur, Italy
By Gemma from A Girl and Her Dog on the Road
During low season, Courmayeur is an unassuming, traditional little alpine town.  Nestled in Italy's smallest region, the Aosta Valley, it boasts spectacular views of the Mont Blanc Massif range.
It comes to life during the winter season, as it is a mecca for skiers and snow sports enthusiasts.
As well as some great alpine skiing, on and off-piste, you can also visit beautiful Val Ferret to try your hand at some Nordic style skiing or snow-shoeing.
After a hard day on the slopes, relax with an Aperol Spritz and enjoy some of the local cuisines in one of the many cosy restaurants, on and off the slopes.  Pizza and pasta are widely available, but why not try some of the local specialities like stew with polenta, black bread (Pan Ner), or Fontina cheese.  Ristorante Chalet Plan Goret is popular with the locals and visitors alike, book well in advance to avoid disappointment.
There is plenty to do even if you are not a skier.  You can relax in the thermal waters of the famous Spa in nearby village Pre-Saint Didier, or enjoy the views without the effort by taking a trip up the rotating Skyway Monte Bianco cable car.  The town also has a great selection of shops to browse around, although they do come with premium prices!
Aosta, the capital of the region is also worth a visit, and they have an annual Christmas market set in the grounds of the ancient Roman Theatre.
You are spoilt for choice for accommodation too, from traditional chalet-style apartments to five-star boutique hotels.  You will get a warm welcome at the family-run Hotel Bouton d'Or.  Centrally located, full of alpine charm, and offering mountain views they, understandably, have a great reputation and lots of returning visitors.
Baqueira-Beret, Spain
By Shoba from Just Go Places
Baqueira-Beret is a fabulous ski resort in the North of Spain in the Val d'Aran region which borders France. In winter this ski resort is the premier one in Spain frequented by the Spanish royal family and other wealthy Spaniards. It is, however, considerably cheaper than comparable resorts in the French and Italian Alps. There are great hotels, restaurants and apes-ski as well as a family-friendly atmosphere.
In addition to skiing, there are other winter sports – like snowboarding, horse and sled rides and dog sledding. You can also visit the nearby little villages which has loads of Romanesque architecture mostly in the churches. Most people who come to this area are Spanish so knowing a bit of Spanish helps. On the other hand, we did not find our lack of Spanish a problem.
We stayed at the Hotel Val d'Neu which was a fabulous family-friendly hotel. It was near the slopes and the rest of the small village. We had breakfast and dinner included in our hotel rate. Needless to say the food was Spanish and excellent. My kids loved having churros for breakfast. You should note that the hotel keeps Spanish times – so breakfast runs late and the children's dinner service starts at 8 pm!
We loved Baquiera-Beret for its laid back attitude to snow sports. Unlike the French resorts where the ski lifts are packed in the early morning, this resort gets going late morning because the Spanish have stayed out late the night before. Everyone seems to hit the slopes hard for a late morning and afternoon (with a break for a nice lunch) and then moves onto apres-ski drinks for a few hours until finally dinner somewhere late in the evening.
How about you? Do you love snowy landscapes? Have you experienced a snowy winter holiday in winter so far? I would love to hear your thoughts and opinions in the comment section below!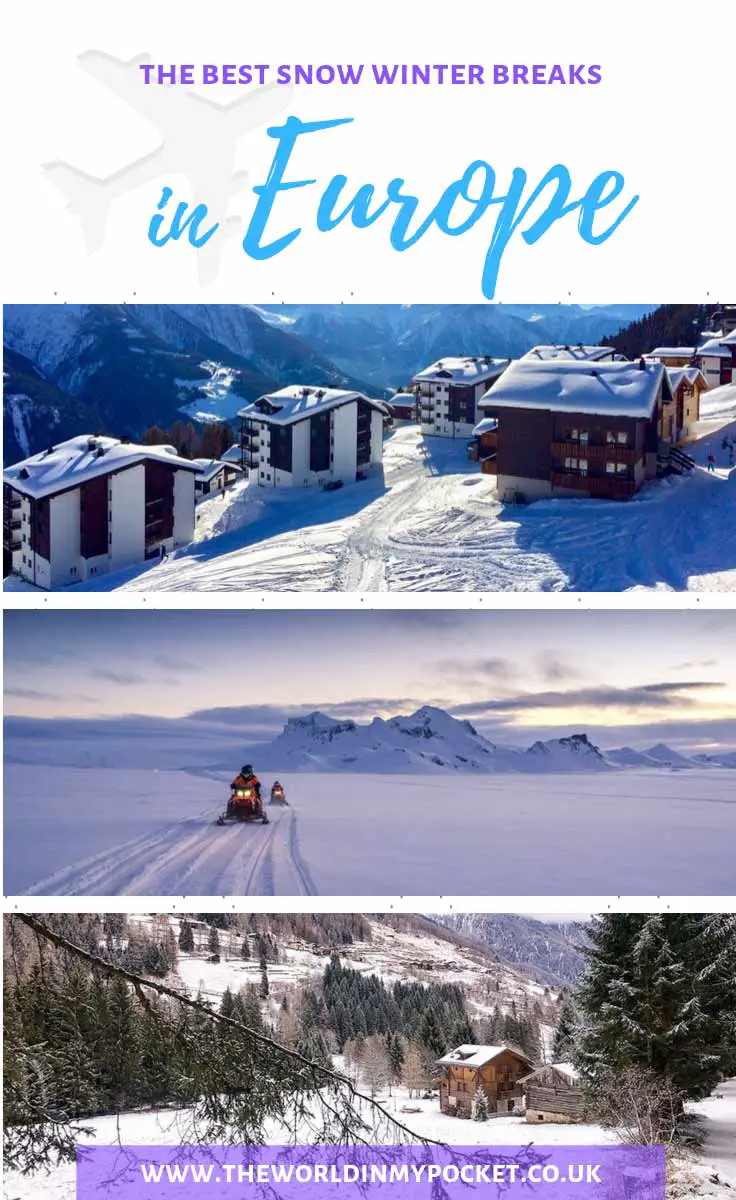 Disclaimer: Some of the links one this website are "affiliate links." This means that if you click on the link and do a purchase, I will receive an affiliate commission at no extra cost for you. This helps me keep my website running and continue to share my traveling knowledge with you. I thank you for booking your flights or hotels using the links on my website. Regardless, I only recommend products or services I use personally and believe will add value to my readers.