If you have a sweet tooth then a trip to Turkey should definitely be on the agenda. Desserts in Turkey are great! Turks are a social breed and love nothing more than getting together and chatting over a 'cay' (tea) and a little something sweet. You often see groups of women congregating on their 'women's days' gossiping and trying the home cooked cakes and desserts they made especially for the occasion. There's also no shortage of baklava shops, sweet stores and patisseries on the streets.
Here's a look at some of the most popular and unusual desserts in Turkey.
1. Baklava
You have to start off with the obvious! The Greeks will argue that baklava is theirs, as will many countries in the Middle East. But, according to online sources, the first dessert resembling baklava was eaten by the Ancient Assyrians way back in the 8th century. Baklava then morphed, took on regional variations, and became the indulgent multi-layered nut and syrup filled pastries we love around the time of the Romans. Versions then spread with the Ottomans adopting it as a favourite dish, and the Greeks having their own (very similar) version.
It's hardly surprising baklava is the subject of arguments, it's very easy to see why you would want to claim it as your own. During the 19th century it was seen as a luxury only the wealthy could afford. There's a saying in Turkey, "I am not rich enough to eat baklava everyday", this is why it became the dessert associated with celebrations. It is the sweet dished out to celebrate a wedding, the birth of a child or on clenching that all important business deal. Eating it fresh, not long out of the oven, is a real treat those visiting Turkey should embrace. The sticky, yummy-runniness of warm honey syrup oozes sheer comfort (and a heap of calorific naughtiness!). It's even better served with 'kaymak' (local sweet clotted cream), or a little vanilla ice-cream. If you like rich indulgent desserts, you are sure to adore baklava! If you join a food tour in Istanbul, you will have a chance to taste the baklava for sure.
2. Halka Tatlisi ( 'Kerhane Tatlisi' – the 'Brothel Dessert!')
Chances are the name has got your interest if nothing else! These sweet, syrup soaked rounds and longs are a bit like wet, sticky churros. They are Turkey's original street-side dessert, sold for pence all over the place in Turkey. Due to the sugar-hit you get on eating these, they became a popular snack after exercise or strenuous activity. The presence of sellers outside questionable houses ensured they became jokingly known as the snack of choice by those visiting brothels! But you don't need to be a brothel-goer to enjoy these treats. They can be picked up everywhere, normally served with a little piece of paper to hold them and catch the drips. Eat one as you wander around shopping or sit on a park bench. In the same manner as baklava, your waist wouldn't thank you for eating too many of these, but they are certainly worth a nibble at least once if you're in Turkey and after a sugar boost.
3. Maras ice-cream
Those that have visited Turkey may have seen the elaborately dressed street side ice-cream sellers impressing onlookers with their elastic ice-cream antics. This ice-cream is one of the oldest and most well known desserts in Turkey and has been a favourite for kids and locals since the 16th Century. Unlike most ice-creams it is made with a mix of goats milk, sugar and a special powder called 'salep' made from wild orchids, 'osmaniye orkidesi'. It doesn't melt in the same way as most ice-creams and could most be likened to gelato. It's far less messy and easier to eat on a hot sunny day. Do try Maras ice-cream, especially if you have kids as the show the vendor puts on is normally quite a sight!
4.' Lokum' Turkish Delight
Turkish Delight is perhaps the most well known of all sweets and desserts in Turkey, even seen on a trip down the sweetie aisle in Tesco's. The origin of the first Turkish Delight is unclear. But what is known is that a confectioner called Ali Muhittin Haci Bakir first made it famous in the 1700's. An English explorer came across it in his shop, loved it so much that he took it back to the UK where its popularity spread from there. True lokum tastes very different from the little Fry's purple packets we find in the UK. Although the original Turkish delight had just three flavours; lemon, rose and bitter orange, modern versions boast all sorts of flavours and textures from pistachio, coconut, mint, peach and apricot. It is normally served alongside Turkish coffee. Lokum is certainly a must-try dessert in Turkey.
5. Sütlaç (Turkish Rice Pudding)
If you are a rice pudding lover, you will almost certainly like sütlaç. Puddings made from rice are enjoyed all over the world, most countries boasting their own version. In Turkey, the dish is made with rice, sugar, rice flour and milk. Most often it is baked leaving a dark crispy skin on top and served after a meal with a sprinkle of nuts and cinnamon. Eat it in local 'lokanta' restaurants, make it yourself, or buy it from a local supermarket as a snack. A yummy version of a true comfort classic.
6. Aşure or Noah's Ark Pudding
Aşure is one of the oldest desserts in the world. It is commonly believed by Muslims that Noah, on surviving the big flood, rustled up this celebratory dish as the waters subsided. He used all the ingredients he could find on the ark and make enough to feed all the passengers until it finally came to rest on Mount Ararat in Turkey. Pretty much everything went in the pot including beans, pulses, nuts, dried fruit, wheat, fruit juices and sugar. The dish differs from place to place, region to region and chef to chef. Some versions even have coconut, pomegranate kernels, toasted seeds and walnuts.
Aşure is a dish prepared in bulk. A huge amount is normally made, the chef then giving a dish of the dessert to neighbours, friends and locals. It is a dish found in many Muslim countries and even has its own day 'Ashura', celebrated a few days before Ramadan to commemorate the martyrdom of the grandson of Prophet Mohammed, Al-Husayn.
7. Tavuk Göğsü (Chicken Breast) Dessert
Yes, that's right, Turkey really does have a dessert made out of chicken! Strange as it may seem, it doesn't taste fowl! (excuse the pun) You can't even taste the chicken! It basically tastes of a cinnamon and vanilla flavoured white pudding, the chicken breast used as it makes the dish hold together and have an elastic style quality. The chicken is boiled in the milk mixture slowly, until it completely disintegrates. This dish is a delicacy in Turkey, supposedly once served to Sultans at Topkapi Palace. Should it be something you try? Yes, definitely. If someone hadn't told you its contents, you wouldn't even question if you liked it or not and would probably order seconds!
So, there you have it, a little round of 7 must-try desserts in Turkey. There are, of course, many more to choose from, but if ever you grace Turkish shores and feel in need of a sweet pick me up, be sure to give these a go!
This is a guest post written by Sam Ozer, a writer who runs the quirky family travel blog,
Growing Up Two
. Sam is a British mum living in Oludeniz, Turkey with her husband and young twin boys. Take a look at her blog for a humorous take on family travel, Turkish recipes, and rambles on raising kids in a country where you learn to expect the unexpected. You can also find Sam on
Facebook
,
Instagram
and Twitter
@growinguptwo.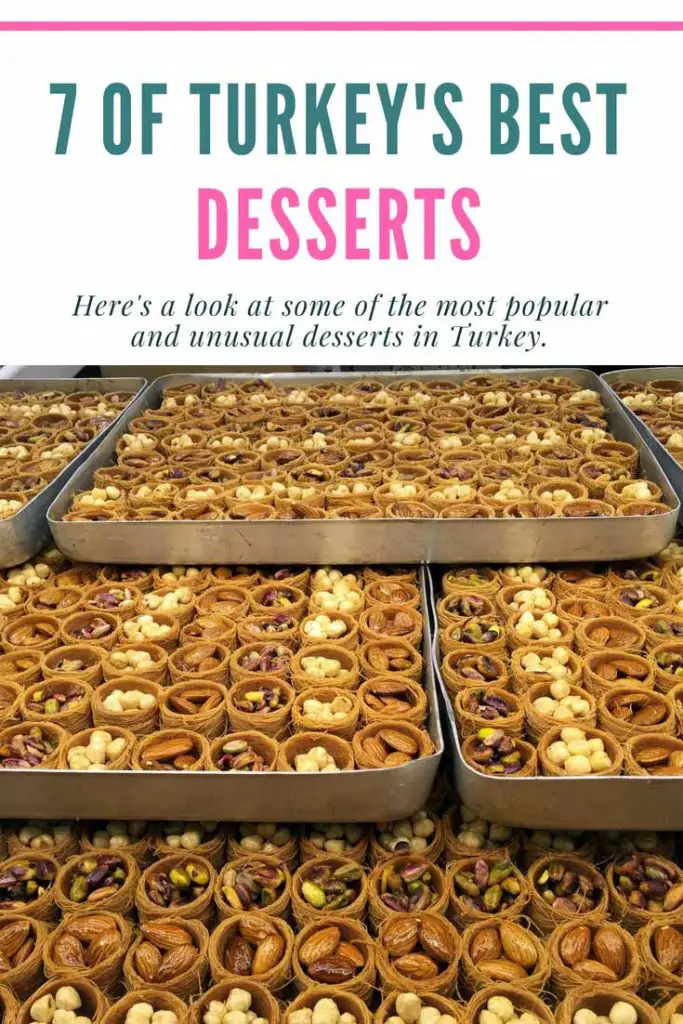 Disclaimer:  Some of the links one this website are "affiliate links." This means that if you click on the link and do a purchase, I will receive an affiliate commission at no extra cost for you. This helps me keep my website running and continue to share my traveling knowledge with you. I thank you for booking your flights or hotels using the links on my website. Regardless, I only recommend products or services I use personally and believe will add value to my readers.