I first found out about Botany Bay two days before my weekend trip to Canterbury and, seeing how beautiful it looks in photos, I decided to add it to my itinerary. And I am very glad I did, because Botany Bay is such a beautiful part of the country. I was lucky to be there during a mini heatwave, so I could enjoy it fully – beach, sea, sunshine, and ice cream. Well you can't go to the beach and not have a Mister Whippy, can you?
[ez-toc]
Where is Botany Bay
Botany Bay is located in Kent, in the South East of England. It is 2 miles away from Margate and 5 miles from Ramsgate, right on the tip of the Isle of Thanet.
How to Reach Botany Bay
You can reach Botany Bay either by car, or by train from London. Driving takes around 90 minutes, depending on the traffic.
There are regular trains which leave St Pancras station towards Margate. You will need to get off at Broadstairs and take the Loop bus towards Margate up to "Friend's Corner" stop. From here there is another mile or so to walk until Botany Bay. The Loop bus runs every 8 minutes.  The journey time from London is around 2 hours and the prices start at £23.70 for a day return – depending on the type of ticket and how far you book in advance. 
Where to Park in Botany Bay
Parking at Botany Bay can be quite difficult as there aren't many spaces, so you either arrive very early, or try and find a parking space on the streets nearby – but that might annoy the locals if you park in their spots when they are not at home. You may even be fined  if they have a permit, so better not risk it.
The best place to park when you visit Botany Bay is at the nearby Joss Bay, which features a large car park with overflow capacity. From here there is a 15 minute walk to Botany Bay.
The parking charges start at £1/hour, capped at £5/15 hours, and they only apply in season from the beginning of April, to the end of October.
What to do at Botany Bay
Sunbathe
The beach at Botany Bay is considered to be one of the most beautiful in England. The sandy beach stretches along dramatic chalk cliffs for around 200 meters, and is accessible by steps. There is also a slope down the cliffs, but I wouldn't recommend it as it looked very steep and slippery.
The water is great for swimming, even if its temperature never really rises that much. The beach has a blue flag and in season it has lifeguard cover, which makes is very attractive to families. 
Named after the smugglers deported to Botany Bay in Australia, this beach has been featured in many films, adverts or music videos, such as D- Day: The Last Heroes, True Love or more recently, Shawn Mendes' "There's Nothing Holdin' Me Back".
The beach at Botany Bay does get busy, especially during hot weekends and school holidays, however, this is mostly Kent locals. Nationwide, Botany Bay is still a hidden gem.
Search for Fossils
The beauty of Botany Bay comes to the surface at low tide, when you can walk around the pools formed around the rocks. At its lowest, you can walk all the way to Joss Bay  – a "path" that doesn't exist during the high tide.
When the water retreats, an entirely different world emerges: barnacles, shells, sea urchins, sponges, and broken fossils from the Cretaceous era. If you go fossil hunting, make sure you don't disturb the wildlife and be careful what you step on – it might be alive and defenceless. Do not pick up shells, barnacles or any other marine creatures.  
Also, be careful when approaching the cliffs, as they are dangerous. There have been many rock falls during previous years.
Walk on the Viking Coastal Trail
The Viking Coastal Trail is a circular 32 mile path which can either be walked or cycled. There are so many interesting sights and views along the way, that it's hard to recommend only one section of this beautiful walk. I started in Joss Bay and walked along the Viking Coastal Trail for around 1.5 hours, before returning back to my car.
However, I would love to return and complete the entire circular trail.
Explore Kingsgate Bay
Kingsgate Bay is located between Botany Bay and Joss Bay, and it is a small but spectacular cove, flanked by tall chalk cliffs. At low tide you can easily walk between "the stacks", crossing from Botany Bay to Kingsgate Bay. However, do not walk through Kingsgate Arch as it is very fragile and susceptible to cliff falls.
This is a quieter bay, where you will often encounter colonies of seagulls nesting on the beach. 
Check out Neptune's Tower
Just above Kingsgate Bay, on the Viking Coastal Trail, there is Neptune's Tower, a very intriguing building about which I couldn't find a lot of information. It seems to be a folly, built in 1760 on the ruins of a tower raised in 458 AD, by the same lord who built the nearby Kingsgate Castle. The building used to have a tower in the middle of the courtyard, but today only its outline with the four bastions remain.
I wish there was some more information about it, maybe a plaque explaining what it used to be and what its role was in the past. Unfortunately though, it's just a ruin next to the golf course, that many pass by and don't even notice. I'm sure it has a story to tell.
Learn How to Surf at Joss Bay
Joss Bay has the most established surf school in Kent, being in business for over 22 years. At Joss Bay Surf School, not only can you learn how to surf or do stand up paddling, you can also rent equipment and enjoy the waves on your own. 
The surf lessons are very affordable, starting at £40/half a day.
Practice Water Sports
Besides golf, there are plenty of other water sports to practice at Botany Bay. Stand up paddling, kayaking, sailing, or event renting a jet ski – are all available here. There is even a designated area for jet skis, to protect swimmers and allow waterskiing enthusiasts to "play" as they wish.
The Foreness Boat Club, located at the far end of Botany Bay, can launch boats up to 23ft, except when at low tide.
Play Golf
=
North Foreland is definitely a golf course with a view – overlooking three bays and a castle. Founded in 1903, North Foreland has two 18 hole golf courses, both challenging with plenty of strategically placed bunkers.
The green fees for the main course start at £75, whilst for the Northcliffe Course the fee is fixed at £10.
Where to Eat When You Visit Botany Bay
Captain Digby
For lunch with a view, check out Captain Digby, a family run restaurant located on a cliff top with beautiful views over Kingsgate Bay or Kingsgate Castle – which is privately owned property. They have a lovely terrace where you can enjoy the sunshine in summer, and plenty of great offers, such as three courses plus a drink for just shy of £10. Their menu includes a lot of fresh fish dishes such as grilled tuna, prawn cocktail, breaded scampi or fish and chips, among other delicious burgers, steaks or pies.
Botany Bay Hotel
For a more upscale experience, check out the restaurant from Botany Bay Hotel. The view is not as good as the one from Captain Digby, but it's still beautiful. Their menu is fusion, with interesting dishes such as British crab and crayfish linguine, or poke bowl with kale and onion bhajis. They do however have classics as well, such as cod and chips, sirloin steak or beef burgers.
Spending the night?
If you want to enjoy a romantic sunset on the beach with a couple of glasses of wine, the best choice for overnight accommodation is Botany Bay Hotel. Located on the clifftop, within walking distance to the steps leading to Botany Bay, this hotel offers elegant rooms with sea views, at very affordable rates. 
You can check the reviews on Tripadvisor and click here to see the latest rates on Booking.com
For other options of accommodation close to Botany Bay, check out the suggestions below: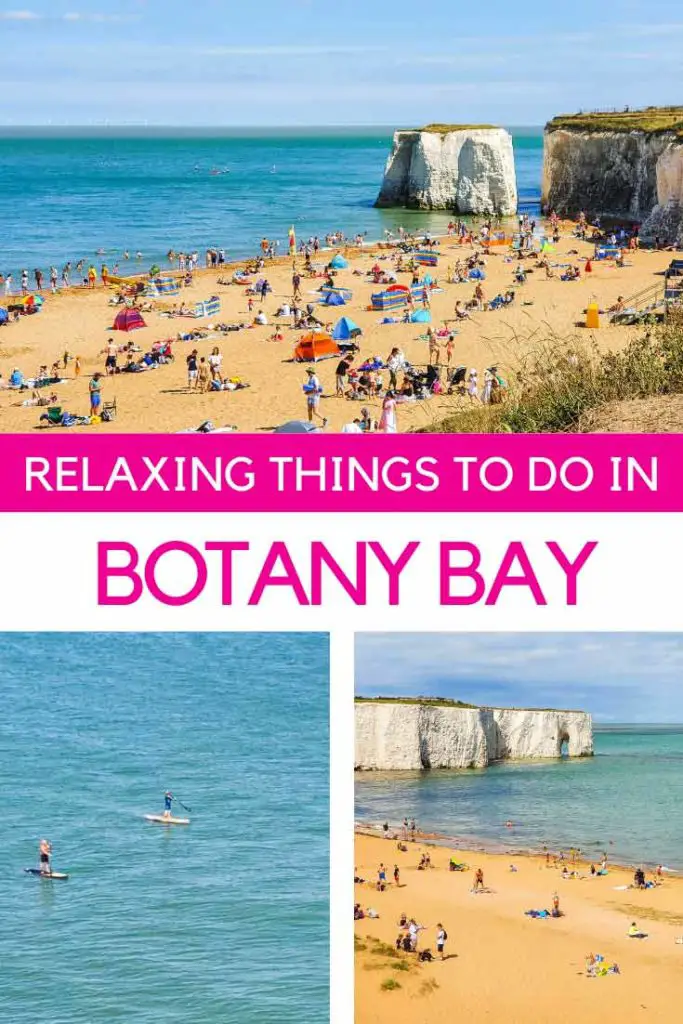 Disclaimer: Some of the links on this website are "affiliate links." This means that if you click on the link and do a purchase, I will receive an affiliate commission at no extra cost for you. This helps me keep my website running and continue to share my travelling knowledge with you. I thank you for booking your flights or hotels using the links on my website. Regardless, I only recommend products or services I use personally and believe will add value to my readers.