It was time to leave Havana, and my anxiety levels were growing from minute to minute, thinking that I'll have to go without my luggage. At breakfast I met a group of Germans that just returned from a yachting trip around Cuba. Hearing about my story, they've put together all their leftover toiletries and gave them to me, including sun screen and repellent, which were a blessing in the hot weather that followed.
Prepare your trip to Cuba with the Lonely Planet guides. Click on the photos see the more details:
[showad block=12]
I kept looking on the window, hoping until the last minute. Then, after a few more things happening that morning, I simply cracked down and burst into tears. I was alone in that beautiful living room of the casa, sitting on a chair, crying my heart out. My whole bag for the trip had in it a skirt and a Tshirt, plus my winter coat. And it made me even more upset thinking how this time I actually packed everything I needed, all my nicest t-shirts, even my favorite dress. And how bloody AlItalia lost everything and they couldn't care less about my ruined holiday.
I managed to miss the group brief and joined them right at the end, before leaving. I was lucky that they were very supportive and even before getting into the bus, Aino from Finland gave me a bag with clothes to wear for the following days. As soon as I got my seat in the back of the bus, Lakshmi also offered to help, and instantly I started to feel a bit better.
The drive towards The Bay of Pigs was very long but it gave us time to get to know each other a little bit. It was funny when Kris came to present herself to me, even if we had met before, at the dinner from the evening before. But on this day I actually looked human, managing in the morning to wash my hair with shampoo and conditioner, after 4 days! So I understood the confusion.
Our first stop of the day was The Bay of Pigs, the place where the CIA's trained military troops failed to invade Cuba, in 1961. The invasion was launched from Guatemala and had the purpose to stop Fidel Castro's increasing communist government. The battle lasted for three days and the invading troops were defeated and captured by the Cuban Revolutionary Army Forces, led by Castro. A year later, most of the prisoners were released and sent back to America, in return for US$53 million in food and medicine.
Today, in the idyllic bay, nothing reminds of the past and it's hard to imagine that not so long ago, that stunning blue water was a battle scene. It was my first encounter with the Caribbean blue and oh my, what a sight! The water was so clear that I could see the tropical fish swimming among corals and stones. As soon as our bus stopped, a man came with a baby crocodile in his hands. He would charge 1CUC for a picture. I am totally against animal exploitation especially for tourist purposes, so I said no and walked away. Cuban crocodiles are small but very aggressive. The crocodile he was holding in his hands was very calm and his mouth was tied with a rubber band. It must have been given some sort of drug to make it so calm. This species of crocodile is also critically endangered!
An alley through the woods was leading towards a small paradise. An eye of clear water, surrounded by rocks and lush trees. I couldn't get over watching those fish, seeing them so clear, like there was no water at all. I would have loved to jump in and swim with them but my bathing suit was who knows in which country.
On the other side of the road, the Caribbean sea was also inviting me to take a dip in that stunning, warm, water.
Our next stop was Giron, where the museum of Bay of Pigs is. That's where we had lunch and also found out that there are 3 options in Cuba: ham, cheese, or ham and cheese. So I had a ham and cheese pizza which was actually delicious.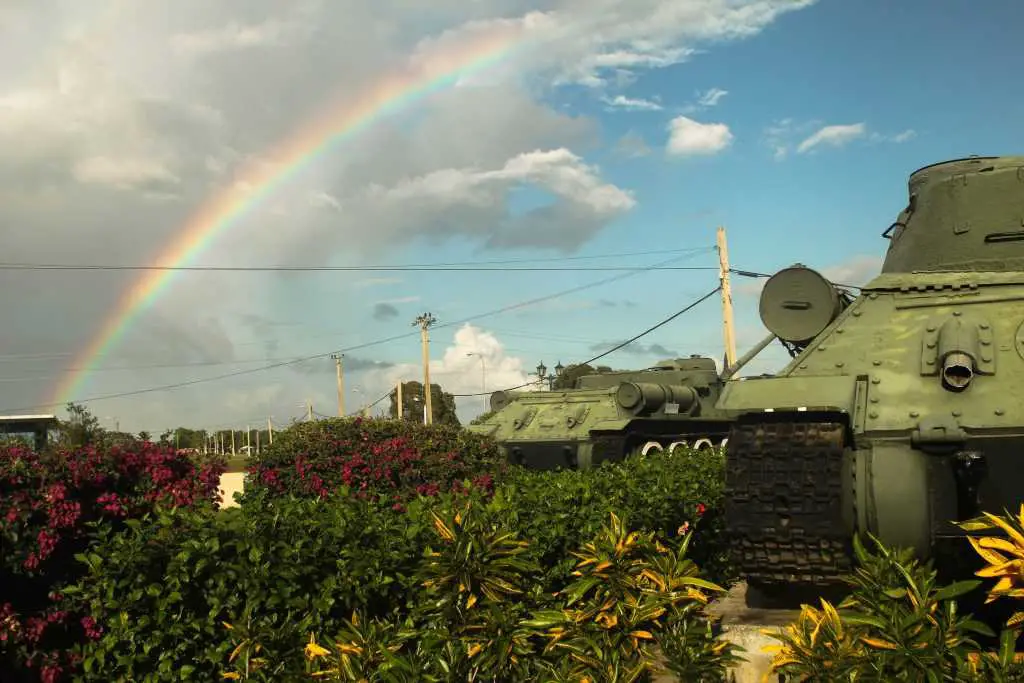 We headed back to the bus and spend the next couple of hours heading towards Cienfuegos, the town of Benny More, a famous Cuban singer. We arrived there soon after sunset and drove straight to Punta Gorda, across the bay, where the Palacio de Valle is and where we would begin our evening with a cocktail. The Palace stands out as its architecture is far from similar with the one of the city. The Palace is build in a Spanish Moorish style, with Gothic and Baroque influences and it has been erected in 1917 by a Spanish millionaire.
 I was very looking forward to my first Cuban cocktail. I know Mojito and Cuba Libre are the most common Cuban cocktails but I am a fan of Pina Colada, so this is what I ordered. It was delicious and very strong, compared to the European Pina Coladas. Cubans don't joke when it comes to Rom, they put a lot of it in their cocktails. And for around 3CUC a cocktail, you can have as many as you can. 🙂
We were on the rooftop of the Palace and while we were admiring the last colors of the sunset, near us, a band was playing Cuban songs. It was wonderful, a great place to relax after a long day!