The past few years have found me spending my birthday traveling and, as a gift, I always get treated to a nice dinner at a top-rated restaurant. This year, my birthday found me in Sorrento, on the Amalfi Coast, and searching on TripAdvisor, I found Terrazza Vittoria to be the second-best restaurant in town, very highly rated by past guests. You might wonder why I didn't choose the first one? I was pretty much swept away by the view the moment I stumbled across photos from Terrazza Vittoria and after a quick phone call, the reservation was made.
Location, location, location
Terrazza Vittoria is located on the 5th floor of the five stars Continental Hotel, overlooking on one side the pretty clifftops of Sorrento and on the other side the Vesuvius volcano with Napoli at its slopes. My advice would be to check when the sunset is going to be and make a reservation for half an hour before.
The Continental Hotel is very central located in Sorrento, in Piazza della Vittoria 4.
Pre-dinner drinks
I arrived early. Because I didn't wanted a dry dinner, I left the rental car in the garage and I took the bus from the beautiful Bellavista Francischiello Hotel where I was staying at, in Massa Lubrense, to Sorrento.
Even if you don't plan on dinning, on the rooftop of the Continental Hotel there is a bar from where you can admire the stunning panorama of Sorrento. Drinks are not cheap but if you arrive around 7 you can take advantage of the aperitivo – you pay for a drink and can enjoy small plates of food for free.
I went for a Kir Royal as my pre-dinner drink, a  French cocktail made with creme de cassis and prosecco.
Terrazza Vittoria – The restaurant
You probably can't get a better location for a romantic dinner with a view than at Terrazza Vittoria. The restaurant is set at the top floor, with panoramic views over the Bay of Sorrento. It is an open terrace so expect to enjoy a light breeze all throughout the evening as you watch the sun going down.
The restaurant specialises in modern Mediterranean gourmet food which is based on the local flavours of Campania. The quality of the food is outstanding, easily compared with Michelin star restaurants.
Throughout the evening I could peak through the big window that was separating the terrace from the kitchen and I was impressed with how professional everything looked like. There were at least 5 chefs in there, together with the executive chef, and everyone was taking care of one section. No wonder the food that followed was so good!
The Service
The service at Terrazza Vittoria was impeccable. As soon as I arrived I was greeted as a friend. I was able to pick whichever table I wanted, and, of course, I went for one next to the large windows.
As I sat down to my table I was immediately brought a glass of prosecco, on the house, and a little stool especially for my bag!
Throughout the meal different waiters have come to check that everything was fine and that I was enjoying the meal. Dining here is an experience rather than just having food.
The restaurant is quite small, it only has about 10 tables, so it's essential to book ahead if you want to dine here, especially during the summer weekends when it's full season in Sorrento.
Appetisers
Bread, oil and butter mouse – on the house

Dinner started with a generous selection of bread and Italian breadsticks, accompanied by extra virgin Muraglia olive oil and an airy butter mousse. Whilst browsing through the menu I couldn't help thinking that I shouldn't eat the bread, seeing all those wonderful selections, but on the other hand, the bread was warm, spreading a freshly baked aroma into the air.
Tomato and basil spelt salad – compliments of the chef
If there is one word to describe this dish, that would be "fresh". Just a mouthful of spelt salad but with so much flavour: sweet tomatoes and fragrant basil, with a little bit of crunch and texture from the grains. Simple and delicious!
Lobster with butter and shallots, served with purple mash potatoes, buffalo mozzarella mousse and an emulsion of anchovy coulis – 28 euros
I have only had lobster just a few times in my life, and every time I was lucky to have an exceptional dish. I don't order it usually because of the price tag it comes with, but this was my birthday, it was a special occasion, so I went for it.
The plate looked beautiful and colourful, having both a claw and part of the tail included. The lobster had a delicate light flavour, fresh and a bit sweet.  The texture was perfect, just as lobster should be, as if it's cooked for too long it becomes chewy and rubbery, and it ruins the meat. The purple potato mash reminded me of my trip to Peru. Same as the lobster, it had a slightly sweet taste. However, the flavours of this dish were nicely balanced by the mozzarella mousse.
Lightly seared tuna served with black lentils, vegetables and lime scented mayo – 20 euros
Tuna is one of my favourite fish due to its meaty texture and the way it's usually cooked – just seared and raw in the middle. I didn't know before ordering this dish that tuna and lentils would go so well together, flavour wise. As tuna has quite a mild taste, not fishy at all, the lentils brought an earthly flavour, whilst the lime scented mayo bound the two together.
4+4 Ravioli "Terrazza Vittoria Style" – 18 euros
The sound of four ravioli each filled with a different type of cheese sounded very appealing, so I ordered this dish for the first course.
Each of the ravioli was cooked al dente and filled with a generous amount of cheese, arranged on a bed of tomato, mozzarella and basil sauce. The plate looked like it was painted by an artist. I was surprised to find Parmigiano Reggiano in one of the ravioli, as it's not a usual filling. The sweet-salty taste of the parmesan cheese was so good! I could have easily eaten another three plates of ravioli, but the night was young and other exciting dishes were about to arrive.
Main course
Loin of lamb in a thyme and pistachio crust garnished with potatoes in filo pastry and mushrooms – 26 euros
I usually don't order lamb when I go to restaurants as the flavour can be quite overwhelming if it's not cooked right. However, I was drawn into ordering this dish because of the thyme and pistachio crust and the loin of lamb, which I don't find very often in restaurants.
As soon as I took my first bite from the lamb loin, my taste buds were mind blown. Juicy, with a delicate flavour and meat that didn't need chewing as it would melt in my mouth, this dish became the highlight of the evening. The pistachio and thyme crust was a very nice surprise taste wise, giving the meat great flavour and a gentle crunch without overpowering the taste of lamb. Who knew pistachio and lamb would be such a flavoursome combination!
It was the best lamb I have ever had, by far!
Ribeye steak Wagyu – 32 euros
Wagyu beef is a cut of meat that contains higher percentage of omega3 and omega6 acids, coming from Japanese cattle which have been fed and reared according to strict rules. The Wagyu beef has a rich flavour and it is quite expensive, which means that the chances of finding it in your local supermarket are very low.
The Wagyu beef I have ordered was quite generous sized and cooked to my liking, medium-rare. The flavour was intense, and the meat cooked so that it melted in my mouth. If you are a beef lover, Wagyu is a little piece of heaven.
Dessert
Deconstructed rhubarb cheesecake – Compliments of the chef
The cheesecake was definitely a palette cleaner, with its tangy, fresh taste and the gelato on top. I have never had a deconstructed cheesecake before, even if I've seen them many times on MasterChef. It was good, for sure!
Baba with wild berries and basil cream – 12 euros
Baba al rhum is the ultimate Napoletan dessert. It's sweet, boozy and comes with a delicious vanilla cream on top. It is the best dessert you can have in Campania, and one of the staples of the local cuisine. And the moister it is, the more rum has in it.
The reinterpretation of the classic baba al rhum from Terrazza Vittoria left me speechless. First of all, the presentation was like a small work of art. Just look at the symmetry and at how all the elements of this dish are arranged on the plate!
The taste was divine! The basil cream gave a fresh flavour to the dessert and, combined with the strawberries and the berries ice cream created the perfect array of flavour, spoon after spoon.
Lemon Caprese Continental Style – 12 euros
Sorrento is famous for its lemons, which are big and fragrant, with a vibrant yellow thick skin. They are known all over the world for their flavour and, they do sell for probably double the price of the regular lemons.
Of course you have to have a dessert made out of Sorrento lemons, when you are in town, be it a cake, gelato or even a digestive, such as limoncello – which we can call dessert as well, right?
Seeing the lemon cake on the menu I had to have it, and it did not disappoint at all! The creamy body of the cake, with it's tangy and fresh lemon taste melt in my mouth. The crumble on top gave the dessert texture and crunch and I can guess that there was some limoncello as well, incorporated somewhere in this dessert.
Assortment of treats – Compliments of the chef
As I asked for the bill, the last treat from the chef arrived together with it. A dessert on its own, the colourful platter included among others a macaron, a lemon cake, a truffle and a poppy seeds pastry.
Would I return to Terrazza Vittoria if I find myself in Sorrento again? For sure! Not a cheap restaurant, but the perfect choice if you are celebrating or for a special occasion.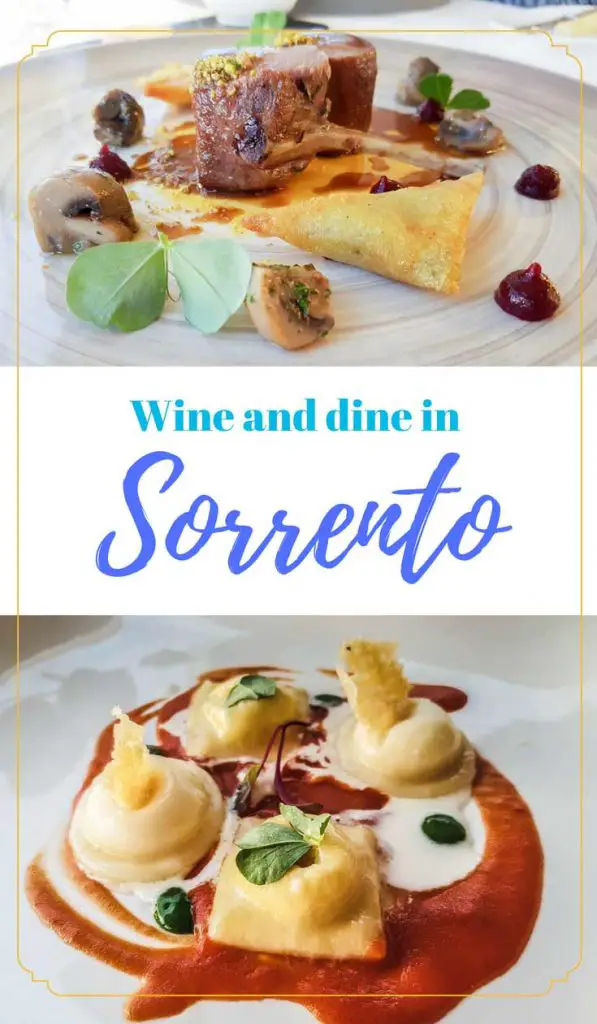 Disclaimer: Some of the links one this website are "affiliate links." This means that if you click on the link and do a purchase, I will receive an affiliate commission at no extra cost for you. This helps me keep my website running and continue to share my traveling knowledge with you. I thank you for booking your flights or hotels using the links on my website. Regardless, I only recommend products or services I use personally and believe will add value to my readers.