When it comes to cooking, I love to get creative in the kitchen. Close friends know about my vast collection of spices gathered from all over the world that I use when cooking. For me, putting my apron on and getting into the kitchen is always a relaxing activity. I love to play with ingredients and create dishes that taste good, with overlapping layers of flavour. Whoever tries my signature curry knows how it tastes sweet and the beginning, followed by heat shortly after.
I was very excited when Schwartz challenged me to use their Sausage Casserole Mix in a dish, and I thought about what I would make for a while. As winter is coming and sausage casserole is a comfort food, I came up with the idea to enhance this classic recipe and give it a Mediterranean twist.
Whilst it is very easy to make a sausage casserole with the herbs and spice mix from Schwartz by following the instructions on the packet, I wanted to show you that it is not complicated to enhance this recipe and bring it to another level.
To bring in the Mediterranean flavours to this sausage casserole, I chose to include different fresh vegetables into the dish. Besides the pork sausages, which were fresh, I also decided to add a chorizo, for more enriched flavour and a bit of spice.
The beauty of this Mediterranean Sausage Casserole is that it is so easy to make. I opted to cook using a deep pan, on the stove, but it's as delicious baked in the oven in a casserole dish or made in a slow cooker, whilst you are busy with something else.
You can find the Sausage Casserole Mix at Tesco, for only 85 pence.
Mediterranean Sausage Casserole
Ingredients
1

Onion

chopped roughly

2

cloves

Garlic

minced

1

Red Potato

chopped into cubes

1

Sweet Potato

chopped into cubes

3

Tomatoes

chopped roughly

1

Italian Pepper

chopped

6

Fresh Pork Sausages

1

Chorizo Sausage

1

pack

Schwartz Sausage Casserole

1

can

Tomato Sauce

1

tsp

Dijon Mustard

1

tbsp

Worcestershire Sauce

1/2

can

Cider

1/2

liters

Vegetable stock

1

handful

Fresh Sage Leaves

1

spring

Rosemary

Chili flakes

Salt and pepper

To taste
Instructions
First step into making this delicious Mediterranean Sausage Casserole is to put some olive oil into a pan and brown the sausages on each side, for about 3-4 minutes. Then take out and put aside.

In the same pan, using the same oil, fry the onion and the garlic until translucent. Then add the potatoes and mix. Fry for a couple of minutes.

Add the tomatoes and the peppers, mix well, and fry for a few minutes.

Open the Schwartz Sausage Casserole packet and mix it with the can of tomato sauce. You can also mix it with water, but to achieve more flavour, I chose to mix it directly in the tomato sauce. Add the sauce over the vegetables and mix well.

Mix the mustard and the Worcestershire Sauce. Break the sage leaves by hand and put them inside the stew, together with the rosemary. Add the stock and the cider, mix well and put the lid on. Let it boil on medium heat for 10 minutes.

Take the lid off and add the sausages and the chorizo. I chose to chop the chorizo into slices, to release the flavour inside better. Sprinkle some chili flakes on top, if you want a bit of heat.

Turn the heat down to low and let the casserole simmer for the next couple of hours, until the liquid reduces. I chose to cook it for so long for a more intense flavour. You can easily bake the casserole or use a slow cooker as well.
What do you think of my take on the classic sausage casserole? I would love to hear your opinions in the comment section below.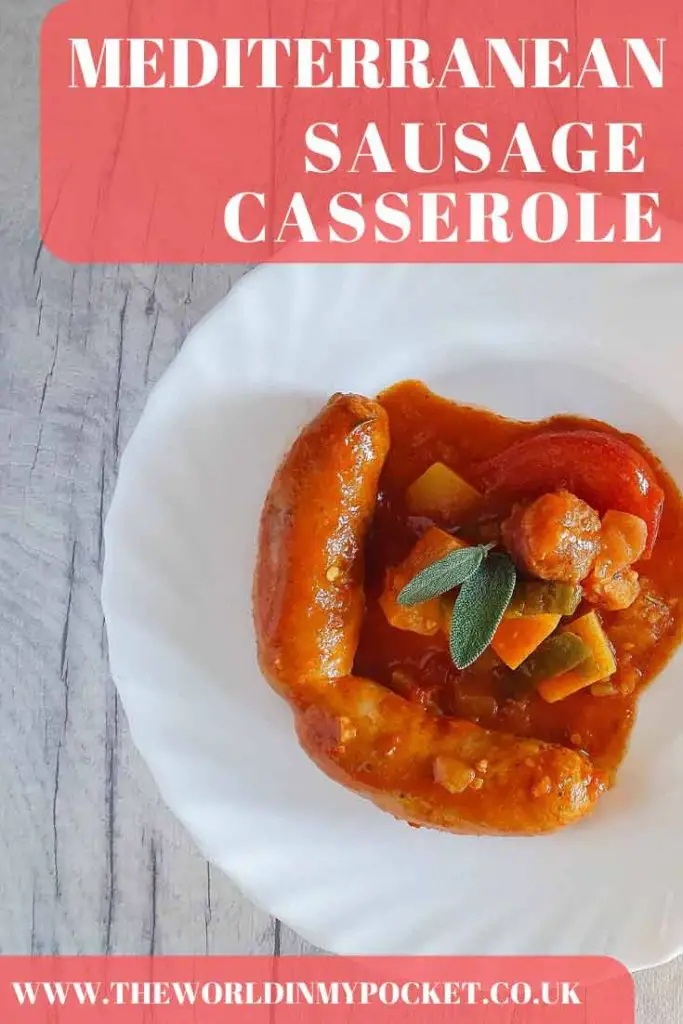 Disclaimer: This is a collaborative paid post and I have been sent the Schwartz Sausage Casserole Mix for free to use in a recipe. Some of the links one this website are "affiliate links." This means that if you click on the link and do a purchase, I will receive an affiliate commission at no extra cost for you. This helps me keep my website running and continue to share my traveling knowledge with you. I thank you for booking your flights or hotels using the links on my website. Regardless, I only recommend products or services I use personally and believe will add value to my readers.