As a foodie, I was on a quest to find which is the best Sri Lankan food during my last trip to the country, in August. I tried to eat as many different Sri Lankan dishes as I could so that I can create this guide for you. The Sri Lankan cuisine surprised me through its flavours, both spicy and fresh, and through how the local have learned to take advantage of the local ingredients and transform them into delicious meals.
I spent 10 days in Sri Lanka, eating my way from the East to the West, discovering the local flavours of the Pearl of the Indian Ocean. As I have mentioned it many times, for me, traveling means getting to know the local food as well, and my trip to amazing Sri Lanka made no exception. If you are wondering what to eat in Sri Lanka during your upcoming trip, then this guide is for you!
What to expect from the traditional Sri Lankan food
Whilst quite simple, Sri Lankan food is colourful and full of flavour. Influenced by its neighbouring countries but also by the Dutch occupancy, with staple ingredients such as rice, coconut and spices. The most popular dishes for lunch and dinner in Sri Lanka are rice and curry. But don't think for a second that people eat the same thing every day. In Sri Lanka, pretty much every vegetable, even fruits, can be made into curries. Plus, there is meat and fish as well, together with other vegetable proteins such as lentils. One of the special Sri Lankan curries that I have to mention because it's so unique and so tasty is the cashew nut one.
Sri Lankan Food Guide:  
Hoppers
Hoppers in Sri Lanka can be eaten at any time of the day: breakfast, lunch, or dinner. A hopper is a thin pancake made in a pot shaped like a bowl, from a batter of rice flour and coconut milk. For breakfast, a hopper is beast eaten with an egg inside, accompanied by seeni sambol (a sweet and spicy onion relish) on the side. For lunch and dinner, hoppers can be filled with curry.
Hoppers make even a delicious dessert when in the batter is added sugar and they are served with curd and honey.
String Hoppers
String hoppers are made from the same batter as the bowl-shaped ones but instead of being fried, they are squeezed into thin noodles and then steamed. They are a very popular in a Sri Lankan breakfast and dinner, to accompany curry.
Kottu
Kottu is the equivalent of Sri Lankan street food, which you will find at most of the stalls selling food in the country. It is a very simple dish, a flatbread chopped and fried together with a variation of vegetables, eggs, chicken, cheese and spices. It is so good!
Fish Curry
Fish is the most popular main ingredient for curries in Sri Lankan cuisine and no wonder, the entire country being an island surrounded by the ocean. The Sri Lankan fish curry is made using a white meaty firm fish such as tuna or mackerel marinated in a blend of spices and cooked with fresh vegetables. The fish curry is usually quite spicy and a bit sour because of the use of goraka, a dried fruit that resembles tamarind in taste and has amazing preservation qualities. If you use goraka in a curry you can leave it at room temperature for over a week without it getting bad.
Fried Dried Fish
The Sri Lankan fried dried fish is made with sailfish which has been sun dried and then friend with onions, chilies and a few spices. The texture, as you can imagine, is very dry. It tastes salty but not spicy. I did enjoy it, even if it was a bit hard to eat. Its flavour was really unique.
Maldive Fish
A staple of the Sri Lankan cuisine, the Maldive fish is usually served with rice and curries. The recipe does originate in the Maldives, where tuna is boiled, smoked and sun dried until it resembles a wood-like look. Then it is crushed and packaged. It is afterwards exported to Sri Lanka, where is widely used either as it is or as an ingredient for vegetable curries.
Pol Sambol
Pol sambol is a traditional Sri Lankan food served as an accompaniment for hoppers, rice, roti and curries. It is made by grating coconut and mixing it with red chilies, onions, garlic, dried fish and lime juice. Traditionally, pol sambol it is made on a bloc of granite, all the ingredients being mixed together with a stone rolling pin.
Deviled Prawns
There are many dishes that included the "deviled" adjective in the Sri Lankan cuisine but I have tried the prawns version which was cooked in front of me by the chefs at Sigiriya Hotel. The dish is fiery but delicious, based on onions, tomatoes and peppers.
Baby Jackfruit Curry
Also known under the name of Polos Curry, this dish is a great alternative to the meaty Sri Lankan curries. For preparing the Jackfruit Curry, the fruit it is used when it is not yet ripe. The taste of this curry is not as spicy as the meat ones, but still very flavoursome. The fruit is usually cut into big chunks which pretty much melt in your mouth.
Chicken Kalupol
Kalupol is the traditional Sri Lankan chicken curry, cooked with toasted coconut, rice and an aromatic blend of spices which make it very flavoursome. This Sri Lankan dish is mildly spicy, creamy with a thick gravy. Kalu pol actually means black coconut and the name derives from the color of the curry, which is very dark. The coconut mixed with chillies, cumin, fennel, rice and mustard seeds, once blended together, results in a very dark paste.  Keep in mind that the chicken is usually cooked on the bone, and very rare you will find boneless meat.
Spicy Beef Curry
The Sri Lankan Spicy Beef Curry is usually cooked in coconut milk for at least two hours, so that the flavours have time to build up and the meat to get tender. The gravy of this dish is thick and very aromatic.  Traditionally, this meal is cooked over a wood fire stove.
Vegetables Curry
The Sri Lankan traditional food includes a lot of vegetable curries as well so, if you are a vegetarian and visit the country you don't have to worry. Among the most popular vegetarian curries in Sri Lanka I can mention the potato curry, the eggplant curry, the pumpkin curry, the cashew nut curry and the carrot curry. There are also combinations of vegetables that go into a curry. I really liked the pumpkin curry, I haven't tasted this vegetable in a curry before and I have to say, the taste was quite unique.
Sambar
Sambar is a popular Sri Lankan dish. Sambar is a lentil based vegetable stew, cooked with dhal and tamarind broth, so it tastes a bit sour. However, it is a very aromatic thick soup and no wonder, as there are a lot of herbs and spices which go inside it.
Dhal  
Shal is without a doubt the most popular Sri Lankan food which you will find pretty much everywhere. It is served for breakfast, lunch or dinner and some people eat it more than once a day. Dhal is a versatile dish loved by all Sri Lankans, which goes well with pretty much everything. The dhal is usually very rich and creamy, but also very spicy.
Tempered vegetables
It was during my flight to Sri Lanka when I first stumbled upon tempered vegetables, and I had no idea what they were. Traveling through Sri Lanka, I noticed that a lot of restaurants were serving different types of vegetables in this "tempered" way of cooking. The most popular tempered vegetables are mushrooms, cabbage leaves, green beans and snake gourd (a typical Sri Lankan vegetable in the shape of a very long, thin cucumber). So, what does "tempered" mean? Sri Lankan cooking uses tempering as a technique to fast fry vegetables in oil and spices just enough for them to become tender whilst maintaining all their vitamins. Pretty cool, right?
Brinjal Salad
Brinjal Salad refers to a classic side dish to accompany curries and rice, made out of fried eggplants mixed with onions and chilli peppers. It is sometimes served with a lime and sugar dressing.
Kathurumurunga Mallung
This is another side salad served alongside the main meal in Sri Lanka. It is practically a fried leaf salad with onions and dressed with lime juice. It is pretty tasty!
Mukunuwenna Mallum
This was my favourite Sri Lankan salad and I always looked for it at lunch. It doesn't look very appetising, but it tastes delicious. It is actually a coconut and a leafy vegetable salad, mixed with onions, garlic, chilli and a little turmeric. It tastes very fresh and it's lovely to eat with a spicy curry.
Gotukola Sambol
Gotukola sambol is another delicious salad to try in Sri Lanka, made out of the green medicinal plant with the same name, mixed with shredded coconut, chillies and lemon. Not only that it's a great side dish and it tastes fantastic, but it is also great for the body.
Pickles: garlic, lime, pineapple….
I meal in Sri Lanka is not complete without pickles. There are many vegetables that can make a traditional Sri Lankan pickle, from garlic, lime, mango, pineapple, carrots, even dates. Any mixture of vegetables can be pickled as well. Usually the pickles are eaten together with curries and are spicy.
Typical Sri Lankan desserts:
Watalappan
Even if it has a Malaysian heritage, Watalappan is the most popular Sri Lankan dessert. Made with coconut milk, cashew nuts and eggs, sweetened with Jaggery and spiced with cardamom, cloves and nutmeg, this dessert is present on the menu of pretty much every restaurant in Sri Lanka. It has the texture of a custard tart and tastes like caramel. It's a must try when you visit Sri Lanka.
Curd with coconut honey
You will find this atypical Sri Lankan dessert in the East of the country, when you are driving between Trincomalee and Kantale, where locals are selling it on the side of the road.
The curd is similar with yogurt but made using natural curdling methods. I don't think I have ever had coconut honey before Sri Lanka. It tastes like a very rich, sweet syrup and it was perfectly matched with the curd.
Weli thalapa
Weli thalapa is usually a home-made dessert in Sri Lanka, with sugar, treacle, scraped coconut, rice flour and cardamom. It is very flavoursome.
Aggala
These roasted rice balls are a traditional Sri Lankan sweet. Made from rice, coconut, jaggery and surprisingly, pepper, they are served as snacks rather than as a dessert.
Halapa
Halapa is an authentic Sri Lankan snack which is usually served with tea. It's the most peculiar dessert I have encountered, enclosed in a large leaf. The texture is marmalade like, thin, and sweet.
Kokis
Kokis is a very simple dessert in Sri Lanka, made from only two ingredients: coconut milk and rice flour. Whilst it is considered to be one of the most traditional Sri Lankan desserts, it is believed to have come to the country from the Dutch.
The dessert is very easy to make, with a specially made mould which is coated with batter and then dipped into the boiling oil.
Thala Bola
As most of the others Sri Lankan desserts, the Thala Bola shares coconut, treacle, sugar and cardamom as main ingredients. Cashew nuts are added into the mixture, which is shaped into bowls when the dough is still warm. The balls are then rolled through sesame seeds and served once they cool down completely.
Typical Sri Lankan Drinks:
King Coconut
King Coconut is the number one thirst quencher in Sri Lanka. It is sold pretty much everywhere, in markets, restaurants and on the side of the road. The water from the king coconut is sweeter than the one from its relatives and hydrates you straight away. Native to Sri Lanka, king coconut is perfect to drink on a hot day.
Ceylon Tea
As you can probably imagine, Ceylon tea is the most popular drink in Sri Lanka. Locals drink several cups of tea a day, pretty much the same way I drink coffee. Tea is offered as well as a sign of hospitality so don't be surprised when you check-in at your hotel and immediately you are brought a cup.
Lion Beer
The local beer in Sri Lanka is Lion, produced only 14 miles away from Colombo.  It is a light beer, very refreshing on a hot day.
Authentic foodie experiences in Sri Lanka
Have lunch in a local's home
I hope you agree with me that home cooked food is the best. The recipes, which are transmitted from generation to generation, will always taste much more authentic than in a restaurant, where everything is cooked in big quantities. I have had the pleasure the enjoy a traditional Sri Lankan lunch, in a village near Habarana. The lady of the house cooked traditional recipes using rudimentary cooking utensils, such as a rock to make sambol or an iron hook to scrape coconut. The cooking was done in clay pots on an antique stove.
Take a cooking class and learn how to cook Sri Lankan food
I love taking cooking classes when I travel. During my trip to Sri Lanka I've learned how to cook traditional Sri Lankan fish curry and deviled prawns in two different cooking demonstrations. I've learned how to make a healthy recipe of fish curry using only natural ingredients and spices at Anarva Mount Lavinia Hotel. The chefs from Sigiriya Hotel showed me how to make the perfect deviled prawns using only one pan, over an open fire.
How about you? Have you been to Sri Lanka before? Have you tried any of the traditional Sri Lankan dishes? I would love to read your thoughts in the comments below.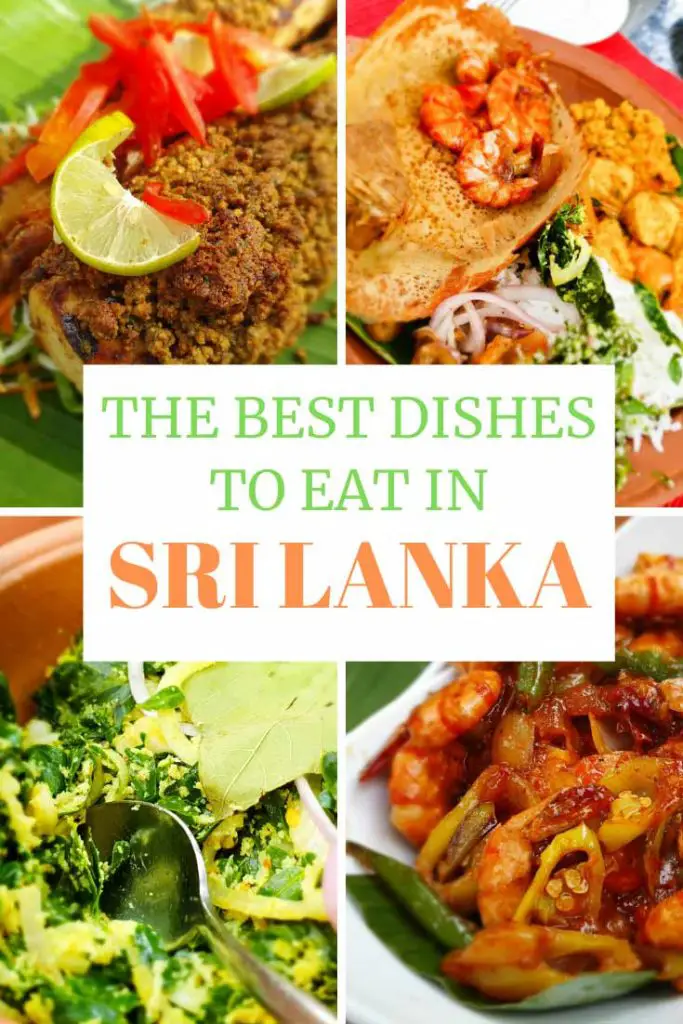 Disclaimer: Please note that I visited Sri Lanka as a guest of the Sri Lankan Tourism Board. However, all the opinions in this article are my own and I would not recommend anything that I wouldn't have enjoyed myself doing or think it was a great place to visit.

Some of the links one this website are "affiliate links." This means that if you click on the link and do a purchase, I will receive an affiliate commission at no extra cost for you. This helps me keep my website running and continue to share my traveling knowledge with you. I thank you for booking your flights or hotels using the links on my website. Regardless, I only recommend products or services I use personally and believe will add value to my readers.