There are many things that keep me coming back to South East Asia time after time, but if I had to choose only one, it would be the food.
While the food of Thailand and Vietnam seem to get most attention around the world (and are certainly two of my favourite cuisines), Laos food may not get the acclaim it deserves. In fact, the three countries' cuisines have influenced each other, and many dishes that most people would identify as Thai or Vietnamese actually originated in Laos. With flavours that pack a punch, there are many Laos dishes you should definitely try when you visit this delicious little country.
I've listed some of my favourite Laos dishes here, as well as asked some other bloggers to share their favourite Laos foods.
The Food of Laos
Like many cultures around the world, food plays a huge part in the day of Laotians. I have to say, I love the Laotian way: the days revolve around food and thinking about the next meal. People constantly talk about food and often the first question upon seeing a friend or family member will be to ask if they've eaten.
Eating is a communal activity, and you'll always find plenty of food if you visit a local's house. Just as people share tapas in Spain, you'll often find Laotians sharing dishes.
Laos dishes are usually meat-heavy, accented with plenty of herbs, chillies, lemongrass, kaffir lime leaves, garlic and other strongly-flavoured ingredients, meaning food in Laos is not at all subtle. Vegetables are abundant and fresh.
As a vegetarian, be careful when ordering. While a dish may not contain obvious pieces of meat, it may have been prepared with shrimp paste, fish sauce or another animal-based product.
Where to Eat in Laos
This list will share with you what to eat in Laos, but where should you eat when you're in Laos?
There are, of course, plenty of restaurants, particularly in the major cities of Luang Prabang and Vientiane. In Laos, you can dine at hole-in-the-wall restaurants that are favourites of locals, or fine-dining establishments that elevate local flavours.
I always prefer to see where the locals are eating and follow their lead. Laos people are incredibly friendly and always willing to proudly show off their cuisine.
Don't discount street vendors. Laos street food is delicious (but always check to see that the food is fresh and is being turned over quickly), and serves up some of the tastiest and cheapest eats.
The night markets are fantastic – the smoke-filled alleyways sizzle with fresh food cooking, the delicious smells will permeate your clothing, and the variety is mind-boggling.
The French influence in Laos can still be seen with the abundance of cafés, particularly in Vientiane and Luang Prabang. You can get decent coffee in most, as well as good food that will fuse Laos dishes with international favourites.
How to Order Food in Laos
Now that you know a bit about Laos food culture, let's get into some helpful tips for ordering food in Laos.
It's unlikely you'll be able to speak much of the Laotian language when you're visiting the country, but that shouldn't stop you trying! Here are a few phrases to help you order food in Laos. This video can help with some of the pronunciation.
I want… – Ao…
Not Spicy – Bor ao phed
The check, please – Chek bin, kalounaa
I only eat vegetables – Koy gin daa pak
Laos Food Tours and Cooking Classes
Before we dive into the best Laos dishes you should try, if you're a foodie like me, then consider taking a food tour or cooking class when you visit Laos. It's one of the best things to do in Laos if you want to learn more about the food and culture. I didn't do this when I was in Laos, but I'd love to do one when I return. Here are a few options I've found, and they all look delicious!
Combine a street food tour and biking around Luang Prabang with this day tour. The guide will introduce you to local dishes, fruits and vegetables and explain how they're used and eaten.
Learn how to make traditional Laos dishes during this cooking class in Luang Prabang. You'll start the class off with a visit to the market, then work together to create flavoursome dishes.
On this tour, a local guide invites you into his home to learn about traditional Laos cuisine.
In Vientiane, Lao Experiences offers highly-rated cooking classes and market tours.
Close to the city centre of Vientiane, Tang Kin is a home-based cooking school. In small groups, you'll learn to cook traditional Laotian food in an outdoor kitchen.
The best Laos dishes to eat when you visit Laos
1. Sticky rice
Rice is one of the most important Laos dishes, and you'll find it paired with most meals.
When I was asked if I wanted steamed rice or sticky rice at a restaurant in Laos for the first time, I didn't know what the difference was, but on a hunch I ordered sticky rice. It was the best decision I made during my two weeks in Laos.
The sticky rice in Laos, called Khao Niaow, is served in a small bamboo basket. The glutinous rice is washed, soaked in water for more than 10 hours, then steamed and pressed into a small, hard ball before being transferred to the bamboo basket and served at room temperature.
Traditionally you eat the rice with your hands by ripping off pieces, and it use it to mop up sauces from your plate.
Laotian sticky rice contains more sugar than other rice varieties, which makes it sticky and also more nourishing because it takes longer to digest. While these facts sound very interesting, there's only one real reason to try sticky rice in Laos: because it's super delicious!
Recommended by Lena of Nagoya Foodie
2. Laab
Laab is generally considered to be the unofficial national dish of Laos. The name has many different spellings in English, including laap, larb and lahb. In addition to referring to this dish, the word "laab" can also mean "blessing" or "good luck", so it's often eaten at special occasions such as weddings.
Laab is often described as a "meat salad", but in fact not all laab contains meat. Some restaurants serve a vegan version made with mushrooms or tofu. This is one of the few vegan dishes in Lao cuisine.
At the other end of the spectrum, there are also versions of laab that are made with raw meat. Eating uncooked meat in Laos poses many health risks, including bacterial infections, worms and even rabies, so it's definitely not recommended for visitors to Laos.
To prepare laab, the main component of the dish (meat, tofu or mushrooms) is tossed in toasted, ground rice with fresh herbs, chili peppers and a garlic-flavoured lime dressing. The result is an intriguing mix of spicy, sour and salty flavours. One of the best places to try laab is Lao Kitchen, a popular restaurant in Vientiane that serves a tofu laab as well as meat versions.
Recommended by Wendy of The Nomadic Vegan
3. Tam Mak Houng (spicy papaya salad)
One of the most popular Laos dishes is Tam Mak Houng, or spicy papaya salad. Often confused with Som Tam – the Thai green papaya salad – Laotians believe that their (spicier and saltier) version of this salad is in fact the original one.
Tam Mak Houng is a dish that can be made quickly, as it doesn't require many ingredients. The basis of the dish is – of course – green papaya, which is tossed with lime, chili pepper, garlic and small tomatoes, with fish sauce, salt and sugar added to taste.
You can find variations of the salad (including non-spicy one) across Laos as well as in Thailand, Cambodia and Vietnam.
Recommended by Marta of BackpackersWro
4. Sai Gok (Lao sausage)
If there's one Laos dish that will forever remain in my memory, it's Lao sausage. You'll find these smoky, flavour-packed sausages almost anywhere in Laos, usually strung up on a street vendor's cart or in a market.
Made with minced pork, these sausages are turned into something incredible when mixed with galangal, lemongrass, kaffir lime, cilantro, chilies, fish sauce and garlic, and then squished into sausage skins. The texture can often be slightly dry and crumbly, and I found them to be rarely oily.
These sausages are one of the best Laos dishes, and make for a great snack at any time of the day. You may also be offered a delicious sauce to dip slices of sausage in to, and a side of sticky rice of course.
5. Laos Phor (Fer)
No doubt you've tried a bowl of Vietnam's famous Pho, a beef noodle soup. Laos has a similar version, usually served with thin slices of beef, pork or chicken, but often with other more adventurous delicacies like tripe, liver or tongue.
You'll usually be asked if you want thin or thick rice noodles with this dish. Like Vietnamese pho, it's also served with sides that you can add as you like: bean sprouts, basil, cilantro, chili and limes.
I could never get consensus on the correct way to spell this dish in English. But what I do know: it's just as delicious as the neighboring version.
6. Crispy rice cakes
My kids have various food intolerances, especially with several types of carbs, but rice is one thing they can eat and love. So, when we discovered crispy rice cakes in Laos we had to try them and were instantly hooked.
You'll find the small rice cakes everywhere in Laos. They're made by forming small discs of steamed sticky rice. The little tablets are then dried in the sun for a while before being quickly deep fried in hot oil, and left to dry again before finally being packed and sold.
They are very tasty (and probably jam-packed with calories). All I can say is that while exploring Luang Prabang with kids, these delicious rice cakes immediately established themselves as our favourite energy snack.
The only catch: do ask if they contain MSG (if that's important for you). Some vendors add it; some don't. However, we always found that we received clear and honest answers when we asked.
Recommended by Ania of The Travelling Twins
7. Khao Jee
Laos's French colonial past is clearly on display with the telltale aroma of the fresh baguettes that are sold on every corner of every town and city in Laos.
The best way to eat these baguettes is to order Khao Jee, a sandwich similar to Banh Mi. Makeshift vendors slice baguettes in half lengthways and then stuff them with chicken, pork or sausage, pate, carrots, lettuce, tomatoes, cucumber, chillies and cilantro.
These are a great, cheap snack or lunch – we usually bought a huge sandwich for a little over $1 and found that one was enough for the both of us at lunchtime.
8. Khao Soi
I always thought that Khao Soi was a Thai dish, so I was surprised to find it everywhere in Laos. Of course, Laos has put their own spin on the dish, and you won't find it cooked it with coconut milk here.
This soup dish is made with wide rice noodles (traditionally, the rice noodles are also made by hand), which are covered with a rich broth, usually chicken. It's then topped with a tomato-based sauce, charcoal-cooked minced pork, chilies and herbs.
It's one of the most warming, comforting Laos dishes you'll try.
9. Mok Pa
"Mok" means banana leaf and "pa" means fish in Laotian, so you can probably guess what this dish is.
While Laos is a landlocked country, it's filled with rivers and streams that produce plenty of tasty fish. Mok Pa is a whole fish that's wrapped in a banana leaf, tied with string and steamed or roasted over hot coals. The fish is usually covered with flavoursome ingredients like lemongrass, fish sauce, chillies and kaffir lime leaves.
If it's cooked well (which it usually is), the fish will be soft and buttery. Mok Pa is (of course), served with sticky rice.
10. Meat Skewers
I'm not sure that skewers are a traditional Laos dish, but they're a great snack that can be found in the corridors of the smoky night markets.
Bamboo sticks skewer all types of meat – chicken, beef, pork, tongue, heart, fish, tripe. But not just meat, you'll find all sorts of vegetables threaded on. You name it, you can get it on a stick in Laos. Pick out a few skewers, then fill your plate to overflowing with vegetables, salads and spring rolls. This'll cost you about $2 or so, so it's a bargain price for a filling dinner.
11. Fresh Fruit and Smoothies
Another Laos dish that's probably not entirely traditional but nonetheless delicious is the variety of fruits that you'll find in Laos.
Mangos, coconuts, dragon fruit, pineapple and avocados spill out of shops everywhere, particularly in the more touristy parts of Vientiane and Luang Prabang. You can either eat these fruits as they are, or have them whizzed up into a delicious, refreshing fruit smoothie.
Alternatively, try something a little less healthy (and not at all traditional): you'll see Oreo shakes everywhere! And they're just as delicious as they sound.
12. Beerlao
Ok, so I've cheated a little bit here. Beer obviously isn't food, but it is something you'll always seen paired with food in Laos. Most of these dishes listed here are great washed down with an ice-cold Beerlao. This beer holds the majority of the market share in Laos, is super cheap and is pretty tasty.
Most Laotians drink their Beerlao in a glass with a few cubes of ice. Do the same for a true local experience!
Additional Laos Dishes to Try
Laos cuisine is so varied and there are so many traditional dishes that I couldn't possibly list them all here. If you're looking for even more tasty Laos food to try when you visit, here are a few more options:
Kaipen (fried seaweed)
Laab Ped (minced duck salad)
Khao Poon (soup with fermented noodles)
Khao Poon (spicy noodle soup)
Or Lam (Lao stew)
Sien Savanh (Lao beef jerky)
Paa Tod (crispy catfish)
Yall Dib (fresh spring rolls)
Khao Piak Sen (Lao noodle soup)
Jaew Bong (hot pepper dip)
Naem Khao(crispy coconut rice)
About the author: Rebecca Arnold blogs at Rebecca and the World, sharing itineraries to help travellers save time when planning their own trips. She believes that exploring food is one of the best ways to learn about a culture.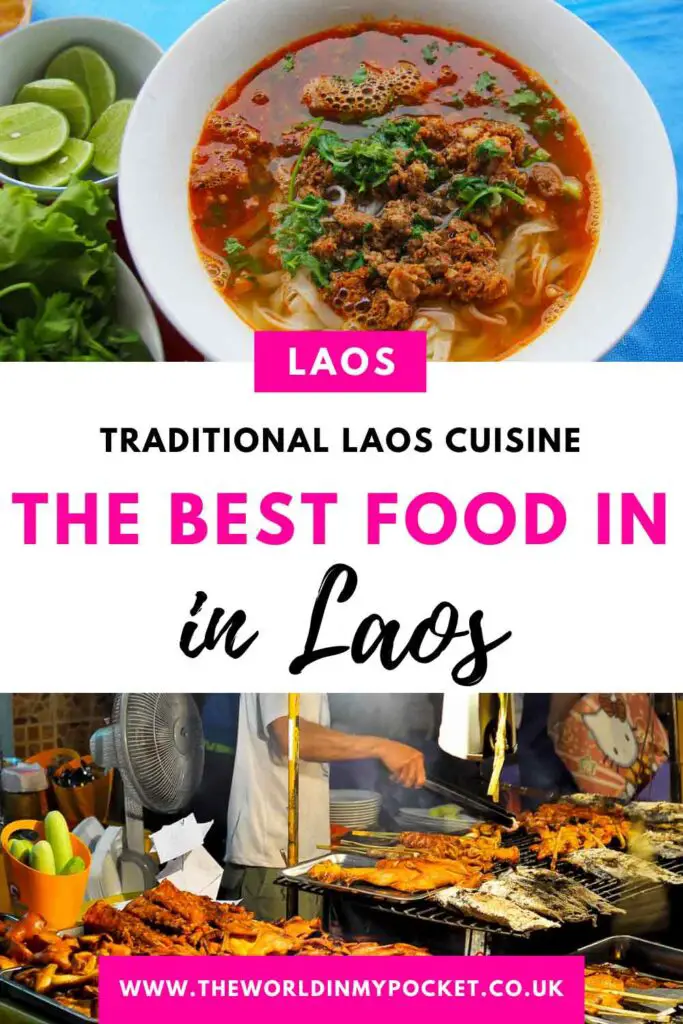 Disclaimer: Some of the links on this website are "affiliate links." This means that if you click on the link and do a purchase, I will receive an affiliate commission at no extra cost for you. This helps me keep my website running and continue to share my travelling knowledge with you. I thank you for booking your flights or hotels using the links on my website. Regardless, I only recommend products or services I use personally and believe will add value to my readers.