Imagine a city with 25 million inhabitants, with a population density of 11,297 persons per km square km. That's Delhi. I found it different that the last time, maybe because of the weather and the fact that last time I've only spend one day in the capital of India. I came back to a grey, dirty and cold Delhi, surrounded by fog, overcrowded and rushed. If last time I chose to stay in Paharganj, one of the main bazaars, this time my hotel was in Karol Bagh, a more touristy area, with pretty good restaurants and a couple of convenience stores.
While hanging around the city with my friend Sandeep for three days, we did a lot of fun things, like going to the mall, eating at McDonalds, going to the bazaar where I had the best sweet lassi in India from a street vendor, getting stuck in traffic and riding kids attractions. Now I know, you would say why go to the mall or the supermarket and why eating at McDonalds.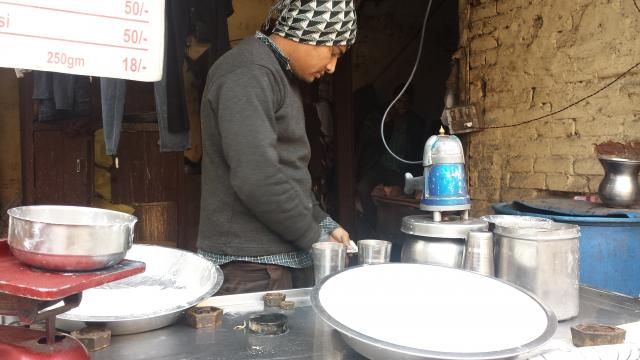 Let me tell you, an Indian McDonalds for example is a different experience than anywhere else in the world. You won't get their famous beef burgers but chicken and paneer replacements (cheese). I have enjoyed actually having a Veggie Pizza McPuff and an Aloo Burger.
If you want to try more of the local cuisine, you can choose a fantastic street food tour of Old Delhi.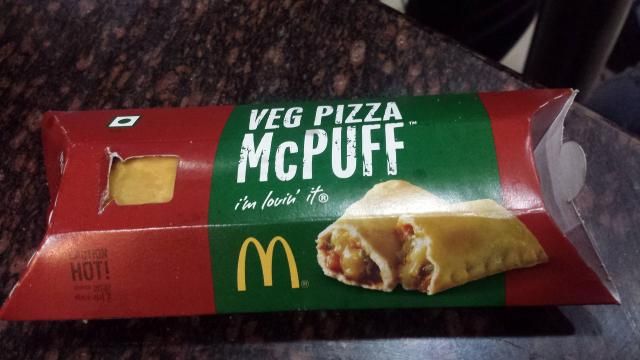 I've met the group I was supposed to backpack in India with for 21 days on the fourth day after I landed in Delhi. We had an introduction meeting in the "conference room" of our hotel and it was nice to start to get to know them. I was lucky to be in a pretty cool group, 9 ladies and 1 man, most of them avid travelers. It was good that during the trip everybody managed to get along with everyone and there were no fights, which made my first group traveling experience a positive one.
That night we had dinner at a proper restaurant and mingled with each other. I had a delicious chicken biryani while listening to the exciting stories told around me and trying to remember names and nationalities.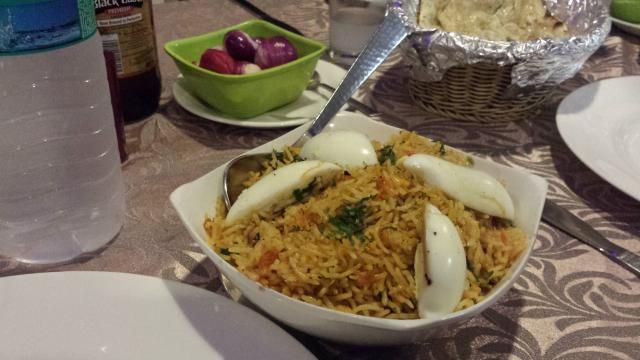 Back to the hotel I had a hot shower and slept like a baby. A long day was following, with an even longer night, as we were catching a night train to Bikaner, our next destination in the evening.
Prepare your trip to India with the Lonely Planet guides:
[showad block=11]
I had breakfast with my roommate and John, the only Australian in our group. We went to this pretty cafe that was serving English breakfast and delicious named milkshakes. The breakfast was really good, but the service kind of slow, so we hurried back to the hotel to be in time for our meeting with the guide. At 9 we met in the lobby and we were picked up by cars to be dropped somewhere in the centre, near the Connaught Place. When you say centre of Delhi you don't talk about a posh area or a historical area, like you would do when speaking about most capitals. Delhi is different, is surrounded by walls and perpendicular roads and it's split into different areas. Yes, you will find posh shops in Connaught Place but you won't feel like in a capital. Yes, you will find history in Old Delhi but help you God if you go alone there due to the chaos of the streets. Apparently, one of the most rich and blooming areas of Delhi is Gurgaon, a city nearby that has been incorporated into the capital, where the IT centre of Delhi is.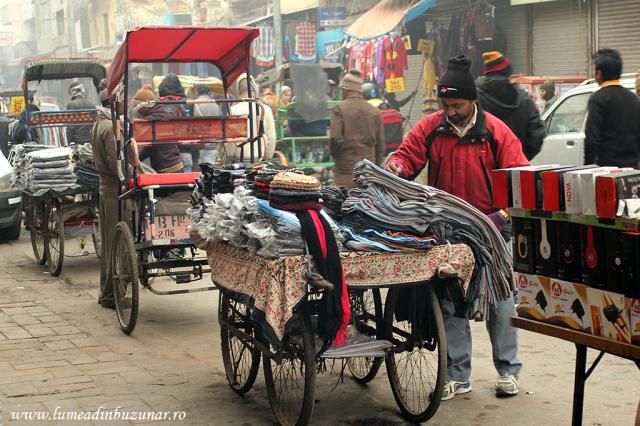 Our first stop that day was close to the train station. We were going to visit the children from Salaam Baalak Trust, an Indian non-profit and non-governmental organization which provides support for street and working children. We were welcomed by our tour guide who was actually one of these children. He took us around Paharganj, showing us and explaining different sights before arriving to the house where the children were. For example, he showed us a wall filled with pictures of Hindu Gods, and asked us why do we think those paintings were there. The answer was simple, so that people don't urinate on the wall.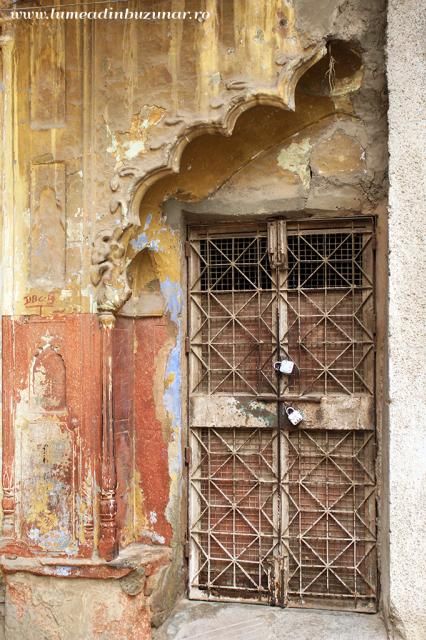 Once we got to the main house, we got a chance to interact with the children. Even if they were not older than 12 years old, they were fluent in English and they were very excited to meet tourists. They played games with us and taught us how to ask "what's your name?" in Hindi: "Aapka naam kya hai?". The guide told us that each of those children have dreams. His own dream was to be a reporter for CNN. That was really touching to hear because if you visit India you know that most of those children have no chance. It's impressive that they see beyond that and dream of becoming a Bollywood star, or a Journalist, or an astronaut.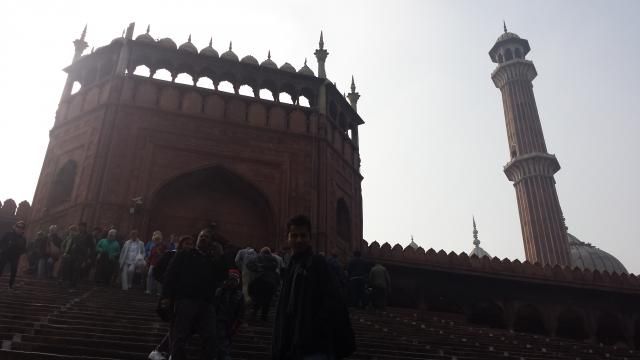 We left the children to learn and headed to the cars to get to our next destination: Jama Masjid, the biggest mosque. Here there are easily accommodated around 25.000 Muslims. To get in we had to take our shoes off at the gate and cover ourselves. Jama Masjid was built by Shah Jahan, the same one who built the Taj Mahal, and it took him 6 years and 6000 workers to build it.The mosque is in a very busy area, in the Chawri Bazar, where we walked after visiting it.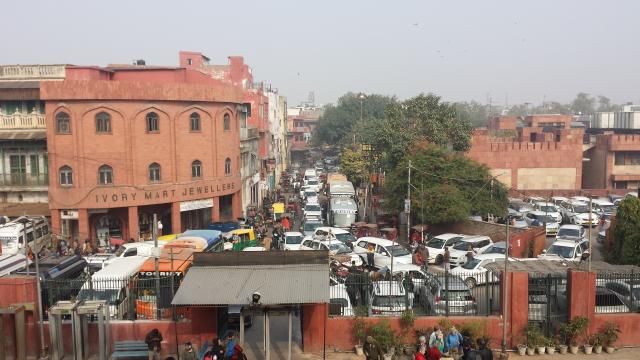 After going through a labyrinth of narrow and busy streets we ended up to our next destination: Gurudwara Sis Ganj Sahib. This was a great insight into Sikhism. The people working here are all volunteers and they cook and offer free food to everybody who goes there. We went into the kitchen to see how volunteers were preparing chapatis (a sort of thin flat bread). We could actually try to batter dough for the chapatis and see how they are baked. To get inside the temple you have to take your shoes off and pass through a small fountain, to clean your feet. Inside everything looks peaceful, people are singing and praying and don't pay attention to tourists. You can join them, by sitting down on the huge carpet and read the lyrics on the big TVs from across the room. A beautiful chandelier strikes your sight in the middle of the temple with it's golden arms. Gurudwara Sis Ganj Sahib is one of the most important Sikhs temples in Delhi. Maybe the most important one is the Golden Temple, which is made entirely by gold and had a beautiful man made lake besides it.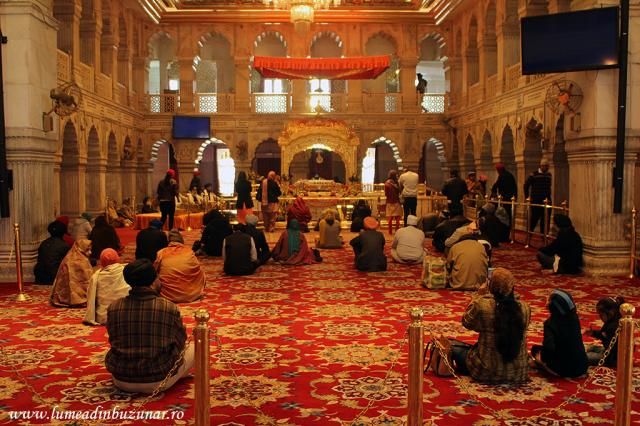 After finishing our tour and stopping for dinner to get a traditional thali, we headed back to the hotel by metro. Because of rush hour, the amount of people waiting for the next train was unbelievable. You do feel the amount of people living Delhi simply by traveling by metro.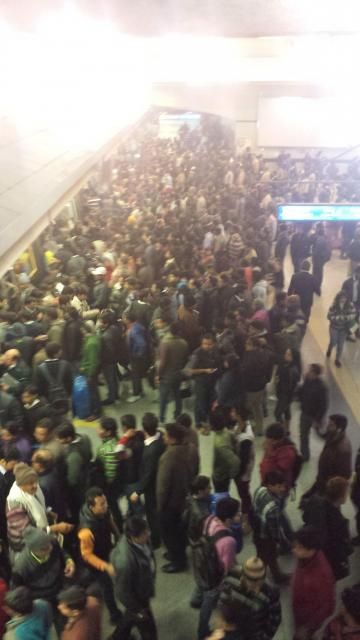 Before we left for the train we had our tea on the hotel's terrace. The staff made a bonfire for us and we enjoyed another good Indian food. I chose aloo gobi (an Indian dish made out of potatoes and cauliflower) this time, which was simply delicious. Then we headed downstairs because the cars were coming to pick us up for the train station. A night on the sleeper train was following. How bad could that be?