Can you believe that I have lived in England for so long but never went for an afternoon tea before my friend's Bethan hen due?
Having an afternoon tea in London is one of those typical British things that you must do when you visit the capital. However, with so many offers out there, it is hard to choose where to go. I was lucky that I didn't have to make the choice and that someone else from our group has sorted out all the details and booked an afternoon tea at the Sanderson Hotel, to celebrate our girl getting married.
The location
Sanderson Hotel is situated in the centre of London, in Fitzrovia, a merely 10 minutes' walk from Tottenham Court Road tube station.
It might not look much from the outside, but the interior courtyard of Sanderson Hotel, where the high tea is served, is a proper Instagrammer's dream. There are pink flamingo statues all over the impeccable zen garden surrounded by tiny fountains, alongside which the tables are lined up. There is even a hanging chair decorated with flowers, for that perfect Instagram shot in which you can imagine you are a fairy for the day.
Inside, the bar area is covered by beautiful white wisteria flowers and pink roses hanging from the ceiling.
The theme
The afternoon tea at the Sanderson Hotel has a quirky theme and it's a very nice surprise for any Alice in Wonderland fan. The Mad Hatters Tea Party is inspired by Lewis Carroll's famous story of the little girl who falls down the rabbit hole.
The afternoon tea at the Sanderson start with a little potion with a "drink me" sign of it, a blend of exotic fruits that opens your taste buds to what's to come. The entire concept of the afternoon tea has been designed on Alice's story, so you will find many little elements of the book hidden on the table or in the food. There are hearts, tiny notes, cake decorations and marshmallows hidden in the grass.
The menu
The Mad Hatter's Tea Party menu is enclosed in an old book with yellow pages whilst the tea options come on playing cards. There are five teas to choose from: Alice (China black tea infused with hints of blackcurrant, vanilla, caramel, citrus, bergamot, blue cornflowers and blue mallow flowers), Mad Hatter (Green tea, infused with passion fruit, guava and mango), White Rabbit (China white silver needles infused with white grapefruit, vanilla and almond white chrysanthemums), Cheshire Cat (Marmalade orange oolong infused with chocolate and hugging orange), and Queen of Hearts (Red rose congu infused with red rose petals. Hint of vanilla and chocolate). I chose the Cheshire Cat and indeed it was lovely, with hints of chocolate and orange.
The teas are brought to the table in tiny bottles together with the menu, so that we could smell and get a feel of how they would taste.
The cups, tea pots and plates are all decorated with some sort of clue from Alice in Wonderland. My plate and tea cup had a bird cage on them, whilst from the tea a queen was looking at me.
The scones
The cones arrived warm, with the clotted cream and raspberry jam enclosed in little round jars.
To be honest, I had to take the scones to go, as I was too full to eat them with so many treats laid out on the table. They were quite dense, with a nice hint of sweetness. I guess they would have been much better warm.
The savoury bites
To start, there are four different savoury treats: smoked salmon Scotch quail egg with caviar and cream cheese, Stack of King of Hearts ham and parmesan croque-monsieur, Cornish crab brioche roll with spices avocado and coriander, and White Rabbit cucumber and cream cheese sandwich on pesto bread.
Note that if you have a dietary requirement, as we did in our group with one of the girls being unable to eat crab, let the waiter know and they will replace the sandwiches with something you can eat.
The cakes
The cakes were a proper treat. It was so hard to decide which one to eat first, as every level of the tier stand had beautifully designed cakes, one more tempting than other. There was a blue chocolate log, a clock macaron, the cutest marshmallow mushrooms I've ever seen, even a chess table with a pawn on top of a layered cake.
I couldn't resist taking a photo of each cake!
Queen of Hearts rose and strawberry Jammy Dodger
Mocha chessboard gateau
Tweedle Dee lemon curd financier
Mad March Hare vanilla pocket watch macaroon
Chocolate and pistachio Blue Caterpillar and Wonderland marshmallow magic mushrooms
Mad Hatters lost carrot and fennel merengue
We ordered a bottle of Laurent-Perrier Cuvée Rosé for the table which arrived accompanied by pink flamingo cakes.
After we ate all the food, the waitress brought out some cute little pots that looked like they were filled with mud. But oh no, they were filled with delicious creamy hazelnut ice cream topped with cookie crumble.
How much does the afternoon tea at the Sanderson cost?
As in all posh London hotels, the afternoon tea at the Sanderson is not cheap, but as it's a one of a kind experience, it is worth it. A simple afternoon tea is £48, a champagne afternoon tea is £58 and a pink champagne afternoon tea costs £65. They also have a tipsy evening tea option, where a flight of three cocktails is included, for £58.
It is necessary to book in advance the Mad Hatter's Tea Party.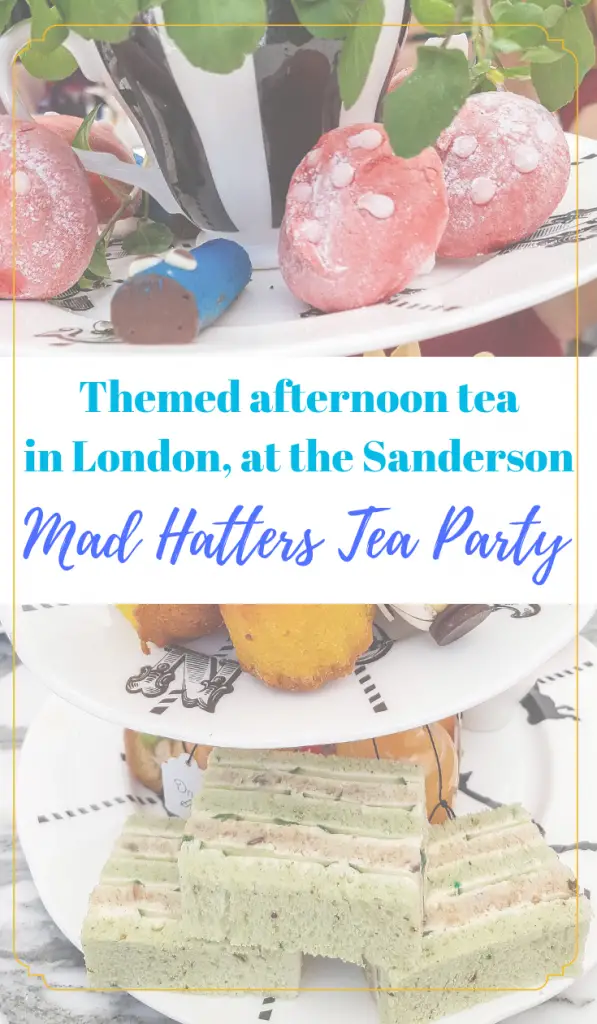 Disclaimer:  Some of the links one this website are "affiliate links." This means that if you click on the link and do a purchase, I will receive an affiliate commission at no extra cost for you. This helps me keep my website running and continue to share my traveling knowledge with you. I thank you for booking your flights or hotels using the links on my website. Regardless, I only recommend products or services I use personally and believe will add value to my readers.