If you're a traveller looking for crystal blue waters, year-round sunshine, and exotic islands, the Caribbean is a must-see on your travel list! However a common problem that many travelers run into is transportation. The Caribbean is essentially a ton of small and big islands clumped in the ocean. It's too far to swim/kayak over to the next island yet is close enough for a short flight.
Unlike bigger cities and densely populated areas, there is a general lack of public transportation. It's not as simple as hopping onto a train to the next town as one can easily do in Europe. So what are the ways travelers can island hop in the Caribbean? This guide will show you how!
Inter-island Travel
Flying
The most convenient (and likely expensive) way of visiting the Caribbean islands is to fly from airport to airport. There is generally a well-connected network of flights going from island to island using inter-island airlines. Most airlines landing and taking off are likely airlines you've never heard of and will likely be planes on the smaller and more cramped side. By small and cramped, I mean a 10-seater airplane with no AC and no luggage allowed on you while on the plane. Your carry-ons and check-in luggage are instead used to balance the weight of the plane and make sure it is well distributed. It is a very different flying experience from the commercial Boeing 747s most travelers are used to and ever so slightly more adventurous!
As the Caribbean inter-island airlines will be less known, searching for flights can be a bit of a challenge and it is far easier to search for flight prices through airline comparison sites such as Google Flights, Priceline, Kayak, etc. If booked ahead of time, inter-island flights can be as low as $100 or less for a one-way.
Cruise
A very popular option for those wanting to see several islands and not put in the effort to plan an itinerary is to take a cruise to the Caribbean. Cruises commonly start in Florida and last around 7 to 10 days. The perks of taking this route of transportation is that room and board is taken cared of. Cruise ships make several stops on the islands in the Caribbean depending on the route.
If Barbados is on your route, check out these amazing off-beat itineraries for onshore excursions.
Yacht Charter
This could possibly be the most expensive and lavish way to tour the Caribbean. Yes, rent a yacht! The Caribbean has many ports available for yacht charters and rental companies generally offer services to make trips easier such as a skipper to drive the boat and a hostess to prepare the boat and cook meals. An obvious con for traveling via private yacht is the price but there are a lot of pros to consider for what you're paying. Private yachts give travelers much more freedom since you can chart your own course and pick your own islands to visit. The atmosphere is also more intimate as you'll be spending a lot of time on the water with the crew. You can also remove your hotel budget if you're sleeping on the boat and put that money elsewhere. If carefully planned, a yacht charter can break even compared to paying about $100-150/night for a hotel in the Caribbean.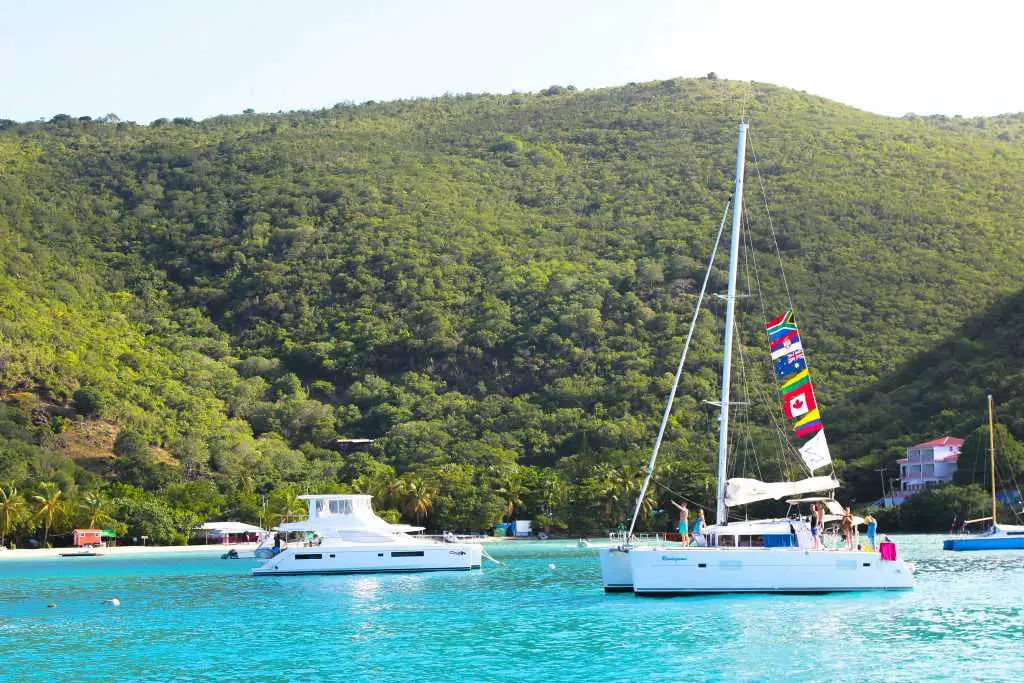 Ferries
The larger and more densely populated islands in the Caribbean will have ferry services going between islands. In most cases ferries tend to be cheaper than flying and yacht rentals. If planning on extensively using ferries as a main point of transportation, I would recommend exploring the Bahamas, US Virgin Islands, or British Virgin Islands as the ferry is the most popular form of transportation (meaning they will come more frequently and give you better flexibility in travel). Here are some commonly travelled routes via ferry in the Caribbean:
Guadeloupe – St Lucia
St. Thomas – Tortola
St. Maarten – Anguilla
Trinidad – Tobago
St. Lucia – Martinique
To get more info about specific ferry companies serving the islands on your itinerary, do a Google search of the island. There are many ferry companies (think 50+ companies which is why I'm not listing them on here) and each one has a limited number of routes.
Within Island Travel
Rental Car
Within the island, the most convenient way of travel is going to be via rental car. This is especially helpful if your travels are going to be in a rather densely populated island with multiple cities such as St. Maarten. Most large rental car companies such as Enterprise, Dollar, Alamo, etc.  have a presence in the Caribbean islands but there are also smaller companies you may not have heard of. Make sure to check around to compare and get the best pricing.
Bus
Although frequency and availability will largely vary by island, traveling by bus is another way to get around on an island. It is also a very cost efficient for those traveling on a budget and allows travelers to get a more authentic experience riding along with the locals. If planning to travel via bus, make sure to keep the following in mind:
Some islands have buses and others will not at all. Do your research beforehand!
Bus service will generally range from 50 cents to $3 USD per person.
Buses tend to run from 6am to 8pm Monday to Saturday. Sundays are either going to be very limited or offer no service at all.
Buses might not pass through resort areas so be mindful of the bus stops.
Bus drivers can pick a traveler up randomly on the side of the road. Just make sure to wave it down to let the driver know!
Reliability varies a lot. Plan ahead.
Hitchhike
I personally would not recommend this option but will put it out there as an option to consider. I found the locals in the Caribbean to be very friendly and open to helping travelers so hitchhiking to get around is a possibility.
In general, island hopping in the Caribbean can add up due to the limited transportation infrastructure. The fact that the Caribbean heavily caters to luxury travelers does not help either. However if you're considering a trip on the budget-friendly side, try visiting fewer islands and instead, visit the larger ones which will still offer a wide range of activities and not break the bank. Jamaica and the Dominican Republic are perhaps the two most inexpensive destinations in the Caribbean.
About the Author:
Cathy Ries is a luxury travel blogger. She aims to show the world how to work 60+ hours a week and travel the world in style as cost-efficiently as possible. Follow her adventures, hotel reviews, and travel tips on
The Trekking Cat