During my recent trip to Tanzania, to maximise my time in the country I chose to fly internally between destinations. Tanzania is a big country, with slow buses and a limited train service, so flying is a very common option to get around, especially for tourists. Flightlink is one of the domestic airlines in Tanzania, which I used for two of my flights around the country: to Arusha and from Zanzibar. When I booked my domestic flights in Tanzania I didn't know anything about the local airlines, and whilst doing research I didn't find a lot of information out there. This is why I thought it would be a good idea to write this article about my experience with Flightlink Tanzania, for other people in the same position as I was, when trying to decide which domestic airline to choose in Tanzania. When booking my flights, I had the option of a few airlines in Tanzania: Coastal, Precision Air, Flightlink and Air Tanzania. Here is my review of my flights with Flightlink.
Routes
Flightlink operates a few routes around Tanzania, mostly connecting the capital with Zanzibar, Arusha, and the safari destinations such as Serengeti National Park or Manyara Lake. They do not fly to Kilimanjaro International Airport, so if you want to go to Moshi it's best to check out Air Tanzania.
They operate hop on, hop off flights, with stop overs. I was wondering why my flight to Arusha was two hours long, whereas the other companies were listing it as one hour. That mystery was solved when, after boarding, I found out that there would be a stop over in Zanzibar, before flying to Arusha. Most of the passengers disembarked in Zanzibar.
Planes
Flightlink Tanzania operate their flights with a fleet of 6 small propeller planes. I flew twice with them, on the biggest plane in their fleet, the Embraer Brasilia 120ER. Their other planes are mostly small Cessnas, used to fly directly to the safari national parks.
The Embraer I flew with had 30 seats and it was pressurised, which allowed it to cruise at around 5,000 meters. Being a bigger plane, there was also a lavatory at the end, and it also had a lovely stewardess on board. Seats were not assigned, so everyone could sit wherever they wanted. None of my flights were full – in fact my second flight only had 5 passengers on board.
Most of the small planes flying around Tanzania are not pressurised, which means that they can't fly higher than 2,400 meters.
Airports
Flightlink used the domestic terminal in both Dar es Salaam and Zanzibar airports. Whilst in Zanzibar the domestic terminal is within walking distance from the international one, in Dar es Salaam, you will need to take a taxi. You can still walk if you don't have much luggage, but it will take around 20 minutes. There are many taxi drivers who will offer to take you there, but beware, they will try to charge you at least $20, saying that the terminal is very far away. It's not, and you should not pay more than $5 for literally a 2 minute drive.
The first time I was scammed and did pay $10, because I didn't know any better. I had my connection flight to Arusha from the domestic terminal and had just landed in Dar es Salaam at 4AM, after a long international flight from Istanbul.
The second time I just walked between the domestic and international terminals. It was afternoon, still light outside, and I only had my backpack as luggage. The terminals are connected by a wide footpath, along the road.
The domestic terminals in Tanzania are very basic. The check-in is done manually, the luggage is carried to the plane by a person (there are no conveyor belts or luggage tags), and the waiting room has direct access to the runway and the planes. And no, there is nobody to stop you going out for a smoke. The security is pretty much non-existent. My boarding pass was handwritten.
For boarding, someone comes and yells: "Arusha, Zanzibar, come with me", and you just follow them to the plane.
My Experience Flying with Flightlink
I arrived at the domestic terminal of Dar es Salaam at 6AM and there was nobody there except for the night guard, I assumed. He told me to sit down on a bus-station style plastic chair and wait for the terminal to open. So there I was, sitting down, in the dark, surrounded by large bugs flying around aimlessly, and a pretty disgusting whiff coming from the loo nearby. Not really the welcome I expected in Tanzania.
Slowly, more taxis arrived, and other passengers joined me on the plastic chairs outside. My flight was at 7AM. By the time the terminal opened, it was already 6:30. I passed through a metal detector, my bag went through a scanner, and there I was, in the maybe 10 meter long terminal. The Flightlink wooden counter was empty and I had to wait another 15 minutes or so until someone showed up.
Once I checked in and I was given a handwritten boarding pass whilst someone took my backpack, "Isn't he going to put a tag on it", I wondered, and shared my thoughts loudly with another passenger. She laughed and told me that she and flown with them before and they always managed to get the bags on the right plane. Okkkk, I thought to myself.
I passed through the sliding glass doors into the waiting room. I can't really call it a lounge. I sat down next to the door leading to the runway, to watch the sunrise. I was desperate for a coffee, but the café wasn't open yet. To my surprise, people were coming in and going out through those doors to have a smoke. The funny thing for me was that the door only had automatic sensors on the inside, so it wouldn't open if anyone from the outside tried to come in. I tried to guess which plane would be taking me to Arusha, while feeling a bit scared of how small they all were.
Finally, at around 7:30, someone yelled "Arusha and Zanzibar, Arusha and Zanzibar". He checked the names on the list, just like a teacher would do in school, and then he asked us to follow him to the plane.
Once everyone was on board, the flight attendant did the safety presentation and off we went. Soon after taking off, we left the land behind and I started to see the stunning blue shades of the sea that makes Zanzibar so famous. It took very little time to reach Zanzibar, and land so that other passengers could get off. Not many other people joined, so the flight to Arusha was half empty. Soon after we took off again, I fell asleep. The flight was very smooth, and I woke up just in time to see Mount Kilimanjaro in the distance.
After we landed, we had to wait for our luggage to be brought to us, outside in the airport's yard. It arrived on a cart, pulled by a man. Even though we took off late, we landed on the scheduled time.
The second flight was very similar but much shorter, in the same plane, with the same flight attendant. This time I boarded in Zanzibar and landed in Dar es Salaam. The check in and boarding process was the same, but in a much smaller waiting room.  It was actually quite funny when we, five people, boarded the small plane, which was parked next to a Qatar Airlines jumbo jet which had just landed.
Prices
Flightlink is not a cheap airline, but it's not a very expensive one either. I think I paid reasonable prices for my flights. To fly from Dar es Salaam to Arusha, I paid $75, booked 2 months in advance. My flight from Zanzibar to Dar es Salaam was 45.50 euros, booked 10 days in advance. I realised that it would be less hassle to fly to Dar, rather than take the ferry, taking into consideration that my flight back to Europe was at 2AM in the morning. Taking the last flight of the day from Zanzibar to Dar allowed me to enjoy another full day on the beach in Jambiani, for pretty much the same money as taking the ferry. Taking the ferry would have been more of a struggle, as I would have had to find a ride from the port to the airport, and also leave the island much earlier.
How to Book a Flight with Flightlink
Booking a domestic flight in Tanzania with Flightlink is very easy, directly on their website. If you book return flights to the same destination, they usually give you a 10% discount. The website is quite slow, so you have to be patient. You can pay with any major debit or credit card, such as Visa, Mastercard or American Express.
The fare includes a 20 kg checked in luggage.
Is Flightlink Safe?
I felt safe during my two flights in Tanzania with Flightlink. Taking into consideration that the airline was founded in 2004 and until now hasn't had any incidents, I would say that Flightlink is a safe airline to fly with domestically in Tanzania.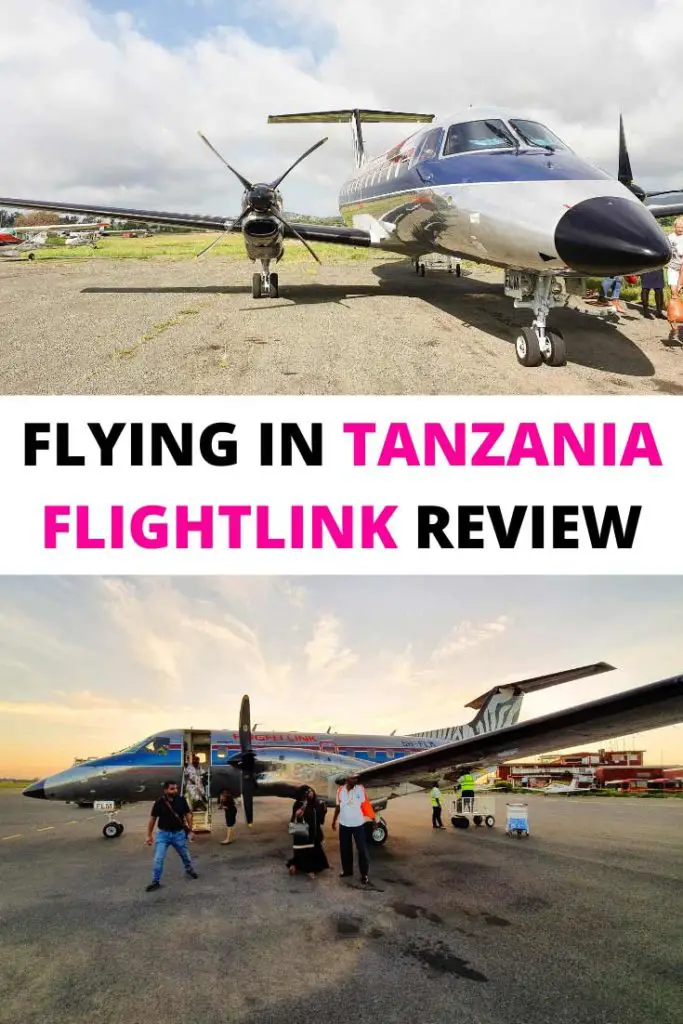 Disclaimer: Some of the links on this website are "affiliate links." This means that if you click on the link and do a purchase, I will receive an affiliate commission at no extra cost for you. This helps me keep my website running and continue to share my traveling knowledge with you. I thank you for booking your flights or hotels using the links on my website. Regardless, I only recommend products or services I use personally and believe will add value to my readers.