Taking a cooking class is one of the best things to do in Antigua, Guatemala. Not only that you will get to learn a lot about the local cuisine, traditions and legends, but also have a hearty meal to finish your evening with.
I usually like to take a cooking class in every country I travel do (see my review of the cooking class I took in Florence), and Guatemala was no different. I chose to do the cooking class in Antigua because of all the history and charm the old capital of Guatemala has. Seriously, walking around the cobbled streets alongside colourful houses couldn't be more romantic.
Which Antigua cooking class to choose?
I did my research online to find out which are the best cooking classes in Antigua and I narrowed down my choice to two: El Frijol Feliz and La Tortilla Cooking school. They both had amazing reviews and in in the end El Frijol Feliz won, just because of the funny name (the translation of the name is "The Happy Bean"). Little did I know though that the two cooking school are "sisters". I was in Antigua over the Christmas Holidays, so I booked my cooking class for the 25th of December. As nobody else booked the same day at El Frijol Feliz, they sent me to La Tortilla, which happily accommodated me and my chosen menu. When you book online at El Frijol Feliz, you can choose 4 different dishes to cook. La Tortilla on the other hand has a fixed menu.
You can check the reviews of El Frijol Feliz and book the class by clicking this link.
And you can check the reviews of La Tortilla and book the class by clicking this link.
The Antigua Market Visit
I booked the cooking class together with a market tour, which costs 15$ more. I met Aldo, the guide, at the cooking school's location, a few streets down from the main square. Soon Michelle from Canada joined us and off we went. As it was the 25th of December the market was pretty much deserted, so Aldo took us on an impromptu walk in Antigua, showing us different buildings and telling us about their history. One of these buildings is "inhabited" by McDonalds and I have to say, it's the prettiest fast food restaurant I have ever been to: large lush green garden, indoor and outdoor stone fountains, cobbled stones on the floor, a beautiful wooden patio to have your burgers on… I usually do not recommend eating at McDonalds when you are traveling because I advocate for trying the local cuisine, but in Antigua, you have to enter just to see how beautiful the premises are.
Next, we headed towards the bus station. Usually a chaotic place, on Christmas Day it was quiet. Aldo mentioned how at very busy times people do travel on the roof as well, and encouraged us to give it a try. And what the heck, we are here to try new things, so there I was, climbing the vertical stairs towards the top of the bus. All the bus drivers gathered and applauded us, whilst we couldn't stop laughing. You normally can't do this on a normal day, when the bus station looks like an ant's nest. But on the 25th of December it's a different story!
The part of the market where the locals usually eat was still open so we got a chance to visit a few of the establishments and see how they are cooking industrial quantities of food on rudimental open fire cookers.
We also got a chance to try some of the local fruits, as one old lady still came to the market to sell her fresh products, even on Christmas Day.  We also found a shop opened from where we tried traditional Guatemalan candies, such as cocadas (coconut candy), candied figs, canillitas de leche (a sweet made out of sugar, cinnamon and milk), guayaba curls and tamarind balls.
The cooking class in Antigua
Back to the cooking school, we met with three others who didn't book the market visit as well. I loved that the group was kept small and we could all get a hands-on experience of Guatemalan Cooking. Aldo has introduced us to Sonja, our chef, who was going to teach us how to create some of the most popular dishes in Guatemala. She was quite a character! She didn't speak much English (Aldo was the translator), and besides her excellent cooking skills she also taught us about the local legends and how important Acatenango volcano is to the local community.
Pepián
Pepian is the National Dish of Guatemala which you can find in pretty much every local restaurant, street market or home kitchen in the country. It is a fragrant thick meat stew with a rich, spicy taste. Pepian is one, if not the oldest Guatemala recipe, a fusion between the Mayan and the Spanish culture, dating from when the Europeans first reached the country.  Each mouthful of Pepian boosts of flavour, and that is because the seeds, spices and vegetables are roasted before they are added to the dish.
Making Pepian is not very hard, and I have actually managed to cook it once, after I returned to England from Central America. Even with the spices roasted on an induction cooker, it still turned out delicious.
The first step in making pepian is roasting the spices and some of the vegetables, so Sonja, our chef, turned on the cooker and put a flat thick pan on top of the open flame. The chillies, pumpkin and sesame seeds, garlic and onion, cloves and peppercorns, oregano and cinnamon, they all went on the pan. The last to roast were the tomatoes, which take a bit longer. Once all the ingredients were roasted, we put them in a blender with a few cups of water and mixed them until they became a thick sauce. This is the base of the pepian.
Whilst we roasted all the ingredients, the chicken has boiled in stock, instead of water. When the chicken was almost ready, we added potatoes, chayote and onions. After, the blended mixture went into the pot and we boiled it until the liquid has reduced.
Soon, our own home made pepian was ready to eat!
Chilaquilas de Güisquil
This was one of my favourite dishes, especially because I have never tried chayote (Güisquil) before. This is a vegetable from the same family as the squash and the zucchini. Whilst it does resemble a little bit the taste of zucchini, the chayote has a mild unique flavour that can't be replaces by other vegetable in the same family. It looks like a big, green, wrinkly pear.
The Chilaquilas de Güisquil is so easy to make! We just sliced the chayote lengthwise and boil it in salty water, so soften it up. After it cooled down, we added slices of fresh cheese in between the ones of chayote, creating some sort of sandwich. These were then dunked into beaten eggs and put in the pan to fry. The result: delicious!
Tortitas de Papa
Think of tortitas de papa as mash potato taken to the next level. The creamy crushed potatoes are mixed with chopped parsley and onion, and moulded into flat patties. In three different bowls, we made three different mixtures: milk and egg, flour, pepper and chicken consume, and bread crumbs. We passed the patties first through the egg mixture, then through the flour, followed by the bread crumbs, before placing them into the hot pan to fry until golden brown.
Rellenitos de Plátano
For dessert we've made Rellenito de Platano, which are chocolate and refried beans stuffed inside a plantain paste, then deep fried. It is one of the most popular desserts in Guatemala. At first, the thought of having refried beans and chocolate mixed together didn't sound very appealing, but it turns out that the combination is delicious.
They are served either on their own or covered with sugar We had them with extra chocolate on top.
Tortillas
Tortilla is a staple ingredient of the entire Central American cuisine. You will find it everywhere, with small variations from country to country. In Guatemala the tortilla is made out of maize. We had a lot of fun trying to make perfect tortillas, and if I think about it, I don't think anyone except Sonja got a perfectly round one.
Atol Blanco
I have to admit that Atol Blanco was not between my favourites. This white thick drink has maize as the main ingredient, and it's served with a bit of chili powder and lemon zest. It is however a very important drink in the Guatemalan cuisine, and locals do consume it every day. You can find it easily in the markets, besides freshly made lemonade (which tastes so much better).
The evening finished with a feast! We got to enjoy all the dishes we've cooked and chat over a glass of wine. The wine is unlimited during the cooking class. 🙂
What do you think of my experience? Have you already joined a cooking class in Antigua? Have I convinced you to try this experience when traveling to Antigua? Let me know in the comments below!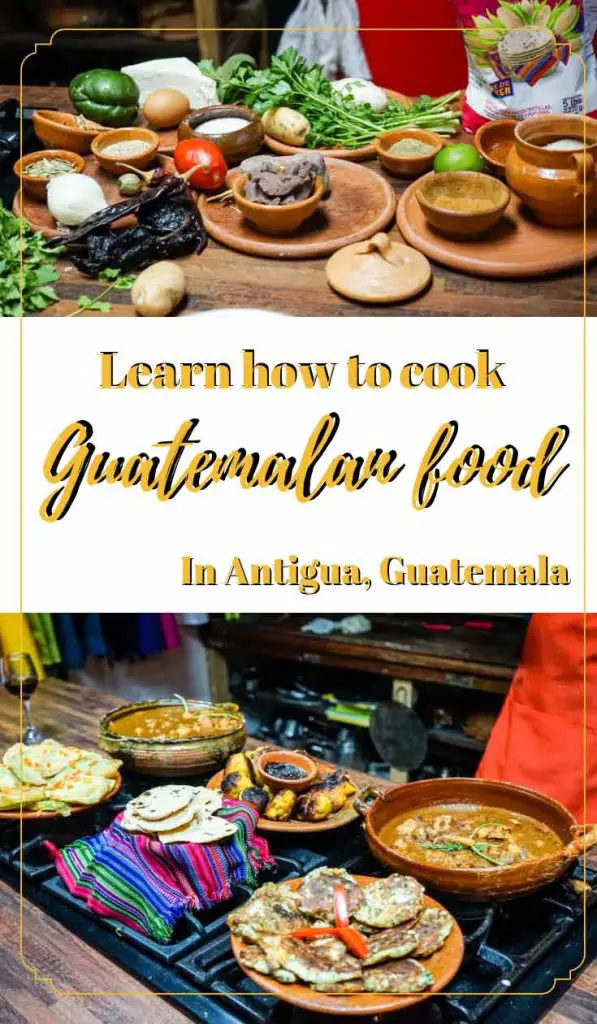 Disclaimer:  Some of the links on this website are "affiliate links." This means that if you click on the link and do a purchase, I will receive an affiliate commission at no extra cost for you. This helps me keep my website running and continue to share my traveling knowledge with you. I thank you for booking your flights or hotels using the links on my website. Regardless, I only recommend products or services I use personally and believe will add value to my readers.