Today I am inaugurating a new section on my blog which I suggestively called "The Breakfast Club". Each week I will cook a breakfast from a different country of the world and share my results with you. As I can't say that I am a great cook you can expect some major fails in the kitchen as well. I thought about this for a while now because I wanted to share with you my love for food but I also wanted to combine it somehow with my passion for traveling. This is how The Breakfast Club was born.
I will start The Breakfast Club with the traditional morning meal from my own home country, Romania. When I was a child breakfast used to be a treat in my family because my mother only used to make it on the weekends. During the week, she would go to work early while me and my sister would go to kindergarten, where we used to have our breakfast. While when I was little I used to have the traditional Romanian breakfast, which includes eggs, cheese, meat and vegetables, when I became a teen I discovered cereals and for years Cini Minis was my friend for breakfast. Later, while in Uni, I traded breakfast for coffee and ever since pretty much stopped eating in the morning. But I want to change this, as breakfast is such an important meal of the day, boosting your body's energy levels to start your day on the right foot.
What is the traditional Romanian breakfast?
As I said before, the Romanian breakfast includes a selection of cold and hot dishes, some of them unique to my country. As the traditional Romanian cuisine has been influenced during the history, each region of the country has its own variation of breakfast, with some common elements.
One food that will never miss on a Romanian breakfast plate is the egg. You can have it either boiled, fried or in an omelette, it will always be there. Sometimes, if you are opting for an omelette, it will be made with bacon and onions.
Cheese is another important element of the traditional breakfast and of the Romanian cuisine in general. Our traditional cheese is called telemea and it is made from sheep's milk. It is a semi-soft white cheese with a crumbly texture, quite salty. The best telemea comes from a bucket full of brine, directly from a farmers market (they are very common in Romania and that's where people go to shop for fruits and vegetables, not at the supermarket).
What is zacusca?
Every autumn, in most of the Romanian kitchens, mothers and grandmothers will be spending hours making zacusca, a vegetarian spread based on open fire grilled eggplants and ball peppers, which is afterwards bottled in jars and stored for the winter. Zacusca is eaten then for breakfast, spread on a slice of the Romanian typical bread, franzela. Zacusca is a very loved typical Romanian food.
Bread is essential in the Romanian household. Just to let you know, in 2014 for example, 2 tonnes of bread (worth over 1 billion euros) have been sold in my country. Thinking that the average price of a loaf is about 15 pennies, you can imagine how much bread that means. Practically, Romanians buy and eat bread every day. The traditional loaf is called franzela, it's oval shaped, fluffy on the inside and crusty on the outside. During breakfast, you can choose different spreads to have on it: zacusca, fish roe salad or grilled eggplant salad. Some people prefer the sweet version so they spread butter and jam on their slices of bread.
How about the meat and vegetables?
In the past, when most of the people lived in the countryside, breakfast used to be prepared with whatever products they grew in their gardens. The tradition has been kept and therefore there will be at least a tomato or some slices of cucumber on the plate.
Back then, the most accessible meat the villagers would have was slanina, which they would eat with onions. Slanina is made from the pork's belly or back fat together with the animal's skin. The pieces of fat are cut into slices and kept in salt for 3 weeks, then taken out and smoked for another 2-3 days. While back then it was very common, today it is expensive and rare to find even in the farmer's markets, unless you make it yourself.
The meat we usually use for breakfast is called "sunculita taraneasca" which is a fatty piece of meat that still has the pork's skin on it, boiled and then smoked. Some people prefer fried sausages though.
For my traditional breakfast, I have used a few of the most common ingredients that you will usually find on the plate if you order it at a restaurant in Romania: fried egg, cheese, bread with zacusca, a few vegetables and sunculita taraneasca. I should admit though that it wasn't much cooking involved, just a visit to the Romanian shop for some key items.
Which other country's breakfast would you like me to cook next week?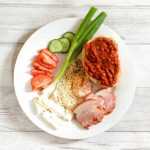 Romanian breakfast
Ingredients
1

egg

3

spoons

zacusca

(found at any Romanian shop)

1

slice

bread

3

slices

smoked ham

1

tomato

2-3

slices

cucumber

1

spring onion
Instructions
Fry, poach or boil the egg


Arrange all the items on the plate