One of the most underrated cities in Tuscany, Arezzo has a lot in store for travelers. While its Duomo is quite a spectacle and the old town is charming, the food in Arezzo is something special. So special, in fact, that we've whipped up this foodie guide to Arezzo to (hopefully) make you fall in love with its cuisine like we did.
Arezzo is an easy day trip from Florence, just one hour by train. Even Rome is within reach, just two hours by train. But maybe you want to settle down in Arezzo for a few days? There's more than just food in this Tuscan gem!
Regardless of how you get to Arezzo, we've got you covered on some amazing eats that will be on your list of your favs from Tuscany.
Coffee O'Clock
Menu | Directions | Reviews
Italians typically don't go crazy for breakfast. It's usually an espresso, a cornetto (croissant) and they're good until lunch.
While that's kind of boring and isn't enough fuel for a day of exploration, don't worry!
At Coffee O'Clock, you can always have more than one cornetto or even some more hearty meat and cheese sandwiches to start your day. Maybe buy something to-go if you're really getting an early start on your day!
The best part about Coffee O'Clock is, of course, the coffee! You can have it any way you like! Espresso, cappuccino, flavored coffee drinks, and drip coffee.
Just so we're sure you read that right we'll say it again: drip coffee! We can't tell you how hard it is to find drip coffee in Italy so take advantage of this "specialty" while you're in Arezzo!
You can find Coffee O'Clock on Corso Italia, the main street in Arezzo.
Bar Stefano
Another breakfast option for the early food seekers, Bar Stefano also does a fantastic job with their coffee and offer so many varieties. But who are we kidding? It's Italy. Of course it's good.
Just like Coffee O'Clock, you'll find a typical Italian breakfast here but you'll find some pastries too!
Who doesn't want dessert for breakfast?
If a plain cornetto doesn't sound that great to you then how about you order one drizzled with chocolate? Now we're talking!
Pastry lovers will love spending some time here in the morning and can enjoy their espresso and sweets while Corso Italia comes to life. And the Basilica di San Francesco, one of the must-sees in Arezzo, is just a block away!
Bar Stefano is a great option for lunch too! You'll find all of the typical Italian lunch dishes here: lasagna, pasta dishes, salads, or panini. There's a daily lunch menu and you'll be more than satisfied with the quality and authenticity of the dishes served here.
Al Canto de Bacci
Menu | Directions | Reviews
A quick lunch doesn't mean it's not a good lunch. In fact, at Al Canto de Bacci, it's one of the best lunch options in Arezzo.
This small shop on Corso Italia is the perfect place to grab a panino and enjoy it on the steps of the basilica just down the street.
Simply walk in and ask for "un panino" and then create your masterpiece!
You have your choice meats like varieties of salami, prosciutto crudo, mortadella and more. Lots more. After the meat then you should choose a cheese. You can never go wrong with pecorino (they have so many different varieties).
If meat and cheese is all you want then dig in but we recommend asking them to put some pesto or sun-dried tomato spread to give the sandwich a little moisture.
Of course, for vegetarians, skip the meat selection and stick to everything else! Trust us, it will still be so delicious!
These panini from Al Canto de Bacci are best enjoyed with beautiful surroundings. As we've mentioned, take your panino to the steps of the Basilica di San Francesco for a lovely lunch.
You can also walk up the hill of Corso Italia until you see a small park with lamb sculptures or, if you can wait long enough, climb to the top of the hill to Parco Pubblico Del Prato for a great view of the surrounding Tuscan hills.
Throw in a bottle of Tuscan wine like Chianti and your quick lunch just turned into a memorable meal!
La Tua Piadina
What about second lunch?
That's right. Save room for another tasty bite in Arezzo, especially if you're there for only one day. However, if you have more than one day in town then maybe stick to just one lunch. But we won't judge.
La Tua Piadina is another quick lunch spot that you cannot miss!
What's a piadina, you might ask? Although it sounds very similar to a panino, it's quite different. In its most basic form: it's an Italian flatbread filled with your choice of fillings.
La Tua Piadina offers a small menu of their recommended filling combinations (can't go wrong with those) or you can choose your own.
Our go-to was the patate, scamorza, e prosciutto crudo piadina (potato, scamorza cheese, and prosciutto crudo is like ham). They'll give you a number after ordering so you can find yourself a seat outside and wait as they grill up your piadina.
Be sure to listen for your number in Italian as they'll walk around with your piadina and shout your number out. It's okay if you don't know Italian because they'll eventually say it in English. But you should still give it a shot!
Once you have your piadina in hand, dig into the warm, flaky flatbread and enjoy this savory lunch. It's a simple combo but one of the best foods in Arezzo.
Miva
Menu | Directions | Reviews
Let's move on to some dinner options for eating in Arezzo. While we love the restaurants and food we've already mentioned, we love these even more.
So we'll start with Miva.
This Pizzeria is about a 10 minute walk away from Corso Italia. You can't go wrong with one of their pasta dishes (it's Italy) but they're known for their pizzas. Do yourself a favor and order a pie.
You can keep it simple with a Margherita pizza or be adventurous and try one of their specialty pizzas like walnut or swordfish. If you're going to Naples at some point then we think you should save the Margherita pizza for later. However, you won't be disappointed with it here. Pair it with a glass of their red or white wine, which comes as sparkling or still.
Frizzante (sparkling wine) is on tap!
Il Ristorante di Mariano
Menu | Directions | Reviews
We've mentioned some more laid back options for eating but let's talk about a classier atmosphere with some real Tuscan dishes.
Il Ristorante di Mariano gets creative with its menu, which changes frequently, but serves many classic Tuscan dishes.
While perusing the menu keep an eye out for a pasta dish called gramigna. The small twisted noodles (gramigna) come in a cheesy truffle sauce with peas and sausage. It's typically served out piping hot in a foil packet and words can't describe how incredible it is. Unfortunately, it's not always on the menu since it frequently changes so hopefully you get lucky during your visit.
If not, trust us, you'll still fall in love with this restaurant.
After you're full on Tuscan food and wine, be sure and indulge in some desert. These sweet delights are one of the highlights of Il Ristorante di Mariano. You'll find calzone with nutella and mascarpone cheese, flaming creme brulee, and whatever else the chef can think up for that day.
This restaurant is a foodie's dream and one of the gems of Arezzo!
Antica Osteria l'Agania
Menu | Directions | Reviews
This restaurant is very cozy and has been serving the locals of Arezzo for 4 generations!
They offer a large variety of Tuscan home-cooked dishes for lunch and dinner but we think it's best experienced around dinner time. Pair one of their homemade pastas, like tagliatella or pici, with a delicious sauce, like tartufo (truffle) or cinghiale (wild boar).
Add in the fact that a liter of house wine is just 5 euros and you've got one awesome restaurant in Arezzo. This is a great off-the-beaten-path option for those who like to avoid the more crowded areas of town.
We loved dining here and our wallets did too!
Cremi
Menu | Directions | Reviews
This wouldn't be a foodie guide to Arezzo without mentioning at least one gelateria. Again, it's Italy, right? We have to mention some gelato.
That said, we're not just mentioning Cremi because we have to. We're mentioning it because it's that good!
Cremi is conveniently located on Corso Italia and is the perfect spot to grab a cone or cup of gelato. They have your typical flavors like stracciatella (chocolate chip), cioccolato (chocolate), fragole (strawberry) but they'll also have more imaginative flavors.
Remember, the smallest cone or cup comes with 2 flavors so be ready! Cremi also makes great frappes, which are italian milkshakes.
If you're not feeling like gelato then they also make wonderful crepes, we recommend the banana and nutella crepes!
Cremi is your sweet tooth satisfaction go-to in Arezzo.
Summary of a Foodie Guide to Arezzo
As you can see, there are a lot of great options for foodie travelers in Arezzo. We sincerely hope that you'll give Arezzo a visit during your time in Tuscany and will experience not only the delicious food, but discover the historic and beautiful town itself.
Happy travels!
About Where Food Takes Us
We're Darah and Garrett from Where Food Takes Us, two mistake-prone wanderers with a mad love for food. We quit the 9-5 life to move abroad. Now, unexpectedly, we're digital nomads who teach English online. Life is full of surprises! We believe in sharing budget-friendly advice and seek to offer a unique point of view on travel destinations around the world. We hope our fellow wanderers can find our words useful and in turn feel inspired to travel and eat the world!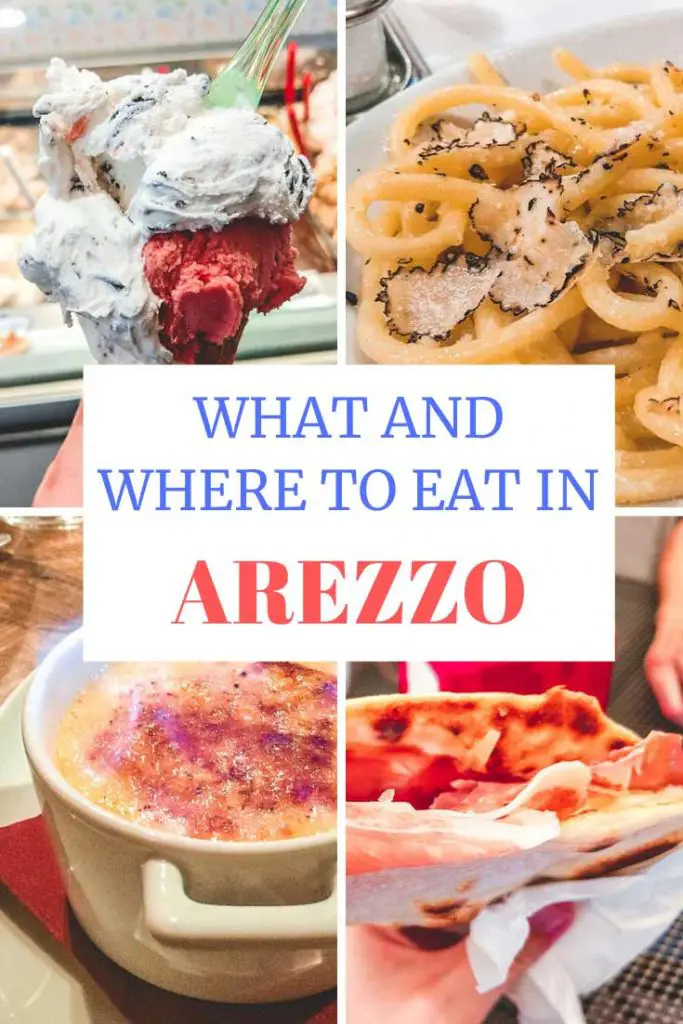 Disclaimer: Some of the links on this website are "affiliate links." This means that if you click on the link and do a purchase, I will receive an affiliate commission at no extra cost for you. This helps me keep my website running and continue to share my traveling knowledge with you. I thank you for booking your flights or hotels using the links on my website. Regardless, I only recommend products or services I use personally and believe will add value to my readers.