When I first arrived in Moshi, I was quite intimidated by it. After long, transcontinental flights, another internal flight and an overcrowded dala dala, the 400 meters walk from the station to my hostel, We Travel, felt exhausting.  The city was busy, with many people walking alongside me, trying to convince me to either give them money, or visit their gallery, or go on their tours. Closing the hostel's door behind me felt like a huge relief. Even if I'm an experienced traveller, my first time in Africa felt overwhelming, at least for the first couple of days.
Most tourists who come to Moshi are in town for one thing: to climb Kilimanjaro. There are however more things that you can do in and around the city, if you allow yourself a few days before or after the hike, to rest. Exploring Moshi with a local is a great way to immerse yourself in the local culture and get to know the city. I have to admit that by the time I left Moshi all the insecurities about the city and the overwhelming feelings have gone away, and I was able to walk confidently on the street, joking with the locals and replying to their questions in Swahili.
Part of this confidence was owed to meeting Josephine, a local woman from Moshi, who not only showed me the city but also taught me some basic Swahili words and phrases, helping me to get around on my own.
Who is Josephine?
Josephine came to pick me up at Hostel Hoff, where I spent a few days during my trip to Moshi, learning about volunteering in Tanzania. As I walked towers her, I noticed a tiny, slim woman, with a radiant smile, wearing a vibrant pink and green dress, with her hair covered by an orange scarf. But looks can be deceiving.
Josephine is a porter on Kilimanjaro, training to become a guide. Even if she has two young children at home, Josephine is climbing the mountain three times a month, carrying on average 20 kilos of luggage on her shoulders. Being a porter on Kilimanjaro is very tough, being a women porter is even tougher. It takes on average 5-9 days to go up and down the mountain, and most of the routes are marked as difficult. Kilimanjaro is a challenging hike, not a walk in the park. Josephine told me that during her training, she used to complete the climb in 4 days!
There are not many women working as porters on Kilimanjaro. After graduating from the Mweka Wildlife College, to become a mountain guide, Josephine will now need to be a porter until she becomes an experienced mountaineer and then an assistant guide to gain confidence in leading the clients safely. Then, she will need to take an intensive training run by the park's authorities covering all the routes to the mountain, fauna, flora, environmental responsibility and first aid training for altitude sickness. After an exam at the end of the course, she will be able to get her guide licence.
Josephine is working for African Scenic Safaris, a company known by everyone in Moshi. Walking down the streets on Moshi you get approached by many people trying to sell you different safari tours. Every time I mentioned African Scenic Safaris the locals would tell me what a great choice I've made and how good their guides are. African Scenic Safaris are supporting Josephine's dream and her path to becoming a full trained Kilimanjaro guide.
You might wonder why, from all the jobs out there, Josephine chose to be a porter on Kilimanjaro…
Empowering Women in Tanzania
In Tanzania, traditionally, women stay at home. They are responsible for all the domestic duties such as taking care of the children, cleaning the house, gathering water and doing the cooking. The husbands are responsible for materially supporting the household and protecting the family. This however means that women are often considered subservient to their husbands. Very often women have no education and marry at very young ages. Even if the law says that the minimum age for marriage is 18, over 30% of Tanzanian women are already married before reaching the legal age.
Organisations and NGOs such as Give Heart to Africa are running women empowering projects and offer free education access to women in Tanzania.  Josephine was a student of Give Heart to Africa and took a bold step towards building a career to offer her family a better life. I have noticed myself the strong bond between the women who benefited from the mentorship programs and education at Give Heart to Africa when I walked around Moshi with Josephine. Most of the places we stopped by were success stories of women who followed their dreams and opened their own businesses because they had access to higher education.
What to Expect From Walking Around Moshi With a Local?
Spending the day with Josephine around Moshi was a fantastic way to learn about the vibe of the city but also satisfy my curiosities about how life is in Tanzania. As I was asking questions, she was customising the day's experience based on them.
Learning About Tanzanite
I mentioned to Josephine that I would love to see Tanzanite, the local gemstone, which is rarer than diamond, as it is only mined in a small area near Mererani Hills, between Arusha and Moshi. So, our first stop was to an authorised Tanzanite dealer, in the back of a souvenir shop. I was able not only to see jewellery made from this precious stone but also hold an unpolished rock in my hand.
On the wall, behind the counter, there was a large photo of the team of miners who are actively going down to mine the Tanzanite that I was holding in my hand. I thought that was pretty fascinating! I really liked that the lady in the shop explained to me the journey of the Tanzanite, from the mine to the jewellery, without trying to persuade me to buy.
I asked about the bigger polished pieces of Tanzanite which were not part of any jewellery and the lady selling them told me they are investment pieces. Soon, the mining of Tanzanite will come to an end because there is not much left in the ground. That is when the price of this gemstone will skyrocket, as it will became very rare. If you happen to have any Tanzanite jewellery at home, keep it safe, you might be able to sell it for a small fortune in the next few years.
Buying Fabric in Moshi
Another thing that I really wanted to do, after finding out about the tailors in Moshi, was to buy fabric and get a couple of clothes tailored. I mentioned this to Josephine and she happily took me to one of her friends who owns a small fabric shop in the market, to choose my favourite colours and patterns. Once getting inside, I got surrounded by beautiful fabrics, each with a more vibrant design than others. I was allowed to go in the back, behind the counter, and choose whichever fabric I wanted. And oh my, this wasn't easy at all, every single one was so beautiful! In the end I settled on a stunning blue piece of fabric with a yellow pattern which made me think of peacock's feathers, and a red piece with black circles on, vibrant and with a young feel to it. I also picked up a beautiful blue kanga with zebras on it, a lighter piece of fabric which I used for the rest of my trip to Tanzania either as a pareo, or as a skirt, or even as a towel on the beach in Zanzibar.
Because I was with Josephine, I was able to buy the fabric at the local price. Once bought, Josephine called her friend Victoria, who is a tailor, to get my measurements and get my skirts done. Victoria is another former student of Give Heart to Africa, who opened her own tailor shop near the market in Moshi.
Visiting the Market
Whenever I travel to a new place, I love going to the local market. That's where the soul of the city is, where the locals interact best with each other. Visiting the market is a great opportunity to learn about the local fruits and vegetables and get an idea of how the local cuisine might be like. Also, it's a great place to immerse yourself in the daily life of the local community and interact with the locals.
And this is exactly what happened when Josephine and I went to the Mbuyuni Market, the biggest in town. The market was very busy, with people trying to sell their fresh produce, and locals trying to get the best deals. There was everything in the market, from beautiful red tomatoes to big green mangoes, from fresh fish to live chickens.
Making Traditional Tanzanian Bracelets
Our next stop was at another friend of Josephine's, who has a little shop in the small market, selling handmade traditional Tanzanian bracelets, paintings and other small souvenirs. This is where we sat down, and Josephine taught me how to make the beaded bracelets, so common in Tanzania. Of course, by the time I finished one row, Josephine already finished an entire bracelet!
The Tanzanian bracelets are made out of tiny beads, very colourful. They can have different patterns, most common being the Tanzanian flag, with green, yellow, blue and black. Josephine explained that each color of the flag symbolises something: the green represents the vegetation and the rich agriculture of the country, the blue is the Indian Ocean together with the lakes and rivers passing through the land, the yellow refers to the minerals inside the ground and the black alludes to the Swahili people native to Tanzania.
Exploring the Train Station
Until last year, the train station in Moshi has been derelict since the 90s. In November 2019 however, the Government of Tanzania reintroduced a train that connects Moshi with Dar es Salaam, which runs twice a week.
As we arrived at the station, we noticed the train on the platform, ready to depart in a couple of hours.
The trains are not the only reason why you should come to the train station. On the platform there is a little café which has the most beautiful back drop of Mount Kilimanjaro!
Having Lunch Where the Locals Do  
Alone, I would have never found this little square with local barbeque restaurants, roasting all sorts of meat and fish on their self-made grills. After inspecting all of them closely, we decided to settle on a portion of nyama choma with ugali and salad, which looked delicious. We sat down at a table, ordered some Coke as it was boiling hot, and waited for the meat to roast. We could choose whichever skewers we fancied from the grill.
Nyama choma is a traditional Tanzanian dish that consists of chunks of goat or beef grilled over an open fire.
Because this was a local place, lunch together with drinks for two only costed 6,000 Tanzanian shillings (around £2) which is pretty amazing, taking in consideration that for a meal for one I usually paid at least 10,000 shillings.
Where to Find Josephine?
In her spare time, when she is not on the mountain, Josephine can show you around Moshi and help you navigate around this city, customising the experience to your liking.
Josephine is a porter working for African Scenic Safaris, a highly rated local safaris & trekking company on TripAdvisor. Besides the excellent service and the highly trained guides offered to its customers, Africa Scenic Safaris is also paying proper salaries and bonuses to its employees. As you might notice if you do a little bit of research, underpaying is a big problem in Tanzania, especially when it comes to Kilimanjaro porters. African Scenic Safaris is practicing ethical climbs to Kilimanjaro, focusing on the best porter treatment, offering them three meals a day, proper mountain gear and tents and comprehensive medical insurance.
When you book a trip through African Scenic Safaris, they can help you organise a day in Moshi with Josephine for you as well.
What do you think? If you happen to have an extra day in Moshi, would you like to have a local showing you around? I would love to read your opinions in the comment section below.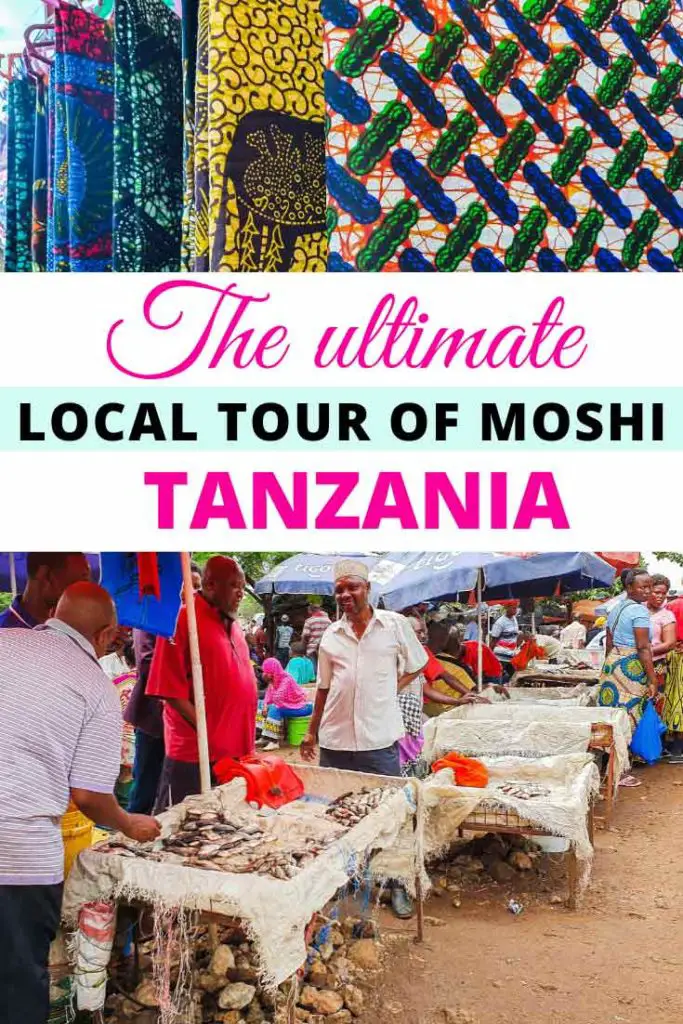 Disclaimer: Please note that whilst African Scenic Safaris has put me in contact with Josephine, I did pay for her time and kindness myself. This is not a sponsored post. All the opinions in this article are my own and I would not recommend anything that I wouldn't have enjoyed myself doing or think it was a great place to visit.
Some of the links one this website are "affiliate links." This means that if you click on the link and do a purchase, I will receive an affiliate commission at no extra cost for you. This helps me keep my website running and continue to share my traveling knowledge with you. I thank you for booking your flights or hotels using the links on my website. Regardless, I only recommend products or services I use personally and believe will add value to my readers.