If you are traveling to Tanzania for the first time, Moshi might seem a bit intimidating and hard to navigate around, so going around to find a good restaurant might not be the first thing on your mind. Moshi is a very busy town, with unfortunately many people trying to talk to you for various reasons: book a tour with them, go to a gallery or a souvenir shop and pursue you to buy, or ask for money for "guiding you".
You will probably be in Moshi because you are either climbing Kilimanjaro, or going on a safari, so you won't have much time to get comfortable and walk around town by yourself. So, I did the research for you! I spent quite some time in Moshi, researching about volunteering in Tanzania at Hostel Hoff, and I become quite confident navigating the city after I took a local tour with Josephine.
I tried to eat at as many restaurants in Moshi as possible, so that I can create this guide for you with my favourite picks.
Maembe Café & Lounge
This was one of my favourite places to eat whilst in Moshi. They offer both traditional Tanzanian food and an international selection such as grilled sandwiches, burgers or wraps. The local food is priced between 4000 – 8000 shillings (£1.2 – £2.7), whilst the international dishes are around 12,000 (£4). I highly recommend the pulled pork grilled cheese wrap, which is delicious.
The service is quite slow at Maembe, but the premises compensate for it. They have a lovely large garden, with different comfortable sitting areas, some more intimate than others.
All the profits of the restaurant are going to a local women's charity.
Union Café
Union Café is the best place in Moshi for a good quality Tanzanian coffee. It is also the most known coffee shop in town, where many tourists go to for a good coffee and a nice slice of cake. It is an expensive place for Moshi but has reasonable prices for visitors. A normal coffee with milk will cost around 4000 Tanzanian shillings (£1.3), whilst a speciality cold brew with ice cream will be around 12,000 (£4).
My recommendation is the honey cappuccino, which costs 5000 (£1.6) shillings for a small one and 6000 (£2) for a double. When it comes to cakes, they have a fresh selection every day, brownies and cheesecake being the most popular. Union Café also serves breakfast and main meals, such as omelettes, sandwiches, thin crust pizzas, salads and burgers.
Union Café belongs to the Kilimanjaro Native Cooperation Union, which produces Arabica organic coffee growing on the slopes of Mount Kilimanjaro at an altitude between 1000-2000 meters.  In the coffee shop they also sell bags of freshly roasted beans which can make a fantastic souvenir for a coffee lover.
Burger Point
Burger Point is a Moshi restaurant that makes delicious burgers and delivers as well, for free! A burger with fries and two sauces on the side costs 5000 Tanzanian shillings (£1.6). I had the burgers delivered, so I didn't actually been to their location in town. However, the service was pretty fast, and the burgers big and delicious. After eating a lot of Tanzanian local food it was nice to try some familiar flavours at some point.
Taj Mahal
This restaurant was opposite to the We Travel Hostel where I stayed at in Moshi, so I visited it a couple of times. It is a modest place serving mostly street food which two cooks grill outside, from morning until late at night. They have a few tables outdoors, on the sidewalk alongside the restaurant.
The prices are very low, and many locals come here either to eat in or take away after work. They don't serve alcohol, only homemade juice or bottled soda. I can recommend the grilled chicken, the mishkaki with fries, the chipsi mayai and the Zanzibari pizza.
If you order meat, make sure it comes directly from the grill and not from the pot that keeps it warm after it's been cooked.
Kilimanjaro Coffee Lounge
Another oasis in the middle of the busy city is Kilimanjaro Coffee Lounge. This Moshi restaurant has a beautiful garden and serves a large variety of dishes such as pizza, pasta, grilled meat, burritos and quesadillas.
The coffee is one of the best in town, rivalling with Union Café. I recommend the ice cream floats which are delicious and cheap, 6000 shillings for a big glass (£2). The service is very good, compared with other places in town where you have to wait a long time for your food to arrive. There is free WiFi as well.
Kili Kahawa Lounge
This Moshi restaurant just opened a month ago. It focuses on western food and barbequed dishes at reasonable prices. On the menu you will find pizza, burgers, mishkaki and grilled chicken.
It is very centrally located, close to both the main bus station and the train station in Moshi.
The Railway Bar
For a drink with a view, head over to the Railway Bar, located on the old train station's platform, in Moshi. Whilst the train station was abandoned until November last year, the locals decided to make a bar in the old ticket booth. Since the end of last year, a train was introduced between Moshi and Dar es Salaam, but this doesn't disrupt the activity of the bar.
The best thing about the Railway Bar is the view. When the weather it's nice, from the platform you can see grandiose views of Mount Kilimanjaro and understand why it is called the Rooftop of Africa.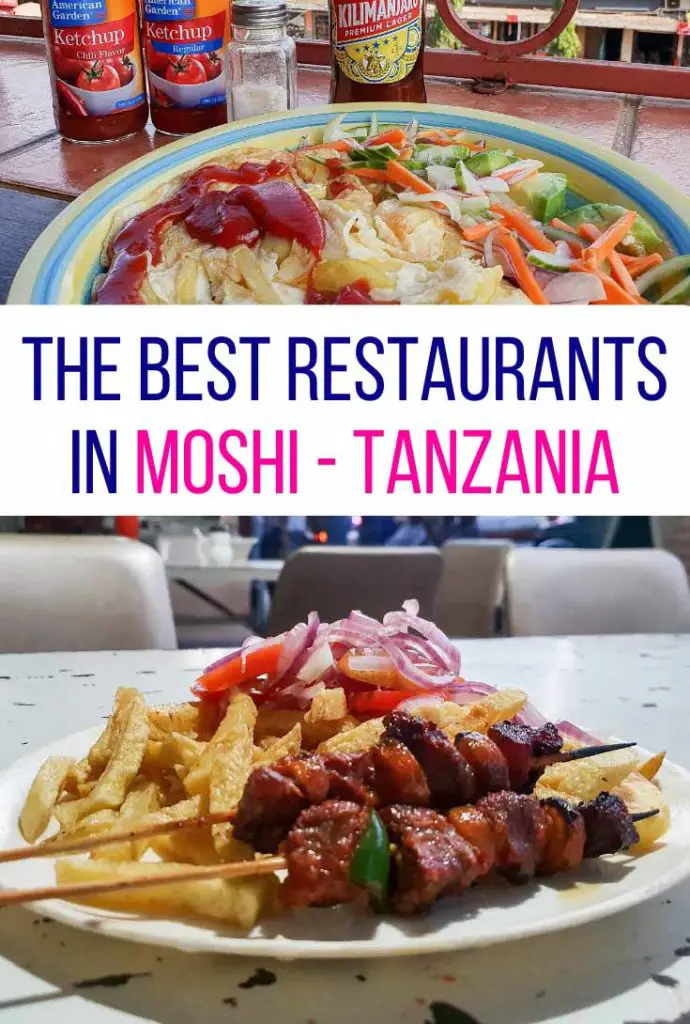 Disclaimer: Some of the links on this website are "affiliate links." This means that if you click on the link and do a purchase, I will receive an affiliate commission at no extra cost for you. This helps me keep my website running and continue to share my traveling knowledge with you. I thank you for booking your flights or hotels using the links on my website. Regardless, I only recommend products or services I use personally and believe will add value to my readers.